San Antonio Spurs: Another night at the office for LaMarcus Aldridge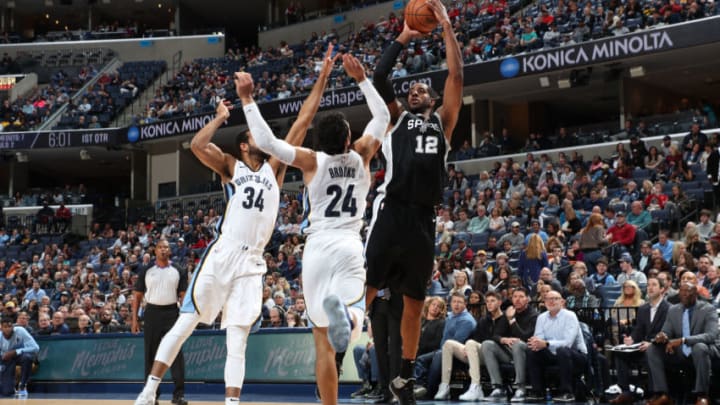 MEMPHIS, TN - DECEMBER 1: LaMarcus Aldridge #12 of the San Antonio Spurs shoots the ball against the Memphis Grizzlies on December 1, 2017 at FedExForum in Memphis, Tennessee. NOTE TO USER: User expressly acknowledges and agrees that, by downloading and or using this photograph, User is consenting to the terms and conditions of the Getty Images License Agreement. Mandatory Copyright Notice: Copyright 2017 NBAE (Photo by Joe Murphy/NBAE via Getty Images) /
Another game, another stellar performance from LaMarcus Aldridge, who led the San Antonio Spurs to a win.
Friday marked the 15th win of the season for the San Antonio Spurs, almost all of which was led by LaMarcus Aldridge. He's played some of his best basketball of the past three years in the first six weeks of the campaign, resulting in a potential All-Star Game spot in February.
Against the Memphis Grizzlies, Aldridge put up 22 points and 6 rebounds on 7-for-17 shooting. 41 percent won't "wow" anyone, but hitting 3-for-5 from long distance should. It was the second consecutive game (both against the Grizzlies) that he knocked down three shots from behind the arc. This never happened in the 32-year-old's first two-and-a-half years for the Silver and Black.
So, even when the team's star power forward doesn't have his best game (that line isn't exactly "bad"), he delivers in unexpected ways. Frankly, the first 22 games of the 2017-18 season have been like that, as Aldridge never looked comfortable in his first two seasons. Following the now-famous talk, with head coach Gregg Popovich and a three-year extension, it changed everything and made this into a successful player-team partnership that may last into the 2020's.
LaMarcus Aldridge recorded his 16th 20+ scoring game of the season last night in Memphis. WATCH: pic.twitter.com/nRknR9AgUn
— San Antonio Spurs (@spurs) December 2, 2017
Outside of the potential six-time All-Star, Manu Ginobili continued to not show his age. His 11 points, 7 rebounds and 6 assists at least brought the "triple-double" idea into play.
Although Ginobili's percentages are around or lower than his 2016-17 marks, he looks agile and has delivered multiple "Manu Gonna Manu" moments. On occasion, these moments and stat lines will happen, and when it does, he only deepens the bench. Especially from 3-point range.
After a clunky performance against his former team (2-for-8, 7 points), Rudy Gay returned to the FedExForum and scored 18 points in 20 minutes. 6 of those points came from the free-throw line, his second-best mark of the season.
Next: Top 25 players in Spurs history
These players will return on Sunday, Dec. 3 to face the Oklahoma City Thunder.