Spurs finish road trip with loss to Timberwolves, 98-86: Recap, highlights and more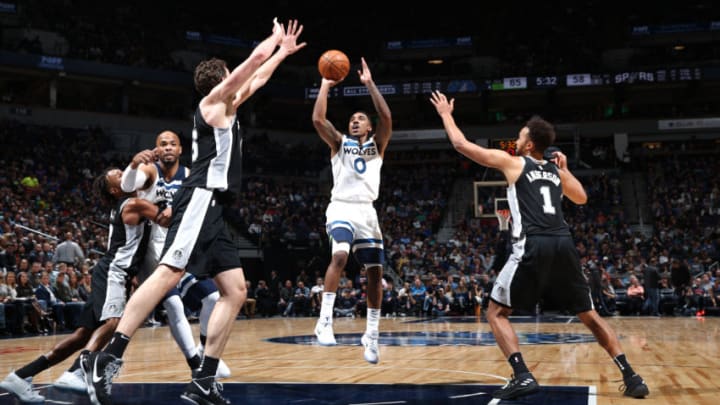 MINNEAPOLIS, MN - NOVEMBER 15: Jeff Teague /
The San Antonio Spurs lost the second game of a back-to-back to the Minnesota Timberwolves.
The Spurs lost the second half of their quick two-game road trip, 98-86, to the Timberwolves on Wednesday night. This game was vastly different from the teams first meeting of the season in the home opener. The Wolves took the lead with around 8 minutes left in the 2nd quarter of this one and never gave it up.
Two statistics help tell the story of the game, assists and fast break points. The Wolves lead in both categories, besting the Silver and Black, 27-20, in assists and 13-3 in fast break points. They set the tone early in the game, quickly moving the ball around and repeatedly finding the open man. They also were quick to get out on the break and get easy points. Jeff Teague has played really well for the Wolves this season and continued that trend with his performance Wednesday night. Minnesota's off-season addition scored 16 points to go with his 6 assists, his 12th game of the season with 5+ assists.
More from Air Alamo
Karl-Anthony Towns celebrated his 22nd birthday and handily won the battle of the bigs against LaMarcus Aldridge, scoring 26 points to go with his 16 rebounds. The Spurs gave Towns plenty of open looks on his birthday, which was awfully kind of them. Aldridge regressed from his performance against the Mavericks last night and only managed to put up 15 points and 10 rebounds in a game where the Spurs desperately needed more from their star player. The bench also fell short in this one, with Manu Ginobili, Rudy Gay, and Dejounte Murray hitting a combined 5 out of their 19 attempts. Brandon Paul only saw 4 minutes of playing time.
Another problem that came back to hurt the team in this one was turnovers. They committed 16 over the course of the game and many of them looked to be the result of a lack of communication or concentration. The second game in a back-to-back is always tough but committing 16 turnovers in a game will often cost you the win, regardless of whether or not you played the night before.
There weren't too many positives to take away from this game. The Spurs were able to hold Jimmy Butler to 2-13 shooting on the night but he was still able to affect the game through his defensive and passing contributions. Bryn Forbes got solid playing time and was able to make the most of it, making both of his three-point attempts.
We see you @brynjforbes pic.twitter.com/VqHu8WuMaY
— San Antonio Spurs (@spurs) November 16, 2017
Next: Top 25 players in Spurs history
Thankfully the Spurs get some time to rest and regroup before Russell Westbrook and the Oklahoma City Thunder come to San Antonio on Friday. The Wolves get the Mavericks in Dallas on Friday night as well.