Spurs bounce back vs. Hornets, 108-101: Recap, highlights and more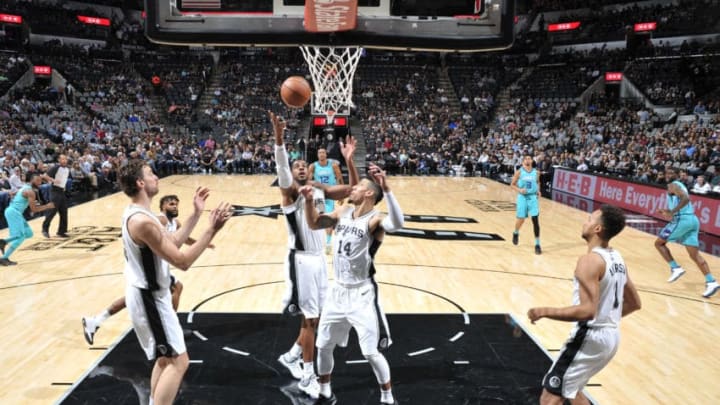 SAN ANTONIO, TX - NOVEMBER 3: LaMarcus Aldridge #12 of the San Antonio Spurs shoots the ball against the Charlotte Hornets on November 3, 2017 at the AT&T Center in San Antonio, Texas. NOTE TO USER: User expressly acknowledges and agrees that, by downloading and or using this photograph, user is consenting to the terms and conditions of the Getty Images License Agreement. Mandatory Copyright Notice: Copyright 2017 NBAE (Photos by Mark Sobhani/NBAE via Getty Images) /
The San Antonio Spurs played the Charlotte Hornets on Friday night.
The San Antonio Spurs bounced back Friday night and beat the Charlotte Hornets 108-101 to snap a 4 game losing streak. Coming off a loss on Thursday to the defending champion Warriors, this was a great win for the Spurs who can try to build momentum off of this win to carry them through their homestand.
Brynn Forbes poured in 22 off the bench and finished as the team leader in scoring, as well as contributing his highest point total of the season thus far. This is a welcome sight to see out of the second year guard from Michigan State and offers a promising look at what can happen when he gets solid minutes. After an impressive Summer Leauge performance, this is just the kind of play that coaches, fellow players, and fans were hoping for from Forbes. Rudy Gay added 20 off the bench as well and continues to prove to be a great addition to the squad. The Spurs second unit dominated the game, outscoring the Hornets bench 64-16. Patty Mills got the start of Dejounte Murray for the second straight game and played much better than he did against the Warriors, going 4-7 from behind the arc while contributing 4 assists. Murray still played well off the bench and continues to impress in his second year. He added10 points, 3 assists and this finished this alley-oop from Danny Green.
— San Antonio Spurs (@spurs) November 4, 2017
This was also Manu Ginobili's 1,000th (!!) game as a San Antonio Spur. At age 40 and still killing it, Manu was able to put up 10 points, 4 rebounds, and 5 assists in his 1,000th game as a Spur. He also did this.
MANUGONNA MANU pic.twitter.com/4dF47GKNME
— San Antonio Spurs (@spurs) November 4, 2017
And in his 1,000th game @manuginobili did this pic.twitter.com/mWvVq5u88k
— San Antonio Spurs (@spurs) November 4, 2017
No matter what age, Manu gonna Manu.
More from Air Alamo
This was an important game for the Spurs. After getting handily defeated by the Warriors last
the night this win offered a "get right" opportunity that the Spurs desperately needed. With upcoming
games against the Suns, Clippers, Bucks, and Bulls it's more than likely that the Spurs finish this
homestand with a .500 record or better. They should be able to handle the Suns and Bulls and the Clippers and Bucks, while both are good teams, both are beatable at home for the Spurs.
Highlights
https://twitter.com/spurs/status/926615307879247872
WE SEE YOU BRYN FORBES pic.twitter.com/fflH9Dl9mc
— San Antonio Spurs (@spurs) November 4, 2017
LA to Kyle. ? https://t.co/RPLMPCu9OX
— San Antonio Spurs (@spurs) November 4, 2017
? RUDY RUDY RUDY https://t.co/LlpBVxURkj
— San Antonio Spurs (@spurs) November 4, 2017
teamwork makes the dream work ? https://t.co/satkjofeDs
— San Antonio Spurs (@spurs) November 4, 2017
Game Notes
The Spurs ball movement continues to be a strong point year after year. They were able to outperform the Hornets in the assists category 31-16.
Free-throw shooting was an added bonus in this game. The team shot 21-26 on free throw attempts, 81 percent overall. This was up from their season average of 73%, a number that will need to increase as the season goes along.
Related Story: 25 players you may have forgotten were on the Spurs
The Spurs next play Sunday, November 5th against the Phoenix Suns.