Spurs overwhelmed vs. Magic, 114-87: Recap, highlights and more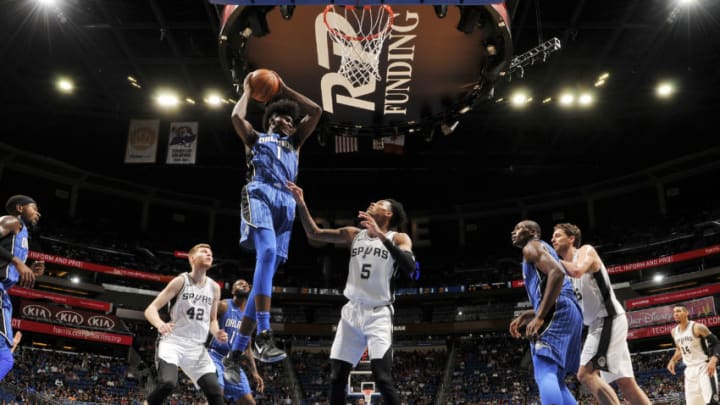 ORLANDO, FL - OCTOBER 27: Jonathan Isaac #1 of the Orlando Magic handles the ball against the San Antonio Spurs on October 27, 2017 at Amway Center in Orlando, Florida. NOTE TO USER: User expressly acknowledges and agrees that, by downloading and or using this photograph, User is consenting to the terms and conditions of the Getty Images License Agreement. Mandatory Copyright Notice: Copyright 2017 NBAE (Photo by Fernando Medina/NBAE via Getty Images) /
The San Antonio Spurs faced the Orlando Magic in Game 5 of the 2017-18 regular season.
Friday night marked the fifth game of the regular season for the San Antonio Spurs. A perfect record was on the line, as they won the first four games against the Minnesota Timberwolves, Chicago Bulls, Toronto Raptors and Miami Heat. Would they go 5-0 against the Orlando Magic?
The Spurs found some success in the opening minutes of the first quarter. LaMarcus Aldridge attacked the inside defense for the Orlando Magic and looked to be off to a good start. That closed Friday night's positives.
The Magic took off for the rest of the game, and it wasn't close. Former Spur Jonathon Simmons burst for a handful of quick buckets in the first and second quarters, using the athleticism San Antonio knew all too well from his two years. He finished with 17 points on 8-for-13 shooting.
Evan Fournier was nearly perfect from the field. He shot 10-for-12 and went 4-for-4 from 3-point range, with no sign of cooling down. The same went for, well, the rest of the team who shot 67 percent in the first quarter and never let go of the momentum.
What's better than a 3-point play …@EvanFourmizz, any ideas? ? https://t.co/1zGtVMtCyO
— Orlando Magic (@OrlandoMagic) October 28, 2017
Halftime: Magic 61, Spurs 34 ?@EvanFourmizz – 14 pts ?@ThaRealJsimms – 10 pts ?@NikolaVucevic – 10 pts ??: @FOXSportsFL https://t.co/h1BbzHGGCR
— Orlando Magic (@OrlandoMagic) October 28, 2017
Dejounte Murray had his second consecutive game of offensive struggles. He shot 2-for-9 for 7 points, 4 rebounds and 4 assists. There shouldn't be concern for the 21-year-old, but it could change how head coach Gregg Popovich splits minutes between him and Patty Mills, who played more minutes for the first time this season than Murray.
By the third quarter, the Spurs nearly matched the Magic's point production (34-30). It was way too late, though, with the score at 95-64. There was no way to fight back from a 31-point deficit, as the final score was 114-87, Orlando.
Game notes
Must Read: 25 greatest players in Spurs history
The Spurs return on Sunday, Oct. 29, to face the Indiana Pacers. Game time is at 4:30 p.m. ET.