San Antonio Spurs: Rudy Gay looks healthy in bench role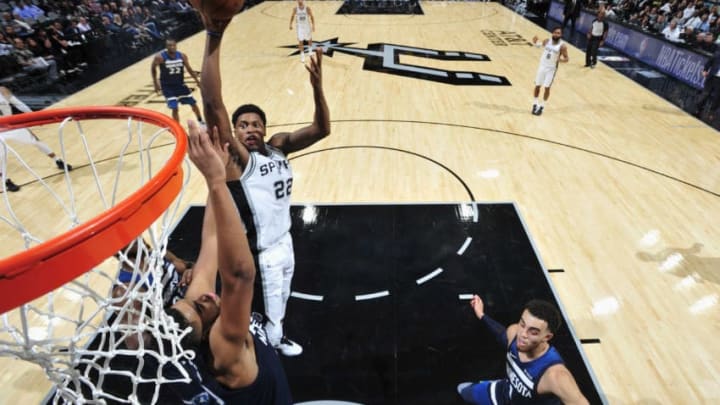 SAN ANTONIO, TX - OCTOBER 18: Rudy Gay #22 of the San Antonio Spurs goes to the basket against the Minnesota Timberwolves on October 18, 2017 at the AT&T Center in San Antonio, Texas. NOTE TO USER: User expressly acknowledges and agrees that, by downloading and or using this photograph, user is consenting to the terms and conditions of the Getty Images License Agreement. Mandatory Copyright Notice: Copyright 2017 NBAE (Photos by Mark Sobhani/NBAE via Getty Images) /
Through three games Rudy Gay looks comfortable in a bench role for the San Antonio Spurs.
When the San Antonio Spurs signed Rudy Gay this off-season, fans felt the nervousness that comes with seeing the signing of a 31-year-old forward coming off a season-ending Achilles injury. Thankfully, throughout the first few games of the season, Gay has put all worries to rest and looks completely healthy.
Everything about this play ? https://t.co/kaMQpufS76
— San Antonio Spurs (@spurs) October 19, 2017
Doesn't seem like that Achilles is bothering him one bit.
Through the first three games of the season, Gay is averaging 12.3 points and 4.3 rebounds in 22 minutes per game off the bench for San Antonio. A player with a reputation as a volume shooter, Gay has actually been more efficient than ever in his short time with the Spurs. He has posted career highs in field goal percentage, shooting a very respectable 53 percent, along with a career-best 19.8 Player Efficiency Rating. His three-point percentage has been lower than his career average of 34 percent but, given a number of open looks that are consistently generated by the Spurs system, it's not too soon to predict that he ends up shooting better than that over the course of the season.
Gay has shined thus far as head coach Gregg Popovich's preferred stretch four off the bench most nights and, at 6'8 with a 7'0 wingspan, Gay is perfectly sized to fill that role in today's NBA. This is not something new for Gay, he's spent time at the four in both Sacramento and Toronto, but it has not been the norm throughout his career. Gay's abilities as a combo forward have given the Spurs a healthy amount of length and athleticism off the bench, something that has proven to be a necessity in the modern small ball game. Look for Gay, along with Patty Mills, Pau Gasol, and the ageless Manu Ginobili to make up a Spurs bench that, once again, should be one of the very best in the NBA.
More from Spurs News
Looking forward, Spurs fans should be excited to see a lineup featuring second-year talent Dejounte Murray, Danny Green, Kawhi Leonard, Gay, and LaMarcus Aldridge. This group would have the length, athleticism, and shooting to space the floor effectively, along with enough ability to switch defensively on the opposite end to stay with other strong Western Conference squads. In an interview with ESPN's Michael Wright, Gay acknowledged the importance of teams having multiple players who can play multiple positions.
It's all about positional basketball. The more guys that can play different positions, the better. So that's pretty much it. There's not too much to talk about. You have your teams like Golden State, Houston, who all have guys that are switchable. I think I can bring that to this team.
Must Read: 25 greatest players in Spurs history
The primary or secondary option for his entire career, Gay has bought into his new role as a valuable piece of the Spurs bench and has looked every bit the player that Spurs fans hoped for.