San Antonio Spurs: Danny Green on the NBA's superteams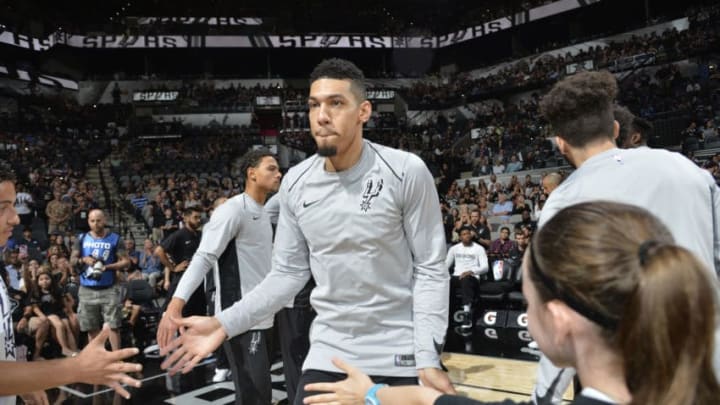 SAN ANTONIO, TX - OCTOBER 8: Danny Green #14 of the San Antonio Spurs gets introduced before the preseason game against the Denver Nuggets on October 8, 2017 at the AT&T Center in San Antonio, Texas. NOTE TO USER: User expressly acknowledges and agrees that, by downloading and or using this photograph, user is consenting to the terms and conditions of the Getty Images License Agreement. Mandatory Copyright Notice: Copyright 2017 NBAE (Photos by Mark Sobhani/NBAE via Getty Images) /
San Antonio Spurs guard Danny Green spoke about the evergrowing superteams of the NBA.
The San Antonio Spurs have finished with one of the top records in the NBA for the past 20 years. For a time, one could say they had a "superteam," when Tim Duncan, Manu Ginobili and Tony Parker were in their respective primes. Duncan won five NBA championships, while Ginobili and Parker won four.
Before the 2017-18 starts, it's easy to pass on the Spurs as a superteam. While they have Kawhi Leonard — one of the best players in the NBA — the rest of the roster isn't superstar-laden. LaMarcus Aldridge was expected to make San Antonio a two-star team, but he hasn't performed up to his Portland Trail Blazer days, statistically.
Another reason to pass on the Spurs as a superteam? Everyone else. The 2017 offseason was full of teams trying to stock up the greatest players in the NBA and recreate what the Golden State Warriors put together.
After Thursday's Spurs practice, Danny Green was asked what he thought of superteams. He almost shrugged off the question but spoke about this growing NBA trend:
"I think it's good and bad. [Superteams] are obviously a lot of fun to play against. Those are the games we look for a challenge, to play against the best. Guys are trying to give themselves the opportunity to win. Everyone wants to win a championship. If they feel the best way to do that is get a great team, a couple of guys on the same page or All-Stars on their team, to make that their job a little easier. It's easy regardless, but when one team does it, you have to find other guys to match that. The only way to match that is to find other superstars to make a superteam."
It sounded like Green enjoyed playing against previous superteams. He was part of the Spurs teams that faced the Miami Heat in the 2013 and 2014 NBA Finals, along with matching up against the Warriors of the past few seasons.
However, Green and the Spurs will be against more superteams than ever. It starts with Golden State, followed by the Houston Rockets, Oklahoma City Thunder, Minnesota Timberwolves, Boston Celtics and Cleveland Cavaliers. These teams stocked up on stars or already were superior teams to the rest of the NBA.
Must Read: 25 forgotten players that were on the Spurs
San Antonio will get their fair dose of superteams in the early part of the season. They play the Timberwolves on Opening Night, and the first Warriors game is on Nov. 2, just two weeks into the season. It will be an interesting ride to follow.