San Antonio Spurs: Fantasy basketball preview for 2017-18 season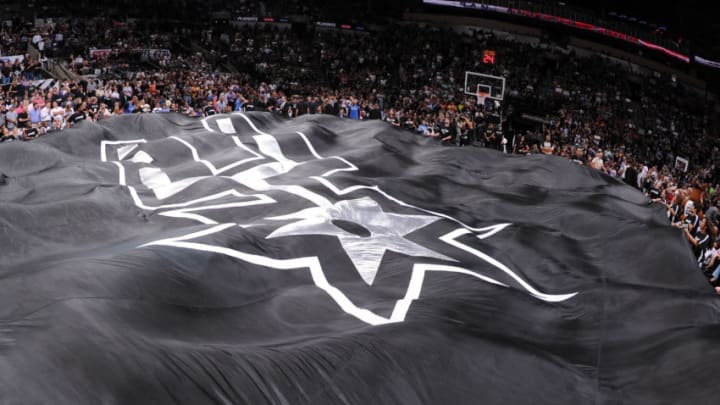 SAN ANTONIO,TX - MAY 29: Here is a photograph of the San Antonio Spurs logo prior to the game against the Oklahoma City Thunder in Game Five of the Western Conference Finals during the 2014 NBA Playoffs on May 29, 2014 at the AT /
SAN ANTONIO, TX – MAY 22: Manu Ginobili #20 (R) reacts on the bench with Patty Mills #8 and Pau Gasol #16 of the San Antonio Spurs in the second half against the Golden State Warriors during Game Four of the 2017 NBA Western Conference Finals at AT&T Center on May 22, 2017 in San Antonio, Texas. NOTE TO USER: User expressly acknowledges and agrees that, by downloading and or using this photograph, User is consenting to the terms and conditions of the Getty Images License Agreement. (Photo by Ronald Cortes/Getty Images) /
It's time to roll out the fantasy basketball red carpet for the San Antonio Spurs in the 2017-18 season.
The San Antonio Spurs and the 29 other NBA teams will take the court in the middle of October. It will start the 2017-18 season, which will see the Golden State Warriors look to win three NBA championships in four years.
There will be anticipation for the season, but part of it goes to fantasy basketball. It's the opportunity for fans to own their favorite players, create a team and face their friends to see whose squad is better.
The Spurs have a handful of fantasy basketball candidates for the upcoming season. Some of them are sure-fire options to be on rosters, while others will sit on the waiver wire. So, let's preview how everything may look for your team, if Spurs players will be part of it.
WASHINGTON, DC –  NOVEMBER 26: Kawhi Leonard /
The no-brainer
When it comes to fantasy basketball and the San Antonio Spurs, one player stands above all and it's obvious: Kawhi Leonard.
Leonard will be the lead man for thousands of fantasy basketball teams in the 2017-18 season. He'll get drafted in the top five to fill this role, getting included with Russell Westbrook, James Harden, Kevin Durant, LeBron James and others.
It starts with what Leonard will do for your fantasy team, which is just about everything. Aside from the stellar point total, he'll load up rebounds, assists, steals, and blocks. He's had a line of at least 5.8-2.0-1.7-0.8 in those four categories for the past four years. This across-the-board production will do wonders for your fantasy team.
Another positive is health. Gregg Popovich played Leonard in at least 70 games these past two years and hasn't rested him as often as the aging veterans. The only concern will be the ankle injury that took Leonard out of the Western Conference Finals. That's had more than enough time to heal, but it's something to keep on the back burner in case he aggravates it.
If you have a top-five pick, you should have a good chance at drafting Leonard. If not, he'll be a nightmare to face in weekly matchups.
Next: The bounce back candidate
NEW ORLEANS, LA – JANUARY 27: LaMarcus Aldridge /
The bounce back candidate
Fantasy sports will often feature teams in search of a player on the rebound or a bounce back candidate. It's not exactly a sleeper like a rookie ready to break out, but the player that can improve on the prior season's struggles.
For the San Antonio Spurs, its bounce back candidate is LaMarcus Aldridge. Especially after all the criticism that's come his way in the offseason, he'll be the player to eye for this.
Aldridge is 32, which isn't a spring chicken for NBA standards. His numbers aren't trending up, either, with his points and rebounds totals dipping these past two seasons. So, he won't be an ideal player to choose for a return to a 23-10 stat line, but someone who can at least inch back to his Portland Trail Blazer days.
Aldridge will be in a contract season, technically. He has a player option for the 2018-19 season that pays him $22 million. If he's after one more big contract, then having a terrific season, at this age, will be crucial, all while NBA salaries rise. This may mean more inspired and aggressive play from the 11-year pro, as he not only looks for more money, but to silence critics.
The second-best player in San Antonio, is Aldridge, which helps his case for a higher production total. He might capitalize more on his open looks and attempt to adapt to the modern-day version of the NBA, which he isn't greatly suited for.
Next: The sleeper
NEW ORLEANS, LA – JANUARY 27: LaMarcus Aldridge /
The sleeper
The sleeper, like the no-brainer, is simple: it's Patty Mills, who might take over the starting point guard role.
Mills, Dejounte Murray and Derrick White are the three point guards on the San Antonio Spurs, as Tony Parker recovers from the torn quad he suffered in the 2017 playoffs. It means whoever takes over has minimal starting experience but, out of the three, Mills leads the pack for his veteran presence and already-established role on the team.
The Aussie has 18 career regular season starts, with eight of them in the 2016-17 season. This is through over 400 regular season games, so he's mostly been a bench player. However, Popovich gave him time in the playoffs when Parker got hurt. This resulted in five 30-plus minute games. All of them had Mills have at least three assists. He also had two games of five and seven assists, respectively, which came in under 30 minutes.
Mills is a streaky scorer, however. One night he'll put up 20 points on 55 percent shooting. The next night he might make one shot and throw in a few free throws. So, he won't be your team's always-reliable point guard, but look for him as a solid backup, rather than sitting on free agency for the majority of the season.
Next: The player to avoid
TORONTO, ON – DECEMBER 20: Rudy Gay /
The player to avoid
The San Antonio Spurs remained quiet in the 2017 offseason, while most of the Western Conference stacked up on stars, assets or did nothing for good reason (the Golden State Warriors). Rudy Gay was the biggest name brought in by the Spurs this summer. He'll provide depth at the wing for the team, but shouldn't be someone you rely on for depth on your fantasy squad.
Gay's value stems on his Achilles recovery. He ruptured it in January while playing for the Sacramento Kings. The recovery history isn't good, with the exception of a handful of players. Otherwise, go look at Kobe Bryant's return from it and how it lmay have led to a myriad of problems (also was aging after almost 20 years, too).
Gay might be a valuable role player or super-sub for San Antonio. That could come with 10-15 points per game and a handful of rebounds, which will be far from the norm of the 17-22 points he's put up for Sacramento, the Toronto Raptors, and Memphis Grizzlies. That's not ideal for an upper-level or even mid-round pick for your squad.
However, if the UConn product remains near the end of your draft, he might be worth a flier to fill the last spot on your roster. The potential would be there for greater production than our prediction, but it's a risk.
Next: The waiver wire
SAN ANTONIO,TX – MARCH 29: Tony Parker /
The players you'll find on the waiver wire
You're going to find quite a few San Antonio Spurs on your waiver wire. Some of them will be worth the acquisition, while others will likely remain there for the season. That's unless you're in a 20-30 team.
Let's go through the potential Spurs that will sit on the waiver wire and if they're worth the pickup during the season:
Manu Ginobili – Ginobili will always be a fan favorite of San Antonio fans. However, at age 40 and seeing his minutes heavily reduced these past five seasons, he's not worth it for your fantasy team.
Danny Green – Green may have won the All-NBA Defensive Second Team Award in June, but it won't produce fantasy-quality numbers for your team. That goes for the 3-point shooting, too. The seven points per game he's averaged aren't worth a bench spot in standard leagues.
Dejounte Murray – Murray is interesting. It might take another year for him to find his NBA stride, but if he's set for backup point guard minutes, it takes just one injury for him to be the starter. Keep an eye on him.
Tony Parker – Parker showed his age these past few seasons. A torn quad won't help his case. He'll miss a chunk of the year, but near February or March, if the Spurs choose to reimplement him as the starter, then an end-of-the-bench spot could be in use for standard leagues.
Must Read: 25 forgotten players that were on the Spurs
The Spurs' season will start on Wednesday, Oct. 18.