San Antonio Spurs are only team with 5 players together since 2012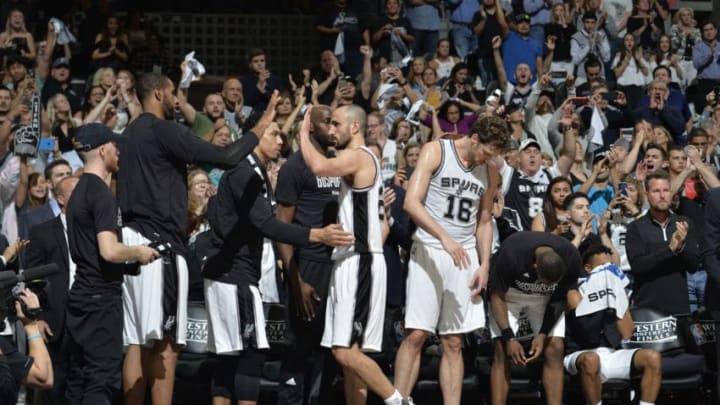 SAN ANTONIO, TX - MAY 22: Manu Ginobili /
Continuity is one of the San Antonio Spurs' strengths.
This NBA offseason has been full of roster moves, whether by free agency signings, the draft, or trades. Adding and subtracting players is something NBA front offices have to do every year. There are many variables involved when these team executives are making player decisions. Trying to add talented guys that will mesh with players you already have is the first thing. Acquiring them and staying under the salary cap is the next.
When teams make a handful of moves during the summer, it usually takes them some time to get acclimated to each other. In rare cases, they jell right away. But virtually every team starts the season with uncertainty. On paper it may look good, however, until these players get out there and play together, we won't know for sure.
The San Antonio Spurs are no different, they lost two big contributors on last year's team to free agency, Jonathon Simmons & Dewayne Dedmon. They added players via the draft, Derrick White, and Jaron Blossomgame, and signed Rudy Gay, Joffrey Lauvergne, and Brandon Paul as free agents.
The strongest pillar for continuous sound basketball, year after year, is the core of players you keep together. The Spurs were lucky to have their big three, Tim Duncan, Manu Ginobili and Tony Parker, for over 14 years. They won four championships together, before Duncan retired following the 2015-16 season.
The Core 5
Currently, the San Antonio Spurs have a core of five players going into their sixth season together, (Ginobili, Parker, Danny Green, Kawhi Leonard, and Patty Mills). In this time period, the group has been to three Western Conference Finals, two NBA Finals, and won an NBA Championship. Parker will start this season on the sideline, but he'll still be a leader. There were trade rumors this offseason involving a couple of these guys. In the end, they are all still here. These Spurs are 5 out of the 37 current players in the league who have been with their respective team since 2012. There are only two other teams that have 3 such players, Warriors (Steph Curry, Klay Thompson, Draymond Green) and Raptors (Kyle Lowry, DeMar Derozan, Jonas Valanciunas).
Of the 30 teams in the NBA, 20 have at least 1 player who has been playing with them since 2012. From those, 12 teams have two such players. Of these 12 teams, 10 were in the playoffs this past season. With the Charlotte Hornets (Kemba Walker, Michael Kidd-Gilchrist) and the Denver Nuggets (Wilson Chandler, Kenneth Faried) being the two that didn't.
More from San Antonio Spurs News
It is no secret ingredient, every NBA team knows the recipe. Somehow though, not very many teams have figured it out yet. The Spurs' front office is probably the best in the league at keeping guys together. It isn't like R.C. Buford and the rest of the Spurs front office don't get credit, they do. I am just pointing out how difficult a task it is.
Easier said than done
Every team goes in with a plan. Get a couple of talented, young guys to be the nucleus, and surround them with pieces. Sounds simple enough. Right? Then why do we not see it more often? I think players are going to go where they can make the most money. If someone can make one million more dollars per year, by simply playing for another team, they are going to think about it. Look at Gordon Hayward, I thought he would stick in Utah and try to build something there. Nope. Bolted for Boston.
Must Read: 25 forgotten players that were on the Spurs
Now I don't want to take anything away from what the San Antonio Spurs front office has done. There is no question they have executed the plan to perfection over the years. They have drafted smart, they have not signed a lot of older free agents, and they don't make a lot of trades. They keep the torso the same, and interchange the limbs. This strategy has helped keep the Spurs in the playoffs 27 of the last 28 years.