Spurs vs. Grizzlies Series is a Window to the NBA of the Past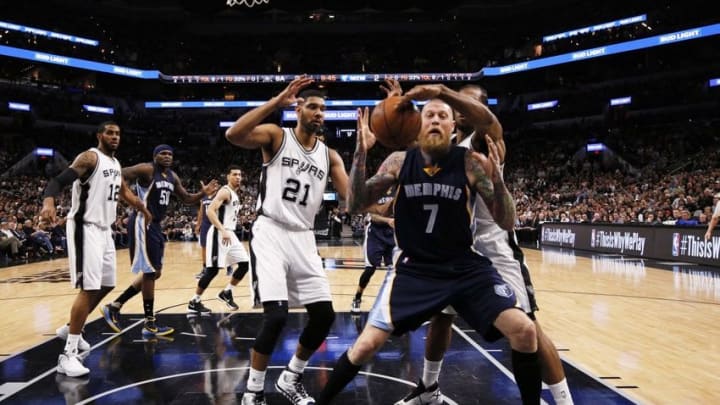 Apr 19, 2016; San Antonio, TX, USA; San Antonio Spurs power forward Tim Duncan (21) and small forward Kawhi Leonard (2, behind) battle for a rebound with Memphis Grizzlies power forward Chris Andersen (7) in game two of the first round of the NBA Playoffs at AT&T Center. Mandatory Credit: Soobum Im-USA TODAY Sports /
Only Elton Brand, Vince Carter, Tim Duncan, Kevin Garnett, Andre Miller, Nazr Mohammed, Dirk Nowitzki, Paul Pierce, and Jason Terry are active players who played in the NBA in the 1990s. The San Antonio Spurs/Memphis Grizzlies series by itself features Carter, Duncan, and Miller, and the best chance for fans to witness some of the last remaining links to a dramatically different age of basketball.
Being born in 1992, I have a soft spot for the decade defined by the rise of the internet and peacetime economic expansion. On the basketball court, the 90s ushered in an era of unprecedented commercialization lead by Michael Jordan. The game was slower, more physical, and grittier than it is today.
Whether you think impeccable basketball is more personified by the 90s Knicks or the current Warriors probably depends on your age. Basketball has certainly changed in the last couple decades, as a rough-and-tumble half-court, inside-out game slowly evolved into the more finesse, quick, drive-and-dish contest that we see today.
More from Spurs News
The utilization of the 3 point shot has radically modified the game. In 1995-1996, the league average for 3 point field goals attempted by a team over the course of a season was 1,316. That's about 16 attempts per game. Fast-forward 20 years later and the average increased to 1,975 and about 24 attempts per game.
The leading team in 3 point field goals attempted in the 1995-1996 season would rank only 12th in 2015-2016, and the 2nd leading team would rank 24th. Last place in 2015-2016 in 3 pointer frequency would rank 18th if they went back in time and played in 1995-1996.
The game is completely unrecognizable, and the metamorphosis is most evident when looking at how the 3 pointer has gone from novelty to necessity. In 1995-1996 the game was slower paced than it is now, resulting in less shot attempts. With the average team, about 20% of their shots attempted were 3 pointers. The average team in 2015-2016 shot about 28% of their shots from 3 point distance, illustrating how scoring strategies have changed to relying more on deep shooting and taking advantage of the extra point a field goal from behind the arc gives.
Any nostalgic fan looking to reminisce about a bygone era should tune in to this series, because before you know it, the current NBA player landscape will run out of connections to a glorious age when I first fell in love with basketball.
Kevin Willis was the most recent NBA player to have roots in the 1980s, and when he finally decided to retire in 2007, surely fans about 10 years older than me had lumps in their throats at the sight of the NBA closing a chapter of its history.
These players serve as a bridge to my own basketball connection, and when they all inevitably retire, I'll miss every last one. This Spurs/Grizzlies series gives me and fans around my age a chance to sit back and smile at all that has happened in basketball during the time we've watched.
Next: My NBA All-Defensive First Team Ballot
These playoffs will serve as the commencement for a new generation of basketball fans who'll measure time through the career trajectories of guys like Draymond Green, Kawhi Leonard, Damian Lillard, and Isaiah Thomas. That's part of what makes basketball so great: each individual connection may come from the same source, and the emotions attached are similar, but every fan has their own backstory of introduction and eventual narrative to write for how basketball impacts their own life.