My NBA All-Defensive First Team Ballot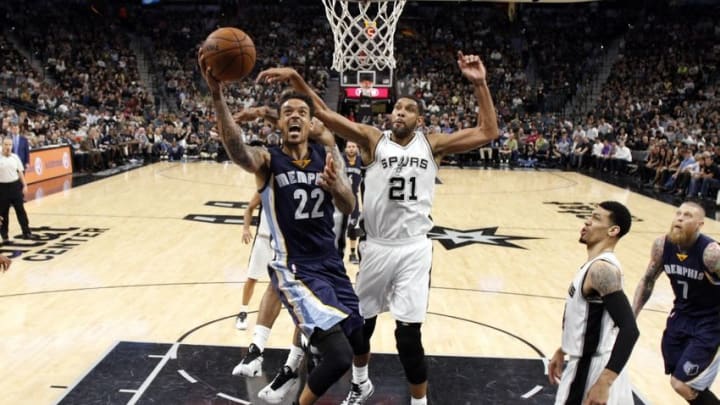 Apr 19, 2016; San Antonio, TX, USA; Memphis Grizzlies small forward Matt Barnes (22) shoots the ball past San Antonio Spurs power forward Tim Duncan (21) in game two of the first round of the NBA Playoffs at AT&T Center. Mandatory Credit: Soobum Im-USA TODAY Sports /
Time for the next installment of my awards decisions. This ballot is for the NBA All-Defensive First Team, with a description of my justification for each selection.
Chris Paul
The premier lock-down defender at his position deserves yet another spot on this team. Paul lead all point guards in the league in Defensive Real Plus-Minus, signifying the impact Paul has on defense. Other star point guards head into games against him with an appropriate sense of anxiety, knowing full well that Paul blanketing them is an ordeal they won't soon forget. Paul also tied for the lead league in steals per game, further cementing his reputation as a tenacious defender who torments perimeter players with his quick hands.
More from Spurs News
Danny Green
Green is often labeled as a "pure shooter," which does a disservice to the type of player he's evolved into since entering the league. While his shooting has been horrendous this season, Green has fully dedicated himself to defense, helping the Spurs have the highest ranked defense in the NBA. Green lead all guards in Defensive Box Plus/Minus, Defensive Rating, Defensive Real Plus-Minus, and was first for specifically shooting guards in Defensive Win Shares. Green deserves recognition for his phenomenal defense, which has arguably made a bigger dent in the league than even his shooting did when it was at exceptional levels.
Kawhi Leonard
The back-to-back DPOY is the most feared perimeter defender in the NBA. This season, he ranked 2nd in the league in Defensive Win Shares, 3rd in Defensive Rating, and 5th in Defensive Real Plus-Minus. Leonard averaged 1.8 steals per game and 1.0 blocks per game, 1 of only 3 players in the league to earn that statistical distinction. Opposing players are in for a rough night if Leonard is assigned to them.
Draymond Green
The DPOY runner-up for two straight seasons is the most versatile defender in the league. Switching on pick-and-rolls, he can effectively guard 4 different positions. While leading the Warriors to becoming a top 3 defense in terms of efficiency per 100 possessions, Green himself was 4th in the league in Defensive Real Plus-Minus and 4th in Defensive Box Plus/Minus. His defensive capabilities are the biggest reason the Warriors set the wins record this year (besides Stephen Curry's season-long scoring bonanza). Pundits can easily argue that he didn't deserve DPOY over Leonard, but the harder justification would be leaving him off this list.
Next: Should San Antonio Spurs Rest Starters in Games 3 and 4
Tim Duncan
Although Duncan has considerably declined on offense, his defensive game remains elite. Duncan ranked 1st in the league in Defensive Real Plus-Minus, 1st in Defensive Box Plus/Minus, and 2nd in Defensive Rating. For the time he spends out on the court, he's the most influential player on defense. Other centers have higher tangible statistics than he does, but the analytics support the argument that no center in the league had a more positive impact on defense during the game than Duncan. The significance of that distinction warrants a spot for Duncan on this list.