Tim Duncan Belongs on the NBA All-Defensive First Team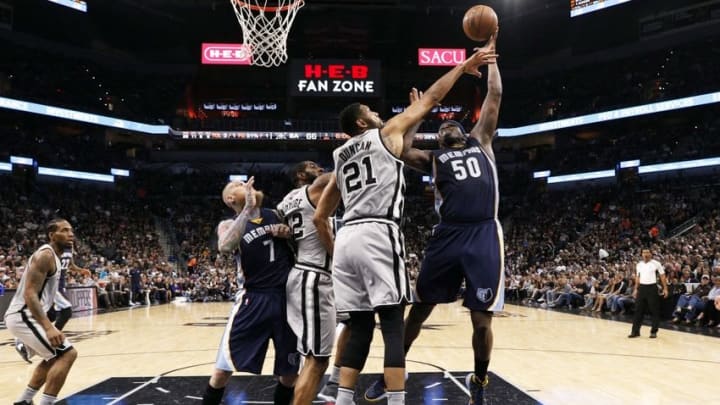 Apr 17, 2016; San Antonio, TX, USA; Memphis Grizzlies power forward Zach Randolph (50) shoots the ball over San Antonio Spurs power forward Tim Duncan (21) during the second half in game one of the first round of the NBA Playoffs at AT&T Center. Mandatory Credit: Soobum Im-USA TODAY Sports /
As he winds down his storied career, it'd be a fitting end for Tim Duncan if he's once again named to a list that he has previously occupied 8 different times, but not since 2008.
As he's aged, Duncan has slipped somewhat on defense, and seems to almost perennially occupy the All-Defensive Second Team. After seceding his spot on the first team to more youthful interior defenders, Duncan's performance this season justifies a spot on the First Team.
After Kawhi Leonard was honored by the league with his second consecutive Defensive Player of the Year Award, attention moves towards determining what other 4 players should get nods for their amazing defensive capabilities.
More from Spurs News
Leonard might anchor the Spurs' top rated defense, but Tim Duncan's the fortitude that makes scoring inside against San Antonio such a challenging task for opposing offenses.
Duncan leads the NBA in Defensive Real Plus-Minus, signifying that when he's on the court, no other player in the league has more of a positive impact on defense per 100 possessions than Duncan.
Duncan also leads the league in Defensive Box Plus/Minus, indicating that compared to an average NBA player on an average NBA team, he contributed more than any player to a team's defensive performance per 100 possessions.
Duncan is also 2nd in the league in Defensive Rating, which is another metric that estimates the amount of points allowed by a player per 100 possessions.
The only thing that works against Duncan for a spot on this team is his relatively scarce amount of minutes played. He averaged 25.2 minutes played per game this season, so his individual stats like blocks or rebounds won't be as staggering as guys who accumulate higher numbers playing 10 more minutes a night.
The NBA All-Defensive First Team is reserved for players who most influence the game on defense. Duncan may not have lofty statistics like some of his peers, but the analytics say that no center in basketball has more influence on the game from a defensive standpoint than Duncan.
The main objective on defense is to stop the opposing player being guarded from scoring. Whether the thwarting is from a block or simply an affected shot due to smothering defensive presence is irrelevant. Duncan stops guys from scoring at the highest rate in the NBA, and that influence needs to be rewarded.
Next: Tony Parker Sets Tone in Game 1
It hasn't necessarily shown up on traditional box scores as much as it did in his prime, but Duncan is still an elite defensive player, and hopefully the voters acknowledge it.