Should the San Antonio Spurs look to trade on draft day?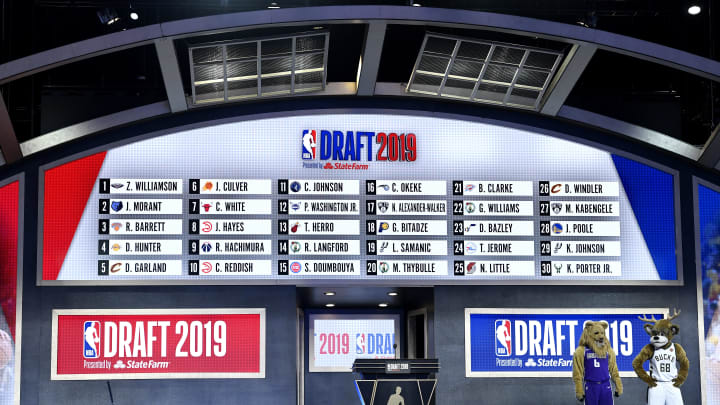 2019 NBA Draft / Sarah Stier/Getty Images
Recently, we found out that the San Antonio Spurs would be picking 12th overall in the 2021 NBA Draft after striking no luck in the lottery. This year's draft class is about as star-studded as a draft can get, particularly toward the top of the board with headliners like Cade Cunningham, Evan Mobley, and Jalen Green.
That being said, despite many reports that this year's draft is top-heavy, I hold the opinion that this draft class runs very deep with talent well into the first round. It's very possible that there will be so many talented players available, in fact, that first-round quality players could slip into the second round. Several guys that fit this mold including Charles Bassey, Vrenz Bleijenbergh, and Quentin Grimes all come to mind immediately.
Being that the Spurs didn't find themselves lucky in the lottery, fans are already beginning to think of possible trade scenarios in the draft that could land the Spurs a high-quality player. Especially given that a few teams like the Golden State Warriors may be open to trading a high draft pick, the Spurs may want to take advantage.
The real, burning question though is whether or not such a trade is actually a good idea for the Spurs. Here, we'll briefly go over a few possible scenarios and discuss why each scenario may be a good move or a foolish one for the Spurs.
The San Antonio Spurs have tons of options to trade in the 2021 NBA Draft
Let's begin with something that many fans may not have thought of up to this point: trading down in the draft. More specifically, I'm looking at the New York Knicks picks at #19 and #21, as well as the Oklahoma City Thunder picks at #16 and #18. If either of these teams are looking for a particular player mocked to go in the lottery, either team could perceivably trade with the Spurs for their 12th overall pick, with the Spurs receiving their two picks in return.
Personally, I'm not a big fan of either option here. No matter how deep a draft class is, unless the Spurs happen to be fixated on a particular player and are sure that they'll fall far enough to acquire with a later pick, trading down does not make much sense this year. I don't see a situation in which the Spurs don't want to hold on to their 12th overall pick for dear life.
That being said, a similar possible scenario could arise in which the Spurs acquire a second first-round draft pick from one of these two teams or a contender toward the bottom of the list that isn't in need of a late pick. Given how deep the draft class is, this may actually be my favorite option for the Spurs this year, especially if they're able to find a team looking to give away their pick in the late teens or early twenties.
Finally, it's worth taking a moment to speak on the possibility of the Spurs trading up in the draft, which has already been discussed quite a bit since the day of the lottery, including in an article on the subject written by my colleague, Cal Durrett. Given the rumors of a package that would include the seventh overall pick, James Wiseman, and Andrew Wiggins, a draft-day trade with the Warriors could be mutually beneficial depending on who the Warriors will ask for in return.
With that in mind though, if I'm the Spurs and looking to trade up the board, I'm looking higher. Given that the Spurs still have all of their future draft capital to work with, I would be aiming for either the Cavaliers' third overall pick or the Magic's fifth overall pick.
While acquiring either one of those picks could potentially be costly for the Spurs, it could mean bringing a player like Scottie Barnes or Evan Mobley to San Antonio rather than riskier players like Kai Jones or Alperen Sengun. If the Spurs have their eyes set on a player that they don't think will fall to them at the 12th pick, or even at the Warriors' seventh pick, I would be okay with offering some valuable assets in exchange for a high pick, even if it means saying goodbye to players like Lonnie Walker or Derrick White.
With whatever the Spurs decide to do on July 29, I trust that they will ultimately make the smart long-term choice, even if it means sticking with the 12th overall pick and waiting for more lottery luck in the future.