San Antonio Spurs possible move to Las Vegas looks unlikely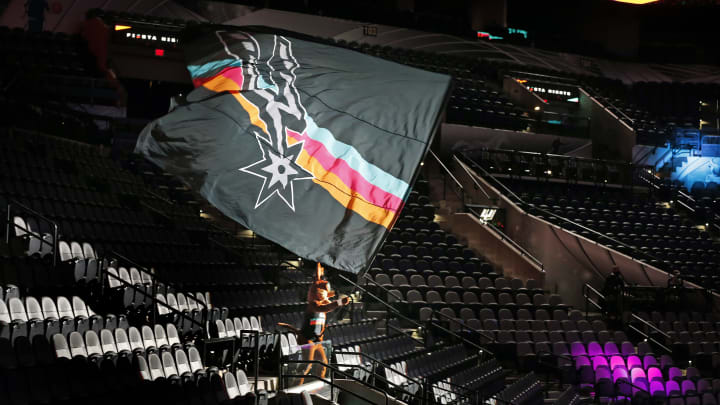 Spurs Coyote, AT&T Center - Los Angeles Lakers v San Antonio Spurs / Ronald Cortes/Getty Images
More news was announced yesterday regarding the San Antonio Spurs' future in the city, and fans ought to be excited. Yesterday afternoon, Spurs executives went to the Bexar County Commissioner's Court to share that they have plans to build a 50-acre campus in Northwest San Antonio. The campus is said to include a new, state-of-the-art practice facility, healthcare offices, and an outdoor community space.
For several years now, rumors have floated around NBA circles that the Spurs could be one of a few current NBA teams slated to make a move to Las Vegas. From an investment standpoint, this is a move that could make a lot of sense for small-market teams looking to move into a bigger market. Earlier in June, it was announced that several minority shares in the Spurs were to be sold off and that Michael Dell and global investment firm Sixth Street would join the organization as strategic partners.
Even though this was debatably good news for the city of San Antonio and Spurs fans alike, this shift in the team's investor group re-sparked rumors of an impending move, and social media promptly erupted into a small frenzy. Now, though, with the news of the Spurs investing over $500 million for new facilities in San Antonio, such a move is looking far less likely to occur.
"Over the last five decades, San Antonio and the Spurs have developed and grown together in amazing ways. We believe this project continues that tradition and will have an impact locally, regionally, and nationally."

- R.C. Buford
Going back to looking at this move through the lens of an investor, it would not make much sense for the Spurs to spend over half a billion dollars on new infrastructure just to move to an entirely different city, let alone a different state.
Even beyond that perspective, though, the Spurs' new "Human Performance Campus" could have some other implications. Primarily, this should be seen as a move that will please the Spurs' current players and potentially even a means of attracting bigger-name free agents in the future.
Many former and current Spurs players have been known to reside in and around The Dominion in San Antonio, which is only about a 15-minute car ride from the proposed location of the Spurs' new practice facility near the Shops at La Cantera. Compared to the Spurs' current practice facility, which is tucked behind the Huebner Medical Center, the new Human Performance Campus will be bigger, more accessible, and closer to home for Spurs players.
Given that the new facilities are also supposedly "expected to be one of the top performance centers in all professional sports," this could add serious value to a potential move to San Antonio for free agents in the future. While San Antonio may not exactly be New York or Los Angeles, NBA players having world-class facilities available at their disposal only minutes from their homes could prove to be uniquely advantageous for the Spurs.
Ultimately, though, what we do already know is that this move should serve as very good news for fans who have been worried about the Spurs ditching town. Peter J. Holt recently went on record saying that the Spurs are "here to stay in San Antonio," and it looks like he and the front office are making moves to convince Spurs fans that they are seriously committing to that sentiment.