Spurs Fans: Limited TV Options May Extend Into Next Year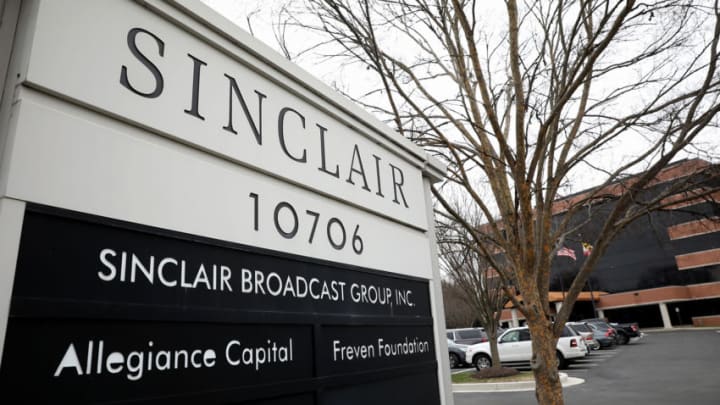 HUNT VALLEY, MD - APRIL 03: The headquarters of the Sinclair Broadcast Group is shown April 3, 2018 in Hunt Valley, Maryland. The company, the largest owner of local television stations in the United States, has drawn attention recently for repeating claims by U.S President Donald Trump that traditional television and print publications offer "fake" or biased news. (Photo by Win McNamee/Getty Images) /
During the San Antonio Spurs March 17th game against the Chicago Bulls, it was finally announced during the live broadcast that Fox Sports Southwest will be rebranding as Bally Sports Southwest starting on Wednesday, March 31.
In 2019, the Sinclair Broadcasting Group acquired all 21 Fox regional sports networks from Walt Disney, a deal that was valued at nearly $10 billion. Those networks, which includes Fox Sports Southwest, cover the local broadcasting of the Spurs along with 15 other NBA teams, both in large and small markets.
The pandemic, and the resulting implications in how the NBA and other major sporting leagues operate, have wreaked financial havoc on such regional sports networks. Large companies are not pressured to add networks to their libraries that will not make them enough money to warrant their cost, especially when those companies have several other large revenue streams outside of live TV.
As a result, nearly all of these types of streaming platforms chose to drop Sinclair's networks by the early fall of 2020, also including fuboTV and Sling TV. Currently, AT&T TV is now the only major streaming platform outside of traditional cable to offer the Fox regional sports networks. Even then though, depending on your location in Texas, you may find that AT&T TV only offers Dallas Mavericks games instead of the Spurs.
With the news that Sinclair Broadcast Group will be rebranding their networks under the Bally name, many Spurs fans are now wondering what this means for their chances of being able to watch their favorite team on TV.
It's not getting any easier to watch live San Antonio Spurs games
Even after the major streaming services pulled the plug on Sinclair's regional sports networks, many remained optimistic. When it was announced in late 2020 that the Fox Sports regional networks would be rebranding under Bally, it was also announced by Sinclair Broadcast Group's CEO that their regional sports networks would soon be offered as standalone subscription services, saying that they had an aggressive plan and that "it will happen [in 2021]." So, in other words, consumers would not necessarily have to worry about whether or not their cable/streaming provider will be adding (and keeping) the newly-branded Bally Sports channels.
Unfortunately, Sinclair Broadcasting Group's Q4 earnings call with their CEO, Chris Ripley, brought some unpleasant news. Not only did there appear to be little to no progress made with striking a deal with major streaming platforms to bring their regional sports channels back, but Ripley also revealed that the direct-to-consumer services they will supposedly be providing will not come until at least 2022, directly contradicting what he said only months prior.
In other words, if you're a YouTube TV subscriber (like I happen to be, for example), and you have been hoping that the Fox regional sports networks will be brought back sometime soon, or at the very least that you'll be able to subscribe to a direct-to-consumer service in the meantime, you may be out of luck until at least next year. While the Bally rebranding will supposedly be bringing a fresh new look to the networks, along with a new interactive app for your smartphone, the changes coming on March 31 mean virtually nothing in terms of channel availability.
For the fans that don't have any other means of watching Spurs games and are looking for a streaming service offering their games, it appears that AT&T TV is your best (and only) bet for now, unless the thought of switching back to traditional cable TV doesn't make you nauseous. Otherwise, there is always League Pass and a variety of other streaming options to be found with a quick Google search.