The San Antonio Spurs loyalty to their players could be their secret weapon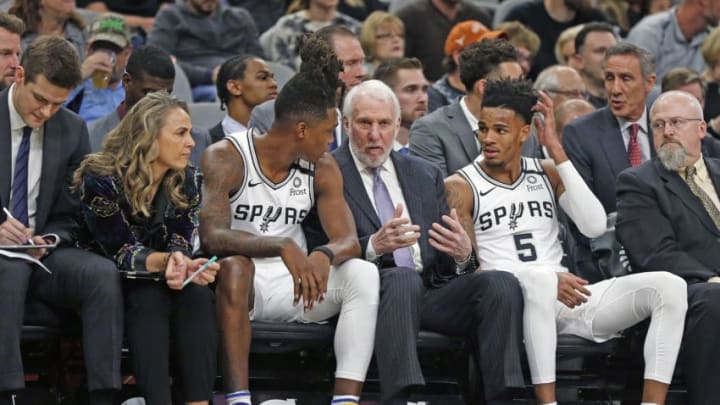 SAN ANTONIO, TX - FEBRUARY 26: Head coach of the San Antonio Spurs Gregg Popovich talks with Lonnie Walker #1 and Dejounte Murray #5 during first half action at AT&T Center (Photo by Ronald Cortes/Getty Images) /
The San Antonio Spurs treatment of their players is their secret weapon
One of the difficulties that the San Antonio Spurs have faced throughout their history is their inability to land marquee free agents. It hasn't stopped them from racking up titles and reaching historic levels of success but it's a difficulty nonetheless.
As the team prepares to court the star-filled free-agent class of 2021 they're going to have to reconcile with their perception in the minds of free agents. For all its charm and attraction, San Antonio isn't New York, Miami, or Los Angeles. It's simply not a market that many players are clamoring to come to play in.
San Antonio is set to enter the summer of 2021 with some of the most cap space in the league. If they want to go big game hunting they've got the cap space to do so. But will they be able to land a top free agent as they did in the summer of 2015 when they lured LaMarcus Aldridge back to his home state?
The Spurs' secret weapon in their pursuit of free agents could very well be something that stands out to most of us as incredibly obvious – that this is an organization that truly, deeply cares about the well-being of its players on and off the court. To the right free agent, that could make all the difference.
The San Antonio Spurs have an excellent track record of treating their guys well
In a recent episode of The Bill Simmons Podcast, Bill Simmons was joined by Jackie MacMullen to talk about why so many star players have been leaving Boston lately. Simmons's idea, while simple, is actually quite insightful.
"I think this is a real issue for the Celtics. Danny Ainge, who has been running the team for the last fifteen years, one of the best things about him as a GM is that he has no loyalty to anybody. He's going to do whatever move it takes to win a title, everyone around the league knows that…The word is now out with the players and the agents "Don't feel safe in Boston."
I think that's something that they have to reckon with a little bit. This is how they're percieved around the league. This is a team that over and over again, will trade your ass the momement they can improve you into a slightly better asset."
When we're talking about players in today's NBA there's a tendency to dumb them down to just a number. We point to statistics and measurables to say why organizations should or shouldn't make incredibly tough decisions about how they're going to impact the livelihood of another person.
And while this kind of commentary is incredibly easy to make from behind a laptop screen, for the players involved it can have transformative effects on their lives and the lives of their families. That's something that the San Antonio Spurs have never lost sight of.
As much as any team in the league, the Spurs care about their guys as human beings, not just as basketball players. That was abundantly clear in Brian Wright's comments after draft night.
Immediately after he was asked about how he felt about the team's selections, Wright mentioned how the team felt that they had added two high character players. Guys who would help them on the court, but who would also add to their locker room and their community. That kind of language doesn't go unnoticed.
Furthermore, they've proven time and time again that they're willing to stand behind their players until the very end. They've stood behind their players through controversy and whenever fan's calls for someone's benching got too loud some veteran or Popovich himself would typically come out and espouse confidence in the player.
Additionally, this is a team that, to its own detriment at times, is notoriously uninvolved in the trade market. This is not the Boston Celtics who are, in Simmons's words, going to "trade your ass the moment they can turn you into a better asset." When you're a Spur, you're a Spur. You're their guy and they're going to make sure you feel at home and that you're taken care of.
However, there are limits to that generosity. There is perhaps no better example of this than how the Spurs' time with Boban Marjanovic came to an end.
When Marjanovic was offered a three-year, $21 million dollar deal by the Detroit Pistons back in 2016, Gregg Popovich almost had to force him out the door. As Marjanovic tells it, he would have preferred to stay in San Antonio. But Pop made it clear that they couldn't match that kind of deal and encouraged Boban to do what was best for himself and his family.
That's the Spurs for you, doing right by their players until the very end. Even if the result isn't the one that's in their own best interest.
To be clear, I don't think their reputation for treating their players the right way will be the lone reason that a marquee free agent decides to sign with the Spurs in the summer of 2021. But it can be a contributing factor.
This is a team that has a lot going for it right now. They just nailed their two draft selections, adding two solid young players to an already impressive core, and they could be in line to add another top-ten selection in the star-studded 2021 Draft.
They've amassed a nice collection of young talent and now just need a star player to take them over the top. Knowing that their next team is going to treat them like a human being and not just another asset could be the difference-maker for the right star.
If stars around the league are taking notice of how the Boston Celtics quickly flip their players I'm willing to bet they see how the San Antonio Spurs do the opposite. When free agency rolls around in the summer of 2021 that could be a factor in bringing the next star to the Alamo City.