KOC predicting a draft day trade for San Antonio Spurs to get Okoro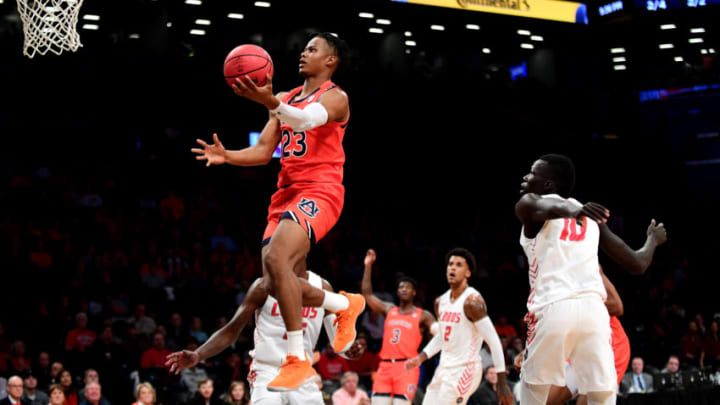 NEW YORK, NEW YORK - NOVEMBER 25: Isaac Okoro #23 of the Auburn Tigers, who's a great fit for the San Antonio Spurs, jumps for a layup in the first half against the New Mexico Lobos. (Photo by Emilee Chinn/Getty Images) /
We love the idea that Kevin O'Connor proposed for the San Antonio Spurs
The San Antonio Spurs don't make big trades often but when they do they're coming away as the winner more often than not. A great example of this is their draft-day maneuvering back in 2011 to bring Kawhi Leonard to San Antonio.
It cost Gregg Popovich one of his all-time favorite players in George Hill but there's no questioning that it was worth it in the end. It certainly didn't end the way that many of us hoped but it was still well worth giving up what San Antonio had to in order to acquire the future Finals MVP.
Now as we approach the 2020 NBA Draft there is speculation building that the Spurs could get involved in the trade market on draft night. With a relatively level of talent outside of the top-four, we could be in for a night full of trades on November 18th. And some are picking the Spurs to move up again to get their man.
San Antonio Spurs move up to No. 6 to select Isaac Okoro from Auburn
In his most recent mock draft, The Ringer's Kevin O'Connor predicted that the San Antonio Spurs would move up from the 11th pick to the 6th in order to select Isaac Okoro. The Spurs would have to send DeMar DeRozan and the 11th pick to Atlanta to move up to grab this class's best defender.
"Okoro has qualities reminiscent of Kawhi Leonard, whom the Spurs also traded for way back in the 2011 draft. Okoro is sure to be a great defender, and he shows flashes of scoring ability. But his jumper needs a lot of work. Maybe the Spurs can repeat history."
O'Connor's brief assessment echos much of what we covered last week when we outlined why the Spurs should be thinking about moving up for Okoro.
Okoro made both the All-SEC and All-SEC Defensive teams after his stellar freshman season for the Tigers. He averaged 1.7 steals and 1.6 blocks per 40 minutes and proved time and time again that he can be trusted in the biggest moments on defense.
His defense is what gives him such a high-floor as a prospect but there is a lot more to Okoro's game than just taking away the opposing team's most dangerous scorer. He's also a great slasher and finisher and has also shown an ability to put the ball on the floor and set up his teammates as well.
The biggest question marks are around his very shaky jumper. He can't be trusted to space the floor right now but, to O'Connor's point, neither could Kawhi when he first came into the league.
Putting those kinds of expectations on Okoro, even if it's just in lightly comparing him to a rough equivalent, is a little unfair. Leonard went from barely having a jumper to being a near 50/40/90 player in just four years in the league. It's impossible to expect Okoro to replicate that but if he can get close it'll be a steal for whatever team that drafts him.
The San Antonio Spurs will surely have plenty of great talent left on the board for them to choose from at 11 but if they can move up a few picks for a player like Issac Okoro they have to be considering it.