San Antonio Spurs: Did we just witness the last Rodeo Road Trip ever?
Oct 16, 2020, 12:20 PM CDT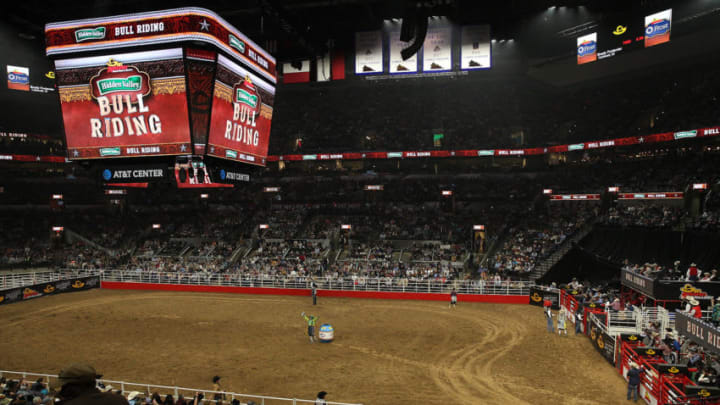 The San Antonio Spurs no longer need to vacate their arena for a few weeks
Every year the San Antonio Spurs vacate the AT&T Center for a few weeks while the San Antonio Stock Show & Rodeo comes to town. The annual Rodeo Road Trip has long been one of the biggest moments in the Spurs season.
The road trip has always served multiple purposes for the Spurs. From a fan's perspective, it gave us kind of a litmus test to determine whether that year's team was legit or not. As they traveled around the NBA they'd regularly run into some of the toughest competition the league had to offer. How they fared in those games could be a reasonable indicator of how they'd do when they ran into similarly tough opponents in the playoffs.
From a coaching perspective, the road trip gave Gregg Popovich a few weeks to get his players out on the road together with nothing to focus on but winning basketball games and building chemistry. Like a band going on tour, the road trip allowed the coaches and players to bond in a way that they might not have had sitting in the comforts of their own homes.
Plenty of fond memories have surely been made out on the road during the Rodeo Road Trip but those days may be behind the San Antonio Spurs now.
San Antonio Spurs could have gone on their last Rodeo Road Trip
The first thing you see when you head over to the website of the San Antonio Stock Show and Rodeo is an announcement that the rodeo will be held in the Freeman Colosseum in 2021. As of yet, there is no indication as to whether this is a permanent move or a temporary measure for 2021 alone.
In any case, it appears that the San Antonio Spurs will not be going on their annual road trip this year. The players probably aren't too upset about it. More time at home means more time in their own beds and with their families. They spend enough time on the road as it is, any opportunity to spend more time at home with the family is a blessing for these road warriors.
But it's going to be hard to replicate the struggles and bonding opportunities that the road trip built-in for the Spurs. But in an organization that emphasizes culture as much as the Spurs do I'm sure some ideas have already been floated around as to how they can replicate some aspects of the experience.
In a year full of firsts it's only fitting that the San Antonio Spurs would undergo another big change and bid farewell to the Rodeo Road Trip, at least for one season.