Two players that need to step up for the San Antonio Spurs to make it back to the playoffs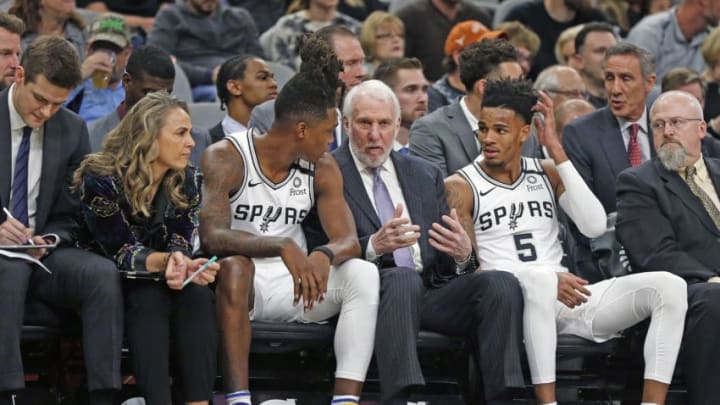 San Antonio Spurs Lonnie Walker Dejounte Murray (Photo by Ronald Cortes/Getty Images) /
San Antonio Spurs /
Dec 31, 2019; San Antonio, Texas, USA; San Antonio Spurs guard Dejounte Murray (5) and center LaMarcus Aldridge (12) celebrate after the Spurs defeated the Golden State Warriors at AT&T Center. (Troy Taormina-USA TODAY Sports)
With the 2020 NBA season finally complete, it's time for these San Antonio Spurs players to turn the page and step into their roles next season.
For a lot of San Antonio Spurs fans including this one, a big question that's been on our minds is 'What's next?'
With the 22-year playoff streak finally snapping this season, it's hard to predict what the future of the franchise is going to look like and even more importantly, who will be the new face of the franchise for the years to come? It may take a while before the latter will be answered, but in the meantime, the Spurs are going to continue to compete for the playoffs until that new face becomes clearer.
Thanks to incredible bubble performances by Derrick White and Keldon Johnson, the future of the franchise appears a little brighter at least for now. With DeMar DeRozan and LaMarcus Aldridge in all likelihood returning next season, it appears the Spurs will run it back with almost the same roster entirely minus a few minor changes. That probably won't be to the delight of many, and it would be fair to criticize that considering how the 2019-20 season was ultimately a failure.
But with LaMarcus and DeMar's contracts (assuming Demar opts in of course), along with Rudy Gay and Patty Mills being off the books after next season, it probably wouldn't make a ton of sense to swing for the fences this offseason. That's amplified when you consider how average this free agency class will be. It would also be really difficult to trade either Aldridge or DeRozan as the Spurs' asking price would be too high for most teams.
Next: Who needs to step up for the Spurs?
San Antonio Spurs /
Feb 1, 2020; San Antonio, Texas, USA; San Antonio Spurs guard Dejounte Murray (5) drives into the lane in the first half against the Charlotte Hornets at the AT&T Center. (Daniel Dunn-USA TODAY Sports)
Dejounte Murray needs to step up for the San Antonio Spurs
Two of the more exciting players on the team this season were Dejounte Murray and Lonnie Walker IV. They showed glimpses of their potential all season — sometimes in small doses, other times in larger. But the pattern seemed to be that when Dejounte and Lonnie played well, the Spurs had more success. Let's start with Murray.
All things considered, it wasn't a bad year for the 24-year-old point guard. It was without a doubt a roller coaster ride. However, thee were a multitude of facots you have to take into account based on everything he's endured. This was his first season since tearing his ACL back in October 2018, leading to a strict minutes restriction early on. There was a lot of pressure on him to perform. In just 25 minutes per game, Dejounte averaged 10.9 points, 5.8 rebounds, 4.1 assists and 1.7 steals.
#Spurs PG Dejounte Murray asserted himself late in the season.
First 46 Games: 10 points & 3.7 assists, 48.2% on 8.6 FGA, 36.4% on 1.4 3PA, 76.1% on 1.5 FTA
Final 20 games – 13.1 points & 5 assists, 42.8% on 12.2 FGA, 37.8% on 2.3 3PA, 86% on 2.2 FTA#GoSpursGo
— Dylan Hunter Carter (@DylanHCarter) October 9, 2020
With breakout performances before the All-Star break against the Jazz and Thunder, dropping 23 and 25 points, we have seen what he is capable of. First, he will have to find some level of consistency. When Dejounte scored 15 points or more, the San Antonio Spurs had a record of 11-5. If he can find a way to be a constant threat on offense every night, that would be tremendously helpful to his team.
Defensively, Dejounte is still one of the better defensive point guards in the NBA. With more minutes paired with Derrick White hopefully coming next season, he will have much more help on the perimeter. Don't take too much stock in his defensive rating of 113.5. Sharing so many minutes with multiple defensive liabilities including Bryn Forbes and DeMar will do that to anyone.
This is going to be a big year for Dejounte. Playing without restrictions and spending more time on the court with Derrick and Lonnie means no more excuses. DeRozan and Aldridge will continue to put up good numbers, but Dejounte needs to step up if the Spurs are to return to the playoffs.
Next: The Skywalker needs to soar
San Antonio Spurs /
Jan 26, 2020; San Antonio, Texas, USA; San Antonio Spurs head coach Gregg Popovich talks with San Antonio Spurs guard Lonnie Walker IV (1) against the Toronto Raptors at the AT&T Center. (Daniel Dunn-USA TODAY Sports)
The San Antonio Spurs need a leap from Lonnie Walker IV.
Probably the consensus most exciting young player on this Spurs team, Lonnie Walker IV showed small, but very promising glimpses of his capabilities. The 28-point outing against the Houston Rockets early in the season showed he is capable of shouldering a lot of responsibility on the offensive end. He's a heckuva defender as well, often times guarding one of the best perimeter players on opposing teams.
But, similar to Dejounte, Lonnie struggled to find some form of consistency all year. This isn't to blame Lonnie for that — he's only 21-years-old, after all. However, he is capable of a lot and head coach Gregg Popovich understands this. That's why many times during the season, Pop was calling on Lonnie to be more aggressive on offense and to take control during games.
More from Air Alamo
When Lonnie played passively and defered to others, he got pulled. A lot. This made it even more difficult for him to find some sort of rhythm offensively. His season averages can be a little deceiving. Averaging 6.4 points and 2.3 rebounds doesn't look great, but this was while playing just 16 minutes per game. In the four games he played 30 minutes or more, the Spurs went 3-1 and he averaged 18.3 points.
Obviously, it's going to take more than Lonnie and Dejounte stepping up for the Spurs to make the playoffs. If DeMar and LaMarcus are back, they will have to continue to play at a near All-Star level night in and night out. Gay and Mills will have to provide a consistent spark off the bench. Lastly of course, the young guys including Lonnie and Dejounte will continue to take on more responsibilities on both the offensive and defensive end.
Look for Derrick and Keldon to have big roles next season as well. If Jakob and the Spurs reach an agreement, he and Trey Lyles will look to round out the front court too. It's going to take a lot for the Spurs to start a new playoff streak next season and it may be even more difficult than this year.
If Lonnie Walker and Dejounte Murray step up to the challenge, the Spurs future and their playoff hopes get a lot brighter.