Small-ball may be a part of the San Antonio Spurs' strategy moving forward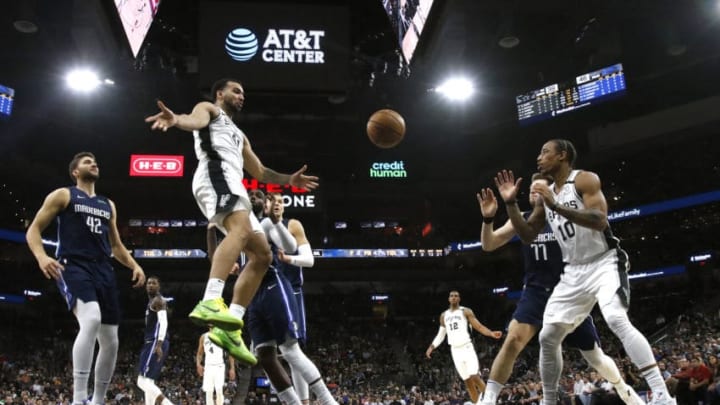 SAN ANTONIO, TX - MARCH 10: Trey Lyles #41 of the San Antonio Spurs passes off to DeMar DeRozan #10 during first half action at AT&T Center on March 10, 2020 in San Antonio, Texas. San Antonio Spurs defeated the Dallas Mavericks 119-109. NOTE TO USER: User expressly acknowledges and agrees that , by downloading and or using this photograph, User is consenting to the terms and conditions of the Getty Images License Agreement. (Photo by Ronald Cortes/Getty Images) /
The San Antonio Spurs certainly have the pieces to deploy an intriguing small-ball lineup. Considering the current roster, it could help them stay relevant.
Without LaMarcus Aldridge in the Orlando bubble, San Antonio Spurs head coach Gregg Popovich was forced to deploy a small-ball lineup. He featured DeMar DeRozan at the small forward for the first time in his career. Having an athlete, shot creator and playmaker of his caliber at that position opened up a world of possibilities for the silver and black. That aspect of their strategy is a great way to remain relevant moving forward.
During the Spurs' seven seeding games before their playoff elimination, they were amongst the best teams in the bubble with a Net Rating that ranked better than certain title contenders. Their defense was much improved with the young core taking over and their offense was methodically executed. Popovich got creative, deploying lineups as we've never seen to combat their injuries.
With three starters, sidelined, Popovich deployed a starting lineup that hadn't been seen before. The defensive-minded styles of his players at the 1-through-3 were tremendous in limiting perimeter offense. Therefore, we may see the Spurs lean into that playstyle even more as their youth movement progresses and veterans are asked to take reduced roles.
https://twitter.com/AssassinateHate/status/1294086286723121154
For someone like Rudy Gay, who simply wants to compete and make an impact, a small-ball five role in limited minutes is a serious possibility. That enables the team to play a five-out set with players scattered around the perimeter for optimal floor spacing and positioning for swing passes. If they can play within the point-five system, which has their players making decisions immediately after receiving the ball, they can emulate a modernized version of 2014's 'Beautiful Basketball' run.
More from Air Alamo
To keep forward Trey Lyles in the lineup, Popovich could opt for him to slide to a small-ball five — Especially if Poeltl is the starter for next year. Lyles' rebounding effort, lateral quickness and verticality make him a solid candidate for that role as he adds a layer of floor-spacing to the equation that Poeltl can't match. Once he's more acclimated and adds muscle, rookie Luka Samanic could be a candidate for that too.
Based on the current lineup heading into next year, which is based largely on the same core that it has for the last three years, the Spurs won't be improving much. Trades are a possibility and they'll bring in a rookie with a chance to carve out a role, but the team has 11 players under contract for next season. Chances are, there isn't going to be all too much movement until the summer of 2021.
Small-ball is the way of the future and San Antonio's best success has come with its depth. This team has enough pieces to throw different looks at different teams. When going against teams that live for small-ball like Houston, the Spurs can match that intensity and smother their opponents on the perimeter. Against a team with size like Dallas, they can play traditional bigs in natural roles or switch it up off the bench.
Versatility is key and leaving the door open for more small-ball improves the Spurs' chances at starting a new playoff streak next year.