San Antonio Spurs: What Lonnie Walker should focus on in Orlando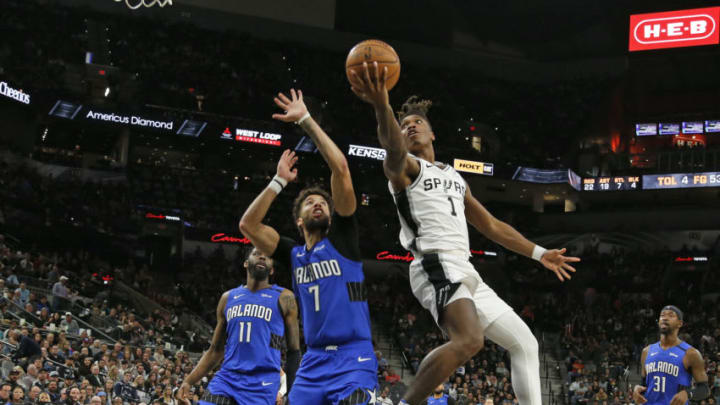 SAN ANTONIO, TX - FEBRUARY 29: Lonnie Walker #1 of the San Antonio Spurs drives on Michael Carter-Williams #7 of the Orlando Magic during s second half action at AT&T Center (Photo by Ronald Cortes/Getty Images) /
SAN ANTONIO, TX – FEBRUARY 29: Lonnie Walker #1 of the San Antonio Spurs drives on Michael Carter-Williams #7 of the Orlando Magic during s second half action at AT&T Center (Photo by Ronald Cortes/Getty Images) /
Here's what Lonnie Walker should focus on in the San Antonio Spurs return
Almost every one of the young San Antonio Spurs seems to be starving to return to action. After months of being away from the game, you can't blame them. Dejounte Murray and Lonnie Walker are just two of the young Spurs who have made it abundantly clear that they're ready to get back out on the court and show what they can do.
The San Antonio Spurs' chances of continuing their streak of playoff appearances are pretty slim at this point. They're four games out of the eighth seed and with tough games against the 76ers, Nuggets, and Rockets all on their schedule for the season re-start it's going to be tough for them to make up the necessary games.
They're not going to throw in the towel by any means, but there have been several indications that were going to see more of the young guys across these final games. A lot of guys would benefit from the increased playing time but perhaps no one more than Lonnie Walker.
Walker is overflowing with athletic ability and raw talent. Unfortunately, he's had a tough time getting the minutes that many other players drafted as high as he was typically get. He was stuck behind Marco Belinelli for a long stretch of the season but was carving out a role for himself when play was suspended.
Now, sporting a new haircut and what looks like several pounds of added muscle, Walker is ready to make the most of these final regular-season games. Here's what he should be focusing on as the San Antonio Spurs wrap up their season.
Next: What to focus on offensively
PORTLAND, OREGON – FEBRUARY 06: Lonnie Walker IV #1 of the San Antonio Spurs dribbles with the ball against Gary Trent Jr. #2 of the Portland Trail Blazers in the second quarter during their game at Moda Center (Photo by Abbie Parr/Getty Images) /
How Lonnie Walker can help out the San Antonio Spurs offense
What we've seen from Walker so far is enough to be encouraging. He's shown that he can score from every level when he's got things going but there are still a lot of little mistakes that can be cleaned up in order to make him a more intimidating all-around scoring threat.
The good news is that what Walker already does do well is something that's critical for the San Antonio Spurs. He was shooting the ball really well from deep before the season hiatus. By knocking down over 40 percent of his long-range attempts, Walker was the most accurate 3-point shooter on the team.
That said, his percentage did come from a relatively small sample size. He only shot 71 attempts from deep this year, averaging just 4.4 attempts per 100 possessions. The challenge for Walker now will be to maintain his accuracy while ramping up his attempts.
The Spurs could very well lose Bryn Forbes this summer as he is approaching unrestricted free agency. In that event, San Antonio will likely lean on Walker more and more for his perimeter shooting. Let's see if he's up to the task.
Another area for Lonnie to focus on is something that we've touched on several times before, finishing around the rim.
Would really like to see Lonnie Walker improve his finishing around the rim down in Orlando, definitely something for him to focus on over these final few games pic.twitter.com/zJtSeq0VlA
— Ethan (@ethan_farina_) July 11, 2020
Getting to the rim isn't the problem for Walker, it's finishing when he gets there. Sometimes it's finishing through contact that's given him problems and sometimes he looks like he's just going too fast and ends up sending the ball off of the back of the rim. Either way, slowing down and focusing on matching his explosive drives with delicate finishes will help round out his offensive game.
Next: What to focus on defensively
HOUSTON, TX – MARCH 22: Eric Gordon #10 of the Houston Rockets drives to the basket defended by Lonnie Walker IV #1 of the San Antonio Spurs and Bryn Forbes #11 in the first half at Toyota Center. (Photo by Tim Warner/Getty Images) /
How Lonnie Walker can help the San Antonio Spurs defense
You love to see Walker show off his athleticism in the form of high flying dunks, but he's also been able to make some pretty jaw-dropping plays on the defensive end of the floor as well. With his quickness and leaping ability, Lonnie is a prime candidate to surprise you with an impressive block every now and again.
https://videos.nba.com/nba/pbp/media/2020/02/26/0021900869/512/d794a282-39f2-3e73-8d21-7bde7311333d_1280x720.mp4
We already know the kind of defensive impact that Dejounte Murray and Derrick White can have on the court. Murray has some of the stickies fingers in the league, he's a monster when it comes to racking up deflections and steals. Meanwhile, White is one of the best shot-blocking guards in the league and led all guards in total blocks this season despite playing considerably fewer minutes than his competition.
If Murray's area of expertise is getting steals and White thrives on sending shots back, what role does Walker have to focus on? Well, in the Spurs long term plan, Walker's likely going to slide in as their starting small forward. That's where he spent 80 percent of his minutes this year and as the league continues to trend towards small ball Walker won't have to worry about giving up a few inches to whomever he is guarding.
The San Antonio Spurs don't face many teams with top small forwards over their final few games but they will run into a variety of players who can test Walker's defensive abilities. Lonnie held his own against James Harden in one of the most exciting games of the Spurs season earlier this year, the Spurs coaches should see if he can repeat the performance when the two teams face off on August 11th.
If Walker can use his added muscle to body smaller players on defense and hold his own against larger wings the San Antonio Spurs may have found the perfect man to round out their scary defensive-minded backcourt.
No matter how the rest of the season plays out, the San Antonio Spurs and Lonnie Walker should focus most on just going out and playing loose and try to gain some confidence and momentum heading into next season.