San Antonio Spurs: Crafting a trade package for Giannis Antetokounmpo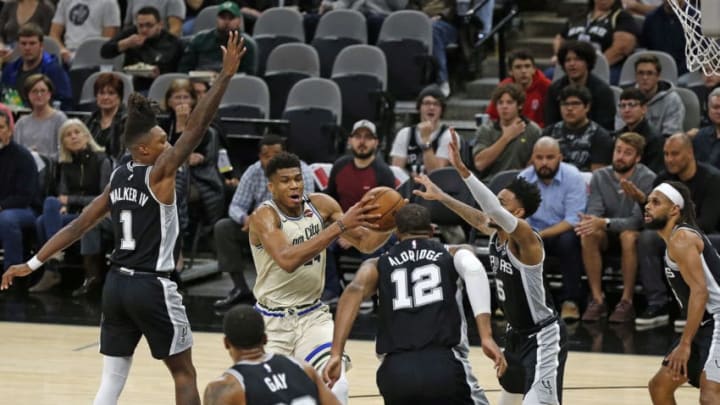 SAN ANTONIO, TX - JANUARY 6: Giannis Antetokounmpo #34 of the Milwaukee Bucks draws the attention of all the San Antonio Spurs during first-half action at AT&T Center (Photo by Ronald Cortes/Getty Images) /
In a hypothetical world where the Milwaukee Bucks need to trade reigning MVP Giannis Antetokounmpo, the San Antonio Spurs could be legitimate suitors.
There's been a lot of talk about the future of reigning MVP Giannis Antetokounmpo with the Milwaukee Bucks. Eligible for a supermax extension starting this offseason, Giannis could opt to decline that deal and push his way out of Wisconsin if he feels like his chances of winning a championship there are limited. Some of the teams listed include the Toronto Raptors and Golden State Warriors, but the San Antonio Spurs could actually put together an enticing package.
For a team stuck in such a vulnerable position outside of the playoff race, the Spurs could leverage their situation into a package that makes a lot of sense for the Bucks. Again, this is all hypothetical because the most likely option is that Giannis remains in Milwaukee on a max contract, but on the off chance he wants out, San Antonio could find themselves in the same position that the Raptors did when they were forced to trade Kawhi Leonard.
For the No. 1 seeded Bucks, Giannis plays such an influential role in their all-around success that replacing his on-court value would take a haul, but the Spurs have the means to fill some of the gaps he'd leave. With a handful of players age 24 or younger, they have a plethora of talented players with sky-high potential that could take off under that intellectual organization's watch.
Before we can get into what a package would look like and how to make it work, we have to address why Giannis would even want to leave the Bucks in the first place.
Next: An unlikely series of events
SAN ANTONIO, TX – JANUARY 6: Giannis Antetokounmpo #34 of the Milwaukee Bucks shoots past Trey Lyles #41 of the San Antonio Spurs during second half action at AT&T Center (Photo by Ronald Cortes/Getty Images) /
Crafting a San Antonio Spurs package for Giannis: Being blunt about Giannis' situation with the Bucks
Considering the hiatus we're in and how far NBA writers have to reach for content, there's been a lot of writing done about Antetokounmpo's imminent departure from Milwaukee. Losing in the playoffs year after year could be weighing on him and he may feel like his opportunity is limited where he is now, but that's not a guarantee.
Lots of his future is going to depend on what the Bucks do this offseason. If they return from the suspension and win a title then in all likelihood, he'll sign his max contract extension and stay with the organization that took a chance on him in the 2013 NBA Draft. To be honest, I think Antetokounmpo staying put is the most likely scenario.
Giannis isn't the kind of player who needs to be in the spotlight to be happy. He doesn't need to chase a big market or team up with his buddies to compete. He's old fashioned in the sense that he wants to do this himself with the guys he's been to battle with for years prior.
On the other hand, the Bucks haven't won a championship since 1971 and didn't get particularly close before Antetokounmpo came to town. They don't have the same pedigree or wining culture that the Spurs cultivate, nor the international presence that the Spurs have become notorious for.
San Antonio can offer Giannis expert coaching, a fleshed-out roster of players who complement his playstyle and the winning template that could propel him to the next level. First, they'd need to put together a trade package to get him there.
Next: Building a trade package
MILWAUKEE, WISCONSIN – NOVEMBER 24: Giannis Antetokounmpo #34 of the Milwaukee Bucks drives against DeMar DeRozan #10 of the San Antonio Spurs at Fiserv Forum (Photo by Quinn Harris/Getty Images) /
Crafting a San Antonio Spurs trade package for Giannis: What would it take to trade for an MVP?
Two recent cases come to mind when crafting trade packages for MVP-caliber players: Russell Westbrook to the Houston Rockets in 2019 and Kawhi to Toronto in 2018. The two situations were very different because the Spurs had much less leverage than the Oklahoma City Thunder did when moving off of Russ.
For the Rockets, it took a former All-Star in Chris Paul, two future first-round picks and two future pick-swaps. For the Spurs, this is less plausible because they have enough young talent on their roster right now to limit the picks they'd have to trade and give more players currently on the team. Toronto had to give up an All-Star in DeMar DeRozan, a first-round pick and an up-and-coming center in Jakob Poeltl.
Taking into account the fact that Giannis is better than both of these players, San Antonio would probably have to trade more than they'd like to. Even so, it'd be worth it for a small window of opportunity with Antetokounmpo at the helm.
In my estimation, the Spurs would need to send back DeRozan, combo guard Derrick White, rookie Luka Samanic, their 2020 first-round pick and one future first-round pick. Yes, that's a ton to give up, but that's the sacrifice you have to make for arguably the best basketball player in the world.
For the Bucks, bringing in DeRozan, whether it be on an extension or a one-year deal, gives them another dominant slashing player to lead them in both touches and shooting. We've seen what DeRozan could do as the leader of an Eastern Conference team and the three-point specialists throughout Milwaukee's roster perfectly compliment him. With DeRozan leading the way, Milwaukee is in position to be a top-three seed in the East even without their MVP.
White, who Spurs fans would hate to part with, is probably the most exciting part of the deal. He's instantly a top rotation player who they'd have rights to re-sign as a restricted free agent next season. They could also sign him to a contract extension this offseason to secure their point guard of the future to replace Eric Bledsoe when his time comes.
Samanic gives them a young player to bank on and develop with the hope that he becomes a fraction of the player that Giannis is. His potential reaches the sky and considering how well they guided Giannis to harness his potential, it's safe to say the Bucks could do something similar with Samanic this early in his playing career.
Lastly, they get a lottery pick this season and a future pick to hang onto or swap for future moves.
For San Antonio, this leaves a handful of veteran players to complement the best player in the league while franchise point guard Dejounte Murray enters his prime and new deal. They could roll out a lineup with Murray, Lonnie Walker IV, Giannis, Trey Lyles and LaMarcus Aldridge in 2021 with shooters off the bench and a mid-level exception to toy with.
This opens up an immediate window of opportunity for the Spurs to finally achieve that sixth championship and fulfill the potential they've been working toward for years with this group.
Next: The Spurs are made for Giannis
MILWAUKEE, WI – MARCH 25: Giannis Antetokounmpo #34 of the Milwaukee Bucks drives to the basket against LaMarcus Aldridge #12 of the San Antonio Spurs during the second half of a game (Photo by Stacy Revere/Getty Images) /
Crafting a San Antonio Spurs package for Giannis: San Antonio is a perfect fit for Giannis
The Spurs can give Giannis everything he wants as a free agent looking to take the next step: Championship pedigree, a culture that's focused on becoming a better basketball player and individual, a championship coach, an established core that works perfectly around him and a sanctuary that'll allow him to stay out of the limelight and focus on his craft.
From an on-court perspective, it makes sense as well. Putting him back at his natural small forward position would work nicely with two floor-spacing bigs in Lyles and Aldridge. He'd have a shot-creating two-guard next to him to help levy the scoring load and inflict some energy with Lonnie Walker while Murray remains one of the best two-way players in the game.
More from Air Alamo
Off the bench, San Antonio could bring some serious firepower with Mills and Gay along with a dog in Keldon Johnson and an elite rim protector in Poeltl. This roster is ready for Giannis and if they were to trade for him, the Spurs would be a more enticing team for veteran role players to join in free agency on deals lesser than what it would take otherwise.
San Antonio would be more than willing to pay whatever they need to to keep him and could use some draft assets to trade for complimentary role players to flesh out the roster.
We're talking about a fantasy world—I know—but trade isn't the only way to lure the Greek Freak to San Antonio. Antetokounmpo hits the free agent pool in 2021 when the Spurs have an expiring contract in DeRozan if he opts in, as well as Aldridge, Gay, Mills and Lyles, opening up enough space for two max deals.
In most cases, San Antonio isn't an ideal destination for a lot of these big-name stars, but Giannis isn't like the rest of them. His priorities are family, basketball and winning, which align perfectly with the Spurs' way.