Spurs: Tony Parker opens up about aspirations to own NBA team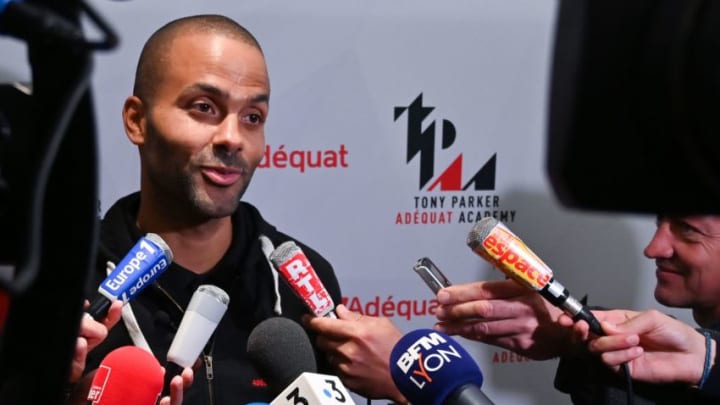 French basketball player Tony Parker speaks with journalists during the inauguration of the "Tony Parker Adéquat Académie" in Lyon, south-eastern France on October 3, 2019. - After taking over the reins of the Asvel basketball club, Tony Parker is continuing his expansion in Lyon with the opening of an academy whose stated ambition is to guarantee a job, sporting or not, for each of its residents. (Photo by PHILIPPE DESMAZES / AFP) (Photo by PHILIPPE DESMAZES/AFP via Getty Images) /
Tony Parker has been staying busy during his retirement. The former San Antonio Spurs guard is eyeing ownership of an NBA team at some point
Tony Parker always moved fast. When he first joined the San Antonio Spurs he was a blur, slashing through opposing defenses on his way to the hoop. As his career progressed he combined that speed with a thoughtful eye for the game to help lead the Spurs to multiple titles along with the rest of The Big Three.
After retiring in 2019, Parker didn't stay settled for long. He recently had a long interview with Marc Spears with The Undefeated about all that he's been doing since retirement. Frankly, Paker might be busier now than he was during his playing career with all that he's got going on.
He's the majority owner and president of the French basketball club ASVEL Lyon-Villeurbanne, owns two ski resorts with Nicholas Batum, opened his own basketball academy, is now the co-owner of the Seattle Reign FC, was recently named president of NorthRock Partners Sports, Artists and Entertainment division, and will be taking over as the next president of Olympique Lyonnais soccer team in 2023. It's certainly been a busy retirement.
One of the more interesting topics that came up in his conversation with Spears is Parker's aspiration to own an NBA team someday. Aspiring to own a professional sports franchise isn't anything new for NBA players, especially Parker, but he's in a great position to actually make it happen someday.
"The ultimate goal is to one day own an NBA team. I know with the OL group, we have big dreams….It's a strong possibility. Right now, we have different objectives and goals. But in five to 10 years … I am the type of person who always dreams big. I have already had discussions with the soccer president about that."
Even with all of his assets, pulling together enough funds to purchase an NBA team would be no easy task for Parker and his associates. The Houston Rockets were sold for a whopping $2.2 billion back in 2017. It wouldn't be impossible for Parker to buy a franchise down the road but doing it on his own would be a daunting task.
However, if TP wants to wet his beak with a minority stake in a team he could do so with the franchise he spent most of his career with. The San Antonio Spurs recently made news as word of their intentions to sell a minority stake in the team got out.
One of the biggest concerns around the selling of a minority ownership stake was the possible implications for moving the team in the future. That's something that Holt's immediately pushed back on but as long as there are cities like Las Vegas and Seattle that are hungry for an NBA franchise the rumor mill will always swirl around any team that has the slimmest perceived chance of moving.
Approaching Parker about purchasing the minority stake would help quash the rumors once and for all. He lives in San Antonio full time and moving the team away would surely be unthinkable for a player who has spent the majority of his adult life in the Alamo City. His clear intentions of owning a team one day almost make it a match made it heaven.
This is a far fetched hypothetical but could you imagine Tony Parker as the owner of the Spurs, with Tim Duncan as the head coach? What a wild and exciting future that could be for the San Antonio Spurs.