San Antonio Spurs: Three places where the NBA could resume its season in quarantine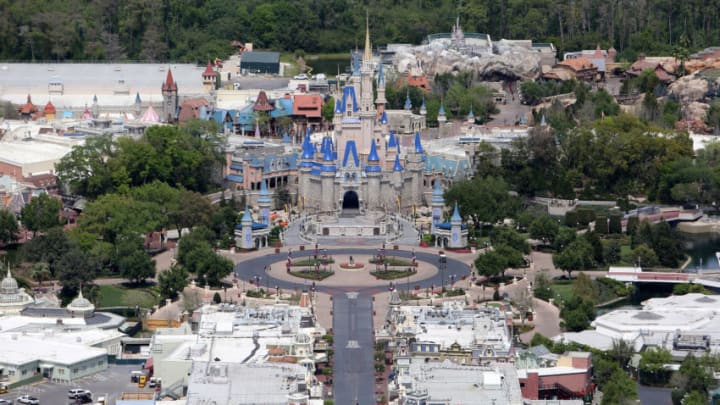 ORLANDO, FL - MARCH 23: Walt Disney World remains closed to the public due to the Coronavirus threat on March 23, 2020 in Orlando, Florida. The United States has surpassed 43,000 confirmed cases of the Coronavirus (COVID-19) and the death toll climbed to at least 514. (Photo by Alex Menendez/Getty Images) /
LAS VEGAS, NV – JULY 07: Lonnie Walker IV #18 of the San Antonio Spurs drives against Levi Randolph #8 of the Indiana Pacers during the 2018 NBA Summer League at the Thomas & Mack Center (Photo by Sam Wasson/Getty Images) /
As the sports world tries to find some sense of normalcy, the San Antonio Spurs could find themselves resuming the season in some interesting places.
We didn't expect the San Antonio Spurs' season to be put on hold the way it has been, but that hasn't stopped us from having fun discussing Spurs content here at Air Alamo!
Still, we miss the NBA just as much as you do, which is why we've been brainstorming about some centralized locations where the league, including the Spurs, can continue to play once Commissioner Adam Silver gives the go-ahead to do so. Silver has continuously met with media and influential public figures to reiterate that he's not prepared to offer a timeline for the league to resume, but he is working on new solutions.
NBA Insider Brian Windhorst of ESPN has reported that the league will look at centralized locations where the league can continue operations in isolation. They'll need a place that can accommodate all of the personnel that the NBA deems "essential," which will likely include players, coaches, trainers, medical professionals, broadcasters and other media members at the very least.
Few places are built to accommodate a bubble that hosts an entire sports league and all of the people who come with that. Still, we've come up with three places that could theoretically house the NBA for a few weeks as they wrap of the season we've been so desperate to watch resume.
These aren't perfect, but they're the best we've got right now. If you can think of any other ideas that are outside the box, we'd love to hear them on social media!
Next: The Happiest Place on Earth
LAKE BUENA VISTA, FL – FEBRUARY 23: Los Angeles Clippers All-Star guard Chris Paul joins his son, Chris at the Magic Kingdom theme park at Walt Disney World Resort (Photo by Gene Duncan/Disney Parks via Getty Images) /
1. Walt Disney World (Orlando, FL)
Former Walt Disney Company employee and current Yahoo Sports contributor Keith Smith, a reputable member of the online basketball community published an extremely well-thought-out plan as to why this makes sense, which sparked my idea to gather this list. It's a great read, and you can check it out here.
Anyway, let's get down to business: The happiest place on Earth could become even happier for NBA fans across the globe if the league resumed play from Central Florida.
As Smith outlined in his piece, Lake Buena Vista has the space and resources necessary to put on a function of this level. ESPN's World Wide of Sports, a major sporting complex just over five miles from The Magic Kingdom is capable of holding an event of this caliber with the surrounding hotels necessary to house essential personnel and their families.
Between massive resorts and various open spaces to set up broadcast-friendly courts for the league to re-establish itself, the NBA has just about everything it needs to get this operation up and running. Plus, they already have such a tight relationship with ESPN and the Disney Company as a whole to make the best of this partnership.
Around this time of year, ABC would begin broadcasting games nationally, so it'd give a national channel owned by the Disney Company more content for their viewers. It's a win-win for everyone involved and would bring some joy to the beloved theme parks that have been shut down.
Next: Vegas, Baby!
LAS VEGAS, NEVADA – JANUARY 29: Purple and gold lights flicker around the Welcome to Fabulous Las Vegas sign as a tribute to Kobe Bryant and his daughter Gianna Bryant (Photo by Ethan Miller/Getty Images) /
2. Las Vegas, NV
Since the whole league has been pushed back, it's safe to say that NBA Summer League isn't likely to occur as is regularly does in the 2020 offseason. Whether it be pushed back or canceled as a whole, the NBA's annual league-wide event in Las Vegas is in disarray with the state of the sports world in limbo.
Since all of the casinos and hotels aren't operating right now, this could be the perfect scenario for the NBA to set up shop in a market that it has a good relationship with already. Finishing off the regular season and getting through the playoffs in a time-efficient manner is going to take a lot of focus and care league-wide, so the fact that gambling and night-life are shut down makes this less of a liability than it would be if the league played here normally.
Between the Thomas and Mack Center and Cox Pavillion, as well as resources on the UNLV Campus, the NBA could set up concurring games with league-wide broadcasts the way it does for Summer League to create an unprecedented live streaming event that will give sports fans the fix they've been craving so direly.
This is all dependant on testing and health advisories, so it's a far stretch this early in the game, but Las Vegas is an incredible option for the league's next step. We may see Spurs basketball again this season if the logistics could be sorted out.
Next: Taking advantage of space
INGLEWOOD, – APRIL 09: The Forum is illuminated in blue lights during the coronavirus pandemic on April 09, 2020 in Inglewood, United States (Photo by Rich Fury/Getty Images) /
3. Southern California (L.A. County)
There's a whole lot of basketball in Southern California and plenty of space to host basketball events. The tricky part of this is keeping everyone quarantined and isolated from the outside world when stationed in SoCal since so many of the league's essential personnel already have homes in the area.
Players and staff from both LA teams will want to stay at their homes, as well as all of the players who have second homes or family members in the area. However, there's plenty of space to make it happen between Staples Center itself, The Forum in Inglewood, the Honda Center in Anaheim and all of the basketball arenas in between.
More from Air Alamo
Clippers owner Steve Balmer just purchased The Forum, a historic concert venue with the space and capacity to hold basketball ten times over. Cycling through these three arenas located within 35 miles of each other is a solid option that affords the NBA some flexibility in its scheduling.
Granted, this is the trickiest of the choices since LA is so densely populated, meaning there's a higher risk of NBA personnel contracting the coronavirus in the area. Still, if they can figure out a plan to keep everyone quarantined, safe, healthy and tested consistently then LA would make a ton of sense.
The Spurs' own DeMar DeRozan is an LA-native who tends to show out when visiting his hometown crowd. Granted there probably wouldn't be a crowd in this scenario, this could actually work in San Antonio's favor if DeRozan turns it up for his home and carries the team back into the playoff picture.
To be quite frank, there's no telling what comes next for the NBA or professional sports as a whole, but the Spurs will be ready when the time comes.