Spurs: 5 Former draftees that had great careers somewhere else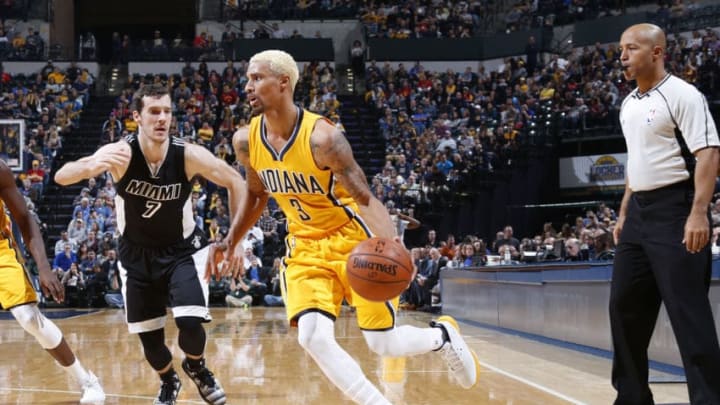 INDIANAPOLIS, IN - DECEMBER 11: George Hill #3 of the Indiana Pacers handles the ball against Goran Dragic #7 of the Miami Heat in the second half of the game at Bankers Life Fieldhouse on December 11, 2015 in Indianapolis, Indiana. The Pacers defeated the Heat 96-83. NOTE TO USER: User expressly acknowledges and agrees that, by downloading and or using the photograph, User is consenting to the terms and conditions of the Getty Images License Agreement. (Photo by Joe Robbins/Getty Images) /
INDIANAPOLIS, IN – DECEMBER 11: George Hill #3 of the Indiana Pacers handles the ball against Goran Dragic. (Photo by Joe Robbins/Getty Images) /
Not ever San Antonio Spur carves out a long and happy career in the Alamo City. These former Spurs all went on to have better careers somewhere else.
The San Antonio Spurs have done a better job than most of finding talent in the NBA Draft. Drafting is far from an exact science and yet the Spurs have been relatively consistent in their ability to select and develop talent.
Their reputation is bolstered by two Hall of Fame first overall picks (Tim Duncan and David Robinson) as well as one of the best second-round picks ever in Manu Ginobili. But even looking past the greats who have worn the silver and black, the Spurs have been one of the best organizations in the league in developing consistent role players.
For a few years there a trend appeared of a role player making a name for himself on the Spurs, securing a big contract from another team, and then falling short once he left San Antonio. Was it just the Spurs magic? Something in the water of the Riverwalk?
These five former Spurs draftees all ended up making the most of their careers somewhere else. Though it would have been fun to see them in San Antonio, by draft-day trade or something else, all found success with another team.
Next: 2 Former Suns
PHOENIX – APRIL 18: Louis Amundson #17 of the Phoenix Suns high-fives teammates Goran Dragic #2 and Leandro Barbosa. (Photo by Christian Petersen/Getty Images) /
Leandro Barbosa & Goran Dragic
We're grouping these two together because of how they ended up leaving the San Antonio Spurs and where they ended up going. Both Leandro Barbosa and Goran Dragic were technically drafted by the Spurs back in the mid-2000s but both ended up being traded to the Phoenix Suns.
Barbosa was drafted by San Antonio in 2003 but quickly shipped to Phoenix in exchange for a future first-round pick. The Brazilian Blur would go on to become a key part of the Seven Seconds or Less Phoenix Suns who revolutionized the NBA and tormented the Spurs along their way.
A backup combo guard with a sweet shooting stroke, Barbosa helped back up Steve Nash and Amar'e Stoudemire in a similar way that Manu backed up Tony Parker and Timmy. Barbosa's value as a sixth man was recognized by the league when he won Sixth Man of the Year for the 2006-07 season.
Dragic underwent a similar draft-day trade in 2008 when he was moved to the Suns in for Malik Hairston. Looking back on it, not the best deal for the Spurs. Hairston played 427 minutes for the Spurs across two seasons before being cut.
Meanwhile, Dragic bounced back and forth between Phoenix and Houston before establishing himself as the Spurs starting point guard, being part of a weird three-man backcourt involving Brandon Knight and Eric Bledsoe, and eventually settling in Miami as the lead guard for the Heat. He's made an All-NBA team, won Most Improved Player of the Year, and made an All-Star team along the way. And the Spurs traded him for Malik Hairston…you hate to see it.
While both of these players technically were drafted by the Spurs, we're getting them out of the way early due to how little impact they had on the success of the organization.
Next: Difficulties with an international buy-out
PHOENIX, AZ – FEBRUARY 24: Manu Ginobili #20 of the San Antonio Spurs loses the ball guarded by Luis Scola #14 and P.J. Tucker.  (Photo by Christian Petersen/Getty Images) /
Luis Scola
Ah the San Antonio Spurs and international big men, a love story as old as time itself. Luis Scola ended up being one of the ones who got away for San Antonio. After being drafted by the Spurs in 2002, Scola was unable to join the team after difficulties arose over his buy-out agreement with his team in Spain.
Instead, Scola followed up an incredibly decorated European career by signing with the Spurs in-state rivals, the Houston Rockets, back in 2007. He made the All-Rookie team in his first year and played respectably for the Rockets over his first five years in the league.
In an interesting twist of fate, the paths of Scola and Dragic overlapped when they played together in Phoenix during the 2012-13 season.
Group Scola in with Hedo Turkoglu in the group of power forwards we wish could have played with Tim Duncan. Like Turkoglu, Scola had the mid-range touch to complement Duncan's post-centric game. He didn't have quite the same range as Hedo but it was still more spacing than what Tiago Splitter or Fabricio Oberto brought to the table during the same period.
Next: A champion journeyman
PHOENIX, AZ – DECEMBER 18: Head coach Gregg Popovich of the San Antonio Spurs talks with Cory Joseph. (Photo by Christian Petersen/Getty Images) /
Cory Joseph
As a precursor to Derrick White, Dejounte Murray, and Keldon Johnson, Cory Joseph was another great draft selection at pick 29 by the San Antonio Spurs. After joining the team in 2011, it didn't take CoJo long to be handed a key role as a backup point guard.
After winning a championship with the Spurs in 2014, Joseph played one more season in Texas before signing a four-year deal with his hometown Toronto Raptors. He only played out two of those years before being traded to the Indiana Pacers. After a stint in Indiana, he signed with the Sacramento Kings.
A "jack of all trades master of none kind" kind of guard, CoJo is a solid secondary playmaker that any team can use. While he may have had the most "success" with the Spurs, he's had bigger roles and collected heftier checks with other organizations.
Not every NBA player can be a star so the key to longevity is knowing your role and owning it. Joseph has done that since day 1. He's only 28-years-old and should have quite a few more years in the NBA ahead of him.
Next: Pop's favorite player
CLEVELAND, OH – FEBRUARY 25: George Hill #3 of the Cleveland Cavaliers and Dejounte Murray #5 of the San Antonio Spurs talk during the second half at Quicken Loans Arena Photo by Jason Miller/Getty Images) /
George Hill
We talked about George Hill when going over the former San Antonio Spurs who would have helped the team this year but he belongs on this list as well. Like Joseph, Hill started his career with San Antonio before being traded to the Indiana Pacers in the deal that brought Kawhi Leonard to the Spurs.
Since then, Hill has gone back and forth between the starting lineup and the bench for a variety of NBA teams. He's traveled across the league, making stops in Indiana, Sacramento, Utah, Cleveland, and now Milwaukee.
Everywhere he's gone, Hill has been a valuable contributor thanks to his smart playmaking, low turnover numbers, fundamentally sound defense, and consistent 3-point shooting. As he's gotten older he's gradually improved as a 3-point threat to the point where he was leading the league in 3-point percentage this year before the season was suspended.
Even though he's spent most of his career traveling around the NBA, Hill still has a residence in San Antonio and keeps up with his former team. His sustained connection to the city, and his recent contribution to healthcare workers fighting COVID-19 in San Antonio, has kept him as a fan favorite long after his playing days in a Spurs uniform.
While the Spurs certainly shouldn't regret trading Hill, the deals they made for Dragic and Barbosa certainly don't look great looking back on them. Still, it's fun to think about how things could have been different if these former Spurs draftees had played out their careers in San Antonio.