Should San Antonio Spurs general manager Brian Wright be on the hot seat?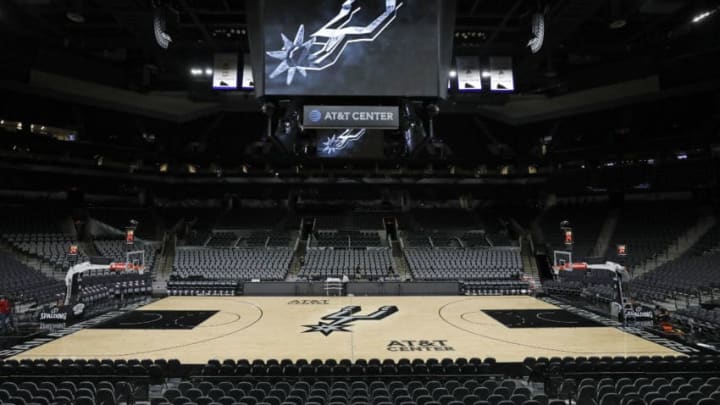 SAN ANTONIO, TX - OCTOBER 24: A view of the San Antonio Spurs court in the AT&T Center before a game against the Indiana Pacers on October 24, 2018 in San Antonio, Texas. NOTE TO USER: User expressly acknowledges and agrees that, by downloading and or using this photograph, User is consenting to the terms and conditions of the Getty Images License Agreement. (Photo by Edward A. Ornelas/Getty Images) /
Even though he'd only had one season as general manager of the San Antonio Spurs, Brian Wright might not have been quite ready for the role.
If we're going to assume that the San Antonio Spurs have missed the playoffs for the first time in 22 seasons, then someone needs to take at least a portion of the blame. Even though they clawed their way into the playoffs last season as a seventh seed, taking the No. 2 seed Denver Nuggets to seven games before heading home in a first-round exit, it was evident that these were not the same Spurs we were used to.
There aren't very few changes to make note of from last season to this one except for one big change: the general manager. After 15 years of holding the role for the silver and black, general manager R.C. Buford accepted a job as CEO of Spurs Sports and Entertainment (SS&E) and promoted assistant general manager Brian Wright.
General managers are the lead decision-makers when it comes to roster moves, signings, trades and draft picks. Wright was promoted in late-July of last year after the team re-signed Rudy Gay on a two-year, $32 million deal that made the veteran forward the third-highest paid player on the roster at 33-years-old by the time that the regular season rolled around.
Furthermore, the team traded Davis Bertans in the offseason to free up room to bring in an aging DeMarre Carroll who was proven incapable of breaking head coach Gregg Popovich's rotation. Instead of finding a trade destination for Carroll around the February trade deadline, Wright bought-out his deal and left $6 million in dead cap space for next season and another $1 million in 2021-22.
At least this would free up a roster spot for the team to bring in an extra player to help their last run at that playoffs, right? Nope, that vacant roster spot remains unfilled with no indication that anything would be done about it.
In his defense, Wright inked franchise point guard Dejounte Murray to a solid contract extension at four-years, $64 million including up to $6 million more in incentives. It was an expertly crafted, well-designed deal that he came to with Murray's agent, Rich Paul of Klutch Sports.
Besides that contract, which is all speculative, Wright hasn't done anything to prove that he was ready to take over this position. San Antonio isn't known for making bad decisions and lately, it's seemed like they've made a whole bunch of them. Excluding the NBA Draft, because the jury is still out on the three rookies the team drafted in 2019, most of the decisions or lack thereof have been harmful to the organization's long-term outlook.
More from Air Alamo
Not a single trade, signing or extension was determined between Murray's extension and now besides Carroll's buyout. While Buford used to remain in the public eye, it's been radio silence from Wright regarding one of the most disappointing seasons from a franchise that's not used to this kind of outcome.
Wright isn't going to get put on the hot seat just yet, especially given the suspension of league play and undetermined future, but the 2020 offseason is going to be pivotal in telling whether or not he belongs as the team's GM. His dealings with former All-Star DeMar DeRozan, as well as the decisions regarding guard Bryn Forbes and center Jakob Poeltl will be very telling of what comes next.
Lastly, combo guard Derrick White will be eligible for an extension real soon and bringing White back on a fair, team-friendly deal would be an incredible step in the right direction for the first-year general manager.
From the top-down, people within the Spurs organization need to prove themselves before earning the trust of this fanbase and Wright hasn't quite done that yet.