San Antonio Spurs: Who will be the franchise's next superstar?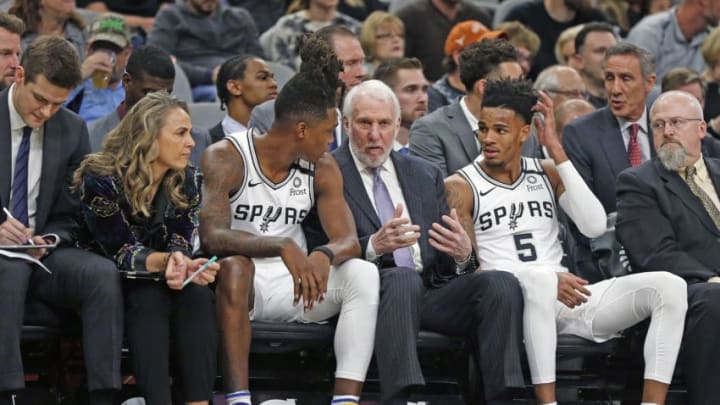 SAN ANTONIO, TX - FEBRUARY 26: Head coach of the San Antonio Spurs Gregg Popovich talks with Lonnie Walker #1 and Dejounte Murray #5 during first half action at AT&T Center (Photo by Ronald Cortes/Getty Images) /
This off-season, the San Antonio Spurs find themselves at a crossroads when it comes to superstars DeMar DeRozan and LaMarcus Aldridge.
In what has been the most lackluster season in recent memory, the San Antonio Spurs post-season hopes are currently dangling by a thread in their playoff race. With less than 25 games left in the season, the Spurs will soon come to decision time regarding their top two scorers, LaMarcus Aldridge and DeMar DeRozan.
DeRozan sits at his own crossroads this off-season: a player-option for $27 million, or test the free-agency waters. There have been several rumors discussed regarding a possible sign-and-trade destination, and while these are fun, only a few seem very feasible.
Aldridge has a guaranteed $24 million salary through 2020-21 along with a 15% trade kicker. If the San Antonio Spurs truly wanted to part ways with Aldridge and trade him to win-now teams, they would need to ask for quite a few assets that most teams might not want to give up. In any case, my bet would be that the Spurs would have to settle on some kind of loss in trading Aldridge away. It would be a tough pill to swallow but that could be what is best for the Silver and Black's future.
While the city of San Antonio will undoubtedly welcome them with cheers if/when DeRozan and Aldridge show up to the AT&T Center in opposing uniforms, the current fanbase would be quite alright with waving goodbye to the mid-range duo.
Now, let's talk about the future. This off-season, the Spurs have three players that most of the fanbase would consider "tier-1 untouchable" when it comes to trades. Those three would be Dejounte Murray, Derrick White, and Lonnie Walker IV. The trio of guards has shown glimpses of being able to provide the Spurs with both offensive and defensive prowess that the modern-NBA calls for.
The players that would fall into "tier-2 untouchable" would be center Jakob Poeltl, and with his recent play, forward Trey Lyles. For the purpose of fan favoritism, Patty Mills would also fall into this tier. His experience and locker room leadership are qualities that embody the Spurs' culture.
When the draft and free agency officially hits this summer, the San Antonio Spurs need to be one of the teams who decide to make some moves to fully embrace the future.
Who will be our next franchise superstar?
If we were told that the three players the Spurs planned on building around were going to be Derrick White, Dejounte Murray, and Lonnie Walker IV, I think the fanbase would be quite alright with that. The true question is, who out of those three will be our next franchise superstar? Who is going to be the guy that we can rely on in clutch moments in the game?
We have seen great improvement in the offensive attack of Murray, and we know he can be a brick wall when it comes to defense. White has shown his defensive tenacity all year, but is not consistent enough to be our go-to guy. Walker has been coming into his own lately, especially this spectacular dunk from the Pacers game:
Lonnie Walker EXPLODED on this dunk ?#SCtop10 pic.twitter.com/ScJSitAlNY
— SportsCenter (@SportsCenter) March 3, 2020
In Lonnie's short career, he is averaging 5.0 points on 42.7% shooting along with 1.8 rebounds per game. These statistics may not stand out to anyone's eye, but if you've been watching Spurs basketball of late, you've seen the growth on the court that can't be measured in the box score. Lonnie's hustle on the defensive end has been spectacular this year. He has shown flashes of being a defensive stopper along with out-hustling opposing players for loose balls.
Perhaps the most memorable Lonnie Walker highlight to date came against the Houston Rockets, where he completely took over the game. Lonnie may be the youngest of the trio of our future big three, but he is without a shadow of a doubt the most important piece of that trio. His energy on both ends of the court, the never-ending willingness to learn from the great Coach Popovich, will all be crucial attributes that he will need to utilize in order to bring continued success.
This off-season, the San Antonio Spurs' front office must find players that will be good complements to Walker, White, and Murray. However, in the coming years, Lonnie Walker IV will likely be the San Antonio Spurs' next superstar and face of the franchise.