Recent output by DeMar DeRozan is positioning San Antonio Spurs for the playoffs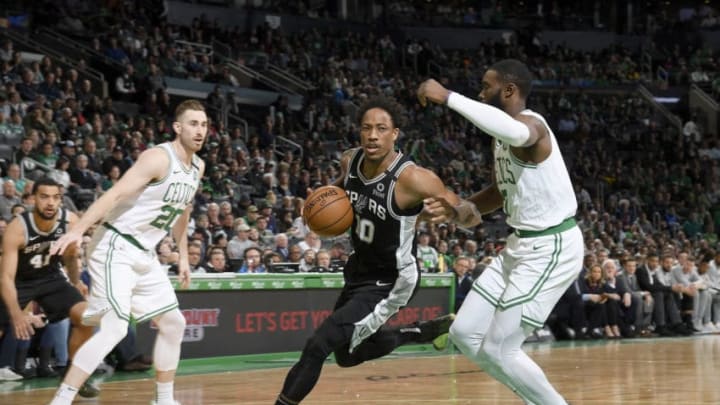 BOSTON, MA - JANUARY 8: DeMar DeRozan #10 of the San Antonio Spurs handles the ball against the Boston Celtics on January 8, 2020 at the TD Garden in Boston, Massachusetts. NOTE TO USER: User expressly acknowledges and agrees that, by downloading and or using this photograph, User is consenting to the terms and conditions of the Getty Images License Agreement. Mandatory Copyright Notice: Copyright 2020 NBAE (Photo by Brian Babineau/NBAE via Getty Images) /
BOSTON, MASSACHUSETTS – JANUARY 08: DeMar DeRozan #10 of the San Antonio Spurs takes a shot against the Boston Celtics at TD Garden on January 08, 2020 in Boston, Massachusetts. (Photo by Maddie Meyer/Getty Images) /
Over the course of his last nine games, wing DeMar DeRozan is playing like the All-Star that the San Antonio Spurs hoped he would become.
Integrating veteran wing DeMar DeRozan into the San Antonio Spurs' way wasn't difficult from a personality standpoint. At the apex of his playing career with a track record of falling short in big moments, DeRozan joined a team that embraced him despite his shortcomings and saw his potential within the team's power structure.
Replacing an MVP-caliber player put a tremendous amount of pressure on DeRozan in his first year and despite the criticisms, he stepped up to the plate by improving his playmaking and embracing the head coach Gregg Popovich's teachings.
Now in his second year donning the silver and black, DeRozan is flourishing as an influential force in his team's pursuit of a record-setting 23rd consecutive playoff berth. Though he didn't begin the season quite as strong as Spurs fans would've hoped, DeRozan found his groove in the last nine games as his running mate LaMarcus Aldridge has begun spacing the floor for him at the three-point line.
"When he gets going, he gets everyone else going."
Vote @DeMar_DeRozan ⭐️ https://t.co/w8uWNcfmat pic.twitter.com/5b4DKG3DYR
— San Antonio Spurs (@spurs) January 9, 2020
San Antonio won five of its last nine games including seven games against playoff teams. During that stretch, DeRozan is averaging a dazzling 26.1 points on 64.1% shooting from the field, 33.3% shooting from deep and 88.7% from the charity stripe. In this era of basketball, scoring volume with efficiency of this caliber, especially without three-point prowess, is unheard of.
Ahead of a Summer in which DeRozan could be the best free agent on the market, the mid-range savant is transforming the conventions of the modern NBA by sticking to his style and thriving from it.
His passing has been invaluable, generating 5.3 assists per contest while also enabling his teammates to swing the ball for open looks. He's also attacking the boards consistently and even had a few key defensive plays along the way.
DeRozan likely will never be able to live up to the hole left by perennial MVP-candidate Kawhi Leonard, but he's certainly worthy of being looked at for an All-Star bid this year and, more importantly, could be the catalyst in getting his team back to the postseason where they'll have a chance to defeat any opponent in a seven game series.
So what's been different in these last nine games and how can the team build from it?
Next: Spurs' offense is flowing through DeRozan
DALLAS, TX – DECEMBER 26: DeMar DeRozan #10 of the San Antonio Spurs shoots the ball against the Dallas Mavericks on December 26, 2019 (Photo by Glenn James/NBAE via Getty Images) /
The Spurs' offense is flowing through a red-hot DeRozan
Through DeRozan's nine-game hot streak, San Antonio's true shooting percentage as a team has spiked 5% and the team's net rating is up to 6.6 from -0.5.
As a group, the Spurs are spacing the floor better and have begun to shoot threes with a greater frequency. The non-shooters around DeRozan like Aldridge and point guard Dejounte Murray, are letting them fly and forcing defenders to close out on them. Even DeRozan himself is taking a few more than he has been up to this point in his Spurs career.
This floor spacing is opening up a world of new possibilities for DeRozan within this offense. Few perimeter players draw help defenders like DeRozan does when attacking the basket. As one of the game's most prolific finishers with dynamic acrobatics to match elite athleticism, the 30-year-old not only generates his own points, but sets up opportunities for others on his way to the rim.
In San Antonio's road loss in Milwaukee, DeRozan racked up five assists in addition to his 26 points. On three of those assists in the Spurs' 31-point first quarter, DeRozan found Aldridge wide-open when help defenders followed him off of screens, freeing the Hall of Fame candidate up for wide-open triples.
LA for THREEEE! pic.twitter.com/UaTcKwqv3i
— San Antonio Spurs (@spurs) January 5, 2020
With the rest of the Spurs catering to his style a bit more, there are more opportunities for DeRozan to operate without the clutter of defenders, and even teammates, clogging up his space. This is resulting in more one-on-one opportunities for him – an area where he has always excelled.
He leads the team in points per possession when isolated this season with 1.07. That places him in the 84th percentile of qualifying isolation scorers through the first third of the regular season.
Concurrently, he's in the 78th percentile of qualifying post-up scorers and is the seventh-best wing player in the post this year according to statistics published by the NBA.
Now that Coach Popovich is allowing his team to let it fly from deep more frequently, and players who wouldn't otherwise shoot them are warming up to the idea, DeRozan's playstyle is no longer hurting the team. As a matter of fact, it's allowing the Spurs to flourish offensively. Whether he's dishing it for his teammates or buying a bucket himself, DeRozan is taking the Spurs to the next level right now.
Next: Making a late push for an All-Star bid
OKLAHOMA CITY, OK – JANUARY 2: Rudy Gay #22 and DeMar DeRozan #10 of the San Antonio Spurs, and Chris Paul #3 of the Oklahoma City Thunder talk before the game on January 2, 2020 (Photo by Zach Beeker/NBAE via Getty Images) /
Making a late push for an All-Star bid
With the way he's been playing against some elite competition, you'd have to think DeRozan is sneaking his way into the minds of the players, coaches and media members as the 2020 All-Star game approaches. He's well-connected and a seemingly well-liked guy with a positive demeanor, charitable history and ties throughout the league.
Fans aren't going to vote him into the game, it's as simple as that. With the exception of fans in Toronto, Texas and his hometown of Los Angeles, DeRozan isn't a highly celebrated player amongst the general basketball fanbase. There's a stigma surrounding him for his previous playoff blunders, largely related to LeBron James' dominance of the Eastern Conference through the 2010's.
Though he has spent most of the last two seasons at the small forward spot, he'll be considered for a guard spot by the NBA with some steep competition in the West.
Personally, I'd consider three guards to be a lock for the game: James Harden, Luka Doncic and Damian Lillard. These three players have been exemplary from top-to-bottom, putting up massive stats while hugely influencing their teams with winning plays.
This leaves between one-and-three more bench spots for guards. Utah Jazz guard Donovan Mitchell is deserving of his first All-Star appearance as leader of a surging powerhouse in the West, leaving DeRozan to compete with the likes of Russell Westbrook, Chris Paul and Devin Booker amongst others.
More from Air Alamo
At this point, it's going to come down to how much he can keep this up compared to his competition leading up to the All-Star game. Booker is putting up great stats, but his team is failing after a strong start and it'll be hard for many voters to justify his appearance.  The Rockets are not as dominant as they've been in recent years, meaning they may not warrant two All-Star spots despite Westbrook's ridiculous volume.
There's a compelling case for CP3 in a bounce-back season. He's the head of the NBA Player's Association and is having a career resurgence in Oklahoma City despite his circumstances. If he were to get that next spot, DeRozan has a serious chance to sneak onto the end of that bench with the Spurs in playoff position.
It's not very likely, but that's not to say DeRozan isn't worthy, He'd be a near-lock in the East, though there's an imbalance of talent between the conferences that's holding him back from adding his fifth appearance to a growing resume.
Want your voice heard? Join the Air Alamo team!
His future in San Antonio is uncertain, but DeRozan and the Spurs are taking advantage of the  present and he deserves to be recognized for his increasingly impressive play.