Spurs: 3 Takeaways from bounce back win over Brooklyn Nets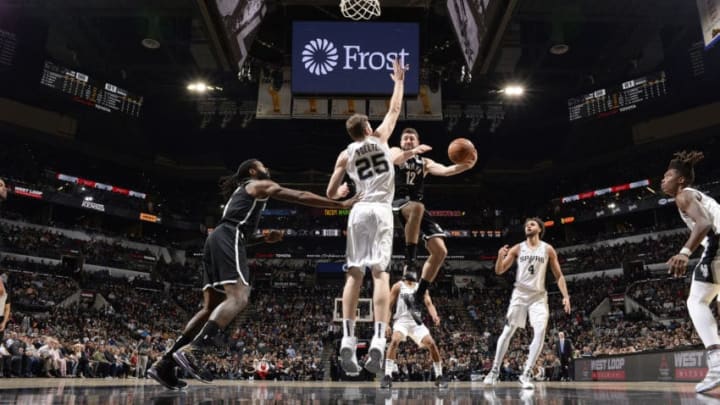 Joe Harris of the Brooklyn Nets passes the ball against the San Antonio Spurs. (Photos by Logan Riely/NBAE via Getty Images) /
Joe Harris of the Brooklyn Nets passes the ball against the San Antonio Spurs. (Photos by Logan Riely/NBAE via Getty Images) /
The San Antonio Spurs rebounded from a tough road loss to pull off a come from behind win against the Brooklyn Nets on Thursday night.
It was a game of two vastly different halves on Thursday night as the San Antonio Spurs pulled out an impressive come from behind win over the Brooklyn Nets. After a slow start, the Spurs were able to put their early struggles behind them and use a dominant second half to secure the win.
Like Anakin Skywalker harnessing the force to pull out a come from behind victory over Sebulba, Patty Mills used his powers to catch fire from behind the arc and lead the Spurs comeback. As he has been throughout the season, Mills was one of the most important players for San Antonio down the stretch.
It wasn't the prettiest win of the season but at this point, San Antonio will take wins any way they can get them. The issues that have plagued the Spurs all season unsurprisingly came up again tonight. Stretches of poor shooting and poor defense, low energy, and head-scratching rotations were just a few frustrating points that came up.
Tonight was an instance where the journey was less important than the destination, a win is a win and it felt good to tack on another victory before a tough test on Saturday against the LA Clippers. Here are the three key takeaways from the Spurs victory over the Nets.
Next: Perimeter defense still an issue
Spencer Dinwiddie of the Brooklyn Nets shoots the ball against the San Antonio Spurs. (Photos by Logan Riely/NBAE via Getty Images) /
Leaky perimeter defense still an issue
Spencer Dinwiddie is one of the best guards that doesn't get the attention that he deserves. He's been an outstanding replacement for an injured Kyrie Irving and had another great night tonight. He dropped a career-high 41 points on the Spurs on some efficient splits. San Antonio really had no answer for him.
It's getting to the point that betting on the opposing teams best guard putting a career-high on the Spurs is becoming a pretty attractive nightly option. Outside of Derrick White and Dejounte Murray the Spurs are a revolving door of defenders on the perimeter.
He's not the only defender who could step his game up but Marco Belinelli was a huge liability for San Antonio last night. The Nets targeted him relentlessly. They were going after him on seemingly every play. He looks so lost out there. At one point Murray literally had to shove him to get him back into position on defense. That should not be happening, especially not on a Spurs team that has built their organization on playing defense.
I don't enjoy sounding like a broken record after every game but I will never understand the rationale behind playing Marco close to 26 minutes while Lonnie Walker only got 14. Lonnie needs to play to make mistakes and learn from them and he has a noticeable impact on the game as soon as he enters.
A positive sign is that Gregg Popovich acknowledged that he wants to play White and Murray more together going forward. They're the two best perimeter defenders the team has and hardly ever play together. Switching that up should help the Spurs going forward.
Next: Dejounte Murray continues to impress
San Antonio Spurs' US point guard Dejounte Murray controls the ball. (Photo by PEDRO PARDO / AFP) (Photo by PEDRO PARDO/AFP via Getty Images) /
Dejounte Murray's continued improvement
He's only been back in the starting lineup for three games now but Dejounte Murray's impact on the game has been great to see. He's one of the most unique players on the team and it's encouraging to know that he can still be so much better.
It feels like when he finally puts it all together, Murray can realistically put up 17 points, 8 rebounds, and 6 assists on a nightly basis. Add in his defensive impact and versatility and you've got something truly special.
D3JOUNT3 pic.twitter.com/DB89qsQOzG
— San Antonio Spurs (@spurs) December 20, 2019
He did hit a three-pointer last night which was an encouraging sign to see but he's still got a long way to go with that part of his game. It's nothing Spurs fans should be worried about though. Were not far removed from pundits criticizing Giannis Antetokounmpo for not hitting three's and he just nailed a career-high 5 three-pointers last night. If Murray can make a similar improvement in his shooting it will open up all kinds of lineup possibilities for San Antonio down the road.
Navigating the balance between hunting for your own shot and setting up teammates can be a tricky thing for any point guard but it would be nice to see Murray be a little more selfish on nights where he's feeling it.
Next: Patty Mills goes off
Patty Mills of the San Antonio Spurs. (Photo by Jim McIsaac/Getty Images) /
Patty Mills was the Spurs savior
Patty Mills has been having the best season of his career this year and tonight was another example of how important he is to the Spurs. When San Antonio needed a savior, Patty was there to answer the call.
Mills and Bryn Forbes are really the only two guys in San Antonio who can have these kinds of nights from behind the arc. Outside of those two there really isn't anyone who can get so incredibly hot from deep that it doesn't matter where they let it go from, you're confident the shot is going in. Lonnie had it in his coming-out game but he needs to do it a few more times to get on the same level as Mills.
https://twitter.com/spurs/status/1208039270189031427
Patty hit on seven of his ten three-point attempts and set a new season-high in long-distance connections. He couldn't miss. Open looks, contested looks, he hit them all.
It's easy to overlook the contributions that Mills has made to the Spurs throughout his tenure but we really do need to pause and appreciate him more often. He's one of the best backup point guards in the league and it's been that way for years.
From his impact on the court to the knowledge that he passes on to the next generation of Spurs guards, it's hard to overstate the impact that Mills has had in San Antonio. As he has a career year and pushes for membership in the 50-40-90 club we need to recognize how great he's been for the team over the past nine years.
It wasn't the cleanest or the easiest win that the San Antonio Spurs will have this season but it's one they'll gladly add to their total. San Antonio will now try to ride the momentum they built in the second half into a matchup with the Clippers on Saturday.