Spurs Report Card: Player grades through the first month of the season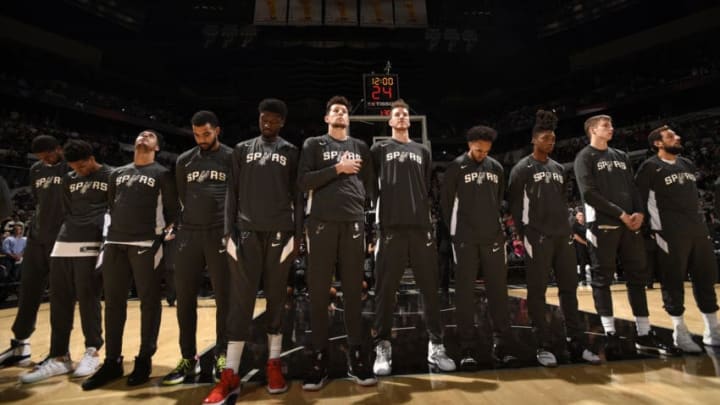 SAN ANTONIO, TX - OCTOBER 18: The San Antonio Spurs. (Photos by Logan Riely/NBAE via Getty Images) /
LaMarcus Aldridge of the San Antonio Spurs. (Photo by Ronald Martinez/Getty Images) /
How does each player on the San Antonio Spurs grade out after one month of the 2019-20 NBA season?
Of all of the professional sports leagues, the NBA is debatably the least surprising. Coming into the season you have a good idea of which teams will contend for a title, who will be in the playoffs, and who will be in the lottery. If injuries don't cripple a team you can usually predict where a team is going to end up at the end of the year with a fair degree of accuracy. That has not been the case for the San Antonio Spurs.
San Antonio never had a real shot at the title this year. With the star power on other teams like the LA Clippers and Houston Rockets, the Spurs were out of title contention before the season even started. But we still thought they would be in the playoff hunt at the very least.
With a mid-range dependant offense and aging star duo, there was always a chance that things could get rough for San Antonio but I don't think anyone could have predicted what's taken place over the past few weeks.
The Spurs have been lighting teams up while also getting torched on the defensive end. They're in the middle of an eight-game losing streak and have tougher matchups ahead of them. It's been an ugly start to the season that's for sure.
It's still early, this team still has time to turn things around and chase that historic 23rd consecutive playoff appearance. But things need to change and fast. Let's take a look back at this first month of the season and hand out some player gades in our first report card of the season.
Next: The Second Unit
SAN ANTONIO, TX – OCTOBER 18: The San Antonio Spurs. (Photos by Logan Riely/NBAE via Getty Images) /
The Bench Mob
Next: The Starters
Bryn Forbes, DeMar DeRozan, and Patty Mills of the San Antonio Spurs. (Photo by Rob Carr/Getty Images) /
The Starters
San Antonio needs more out of its starters. Plain and simple. Gregg Popovich has experimented with different lineups in search of a winning combination but we will see how the next month plays out.