Spurs v. Orlando Magic: Betting odds, preview, predictions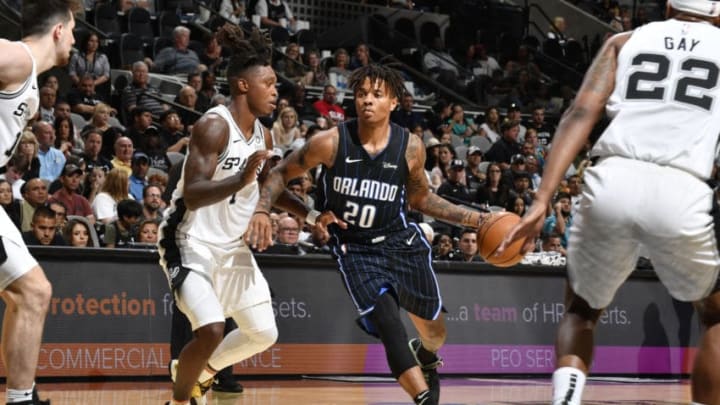 Markelle Fultz of the Orlando Magic drives to the basket against the San Antonio Spurs. (Photos by Logan Riely/NBAE via Getty Images) /
In the midst of a three-game losing streak, the San Antonio Spurs travel to Orlando to try to get a win against a scrappy Magic team.
The San Antonio Spurs are staying on the road and heading south to try to snap their losing streak against the Orlando Magic. San Antonio's Wednesday night loss to the Minnesota Timberwolves puts their record at 5-6 and under .500 for one of the few times in franchise history.
Over the past two decades very few teams have had as strong of winning records as the Spurs, their sub .500 record accurately reflects the dire situation the team finds themselves in.
It would be one thing if San Antonio had been losing close games due to minor mistakes. But their last three losses have all been fairly lopsided. Even their closest loss, a 109-113 defeat at the hands of the Memphis Grizzlies, was worse than the box score reflects. This team needs to bounce back in Orlando.
This Orlando Magic team is tough and well-coached. They surprised people last year by sneaking into the playoffs but haven't been able to carry that momentum into this season. At 4-7 they currently sit 10th in the Eastern Conference.
Steve Clifford is one of the best defensive minds in the NBA and this team reflects that. They stifling opposing offenses, holding them to just 99 points per game which is the best mark in the league right now. The variety of long-limbed forwards clog the paint and block the second-most shots in the league. That doesn't bode well for LaMarcus Aldridge.
Aldridge has struggled to remain consistent this season. To be fair he has had impressive outings, but they've been followed up by less than impressive performances. He will have his work cut out for him against the trio of Nikola Vucevic, Mo Bamba, and Jonathan Isaac.
This sounds like a broken record but this would be a great time for the Spurs to start hitting three's. The Magic are large at every position, they can clog the paint and make San Antonio's life difficult in the mid-range. That takes away the Spurs' preferred method of offense, leaving three-pointers as the logical plan of attack. This would be a perfect time for Bryn Forbes to pop off.
Gameday Bets
Spread: Orlando Magic -3.5
Over/Under: 212.5
Player prop bets: None
All betting information courtesy of The Action Network.
Hedge your happiness and bet on Orlando. San Antonio has been a mess offensively over the past three games and the Magic stifle opponents. Fortunately for the Spurs, they also have the worst offense in the league. Those two factors together also make betting the under on this game a pretty appealing bet. Betting the under on any game never feels good but this might be an instance when it's appropriate.
Prediction
San Antonio's losing streak looks like it will continue. Their offensive woes combined with the Magic's lead leading defense makes this game look like it's going to be a slow-going, tough affair. A win would be great but it doesn't look like the most likely outcome.
Things don't get any easier for San Antonio after this one. They have a quick turnaround back to San Antonio to face the Portland Trail Blazers on Saturday night. After that, it's back on the road for a four-game road trip. If the Spurs don't get things together quickly they could be looking a tough climb back into playoff contention.