Why you should be betting the over on the San Antonio Spurs win total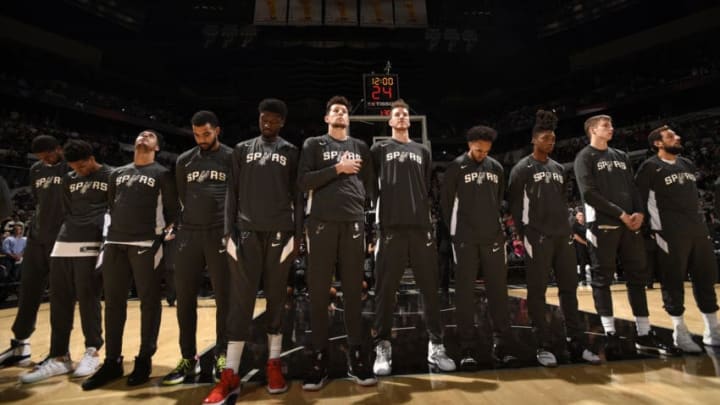 SAN ANTONIO, TX - OCTOBER 18: The San Antonio Spurs. (Photos by Logan Riely/NBAE via Getty Images) /
The San Antonio Spurs predicted win total is set at 46.5 wins, that's easy money if you're betting the over.
It's no secret that the Western Conference got markedly better this summer. From stars teaming up in Los Angeles, reuniting in Houston, or sticking together in Denver and Portland, there are start studded teams all across the West. The San Antonio Spurs predicted total reflects the brutal schedule they will endure as the fight for a playoff spot in the tightly contested conference.
The Action Network currently has the San Antonio Spurs win total for the regular season set at 46.5 wins. Right now its +105 on the over and -129 for the under. If you're a gambler, hammer the over on that win total. San Antonio hasn't won less than 47 games in a season since 1998-99 season. Do you really want to bet on a revamped Spurs team having their worst season in over two decades?
The rest of the West got better, but so did the Spurs. Throughout the preseason Dejounte Murray looked like his old self. The hard-nosed, energetic defense that earned him an All-Defensive Second Team selection in just his second year in the league is still there. The hard work and long hours he has spent refining his jump shot look like they have paid off. The Spurs are clearly confident enough in their young star to keep him as a core part of their future.
Other young stars who rose to key roles last year are still with the Spurs as well. Derrick White looks like he will command the Spurs imposing bench mob. After taking a leap last year, Bryn Forbes looks like he could be in line for another jump. His shooting was lights out in the preseason and should keep him in a prominent role in the Spurs offense.
San Antonio also brought in a few other talented role players to help fill out an already very deep team. Trey Lyles and DeMarre Carroll will fill bench forward roles for the Spurs. Carroll's impact, in particular, cannot be overstated. He gives the Spurs another stretch four option and provides consistent outside shooting, a skillset the Spurs sorely needed more of.
All in all the Spurs added and returning players give San Antonio something that not every Western Conference team has: depth. And in the regular season, that's the name of the game.
San Antonio will be able to beat their expected win total by taking advantage of their depth in order to weather injuries, keep fresh legs out on the floor at all times, outplay top-heavy teams weaker second units, and take advantage of other teams when they're resting star players for load management.
As CJ McCollum warned Joe Freeman of The Oregonian, load management can end up costing teams just as it's helping them.
"The race in the Western Conference is extremely tight. I don't know if we can afford to Kawhi it, so to speak. You'll Kawhi your way out of the playoffs."
McCollum is right. Teams with title aspirations like the Rockets, Lakers, and Clippers will probably end up resting their stars towards the end of the season in order to prepare for a championship run. That will open up opportunities for deeper teams like the Spurs to take advantage of teams without stars and rack up regular-season wins.
When the Spurs make the playoffs they could run into issues when the game slows down, rotations shorten, and stars have a more impactful role than they do in the regular season. But in the regular season, San Antonio's combination of star power and depth will help them exceed their predicted win total.
People have been sleeping on the Spurs in the lead up to the 2019-20 season. Count San Antonio out at your own peril, this team is going to surprise people this year.