Three takeaways from the San Antonio Spurs preseason finale win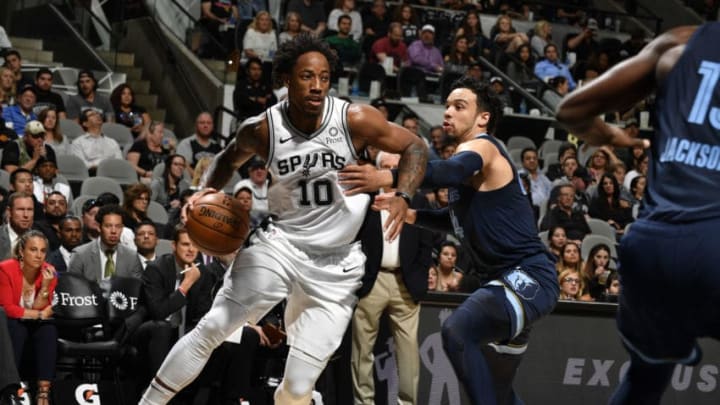 DeMar DeRozan (Photos by Logan Riely/NBAE via Getty Images) /
DeMar DeRozan (Photos by Logan Riely/NBAE via Getty Images) /
The San Antonio Spurs closed out the 2019 preseason with a dominant wire to wire 104-91 win over the Memphis Grizzlies.
After a slow start, the San Antonio Spurs finished the preseason with back to back victories. Coming off of a 128-114 win over the Rockets on Wednesday, the Spurs rolled over the Memphis Grizzlies on their way to a 104-91 victory. San Antonio will be riding a nice little hot streak into the start of the regular season.
The Grizzlies were coming off of a win as well but couldn't get enough good looks against a smothering Spurs defense. The pairing of Ja Morant and Jaren Jackson Jr. was as impressive as Memphis could have hoped it would be.
Morant was dynamic. Dejounte Murray is a great defender with the quickness to stay in front of the lighting quick Morant, but even he got blown by a few times. Once he had passed his Spurs defender Morant was setting up teammates or getting his own buckets.
As impressive as Morant's night was it still wasn't enough to ever get Memphis the lead. San Antonio was locked in defensively and dialed in from deep. The Spurs connected on 45 percent of their three-point shots tonight, going 14 for 31 from deep.
DeMar DeRozan contributed to the three-point total, connecting on all three of his long-range attempts. He knocked down forty-two percent of his 2019 three-point total in one preseason game. Maybe we're going to see this becoming a thing for DeMar. You can never have too much shooting. If DeRozan keeps shooting like that then the Spurs should encourage him to let it fly.
Let's have a deeper look at some good, bad, and interesting takeaways from San Antonio's preseason finale victory.
Next: Rudy Gay's performance off the bench
Tyus Jones of the Memphis Grizzlies looks for room around Rudy Gay of the San Antonio Spurs. (Photo by Edward A. Ornelas/Getty Images) /
Rudy's solid night off the bench
Despite starting fifty-one games last year, Rudy Gay has come off the bench in both of the preseason games he has been active for. I doubt Trey Lyles will start over Gay in the regular season but it wouldn't be a surprise for the Spurs to go with Jakob Poeltl along with LaMarcus Aldridge.
If Gay does end up coming off the bench more frequently, as he did in his first season with San Antonio, he will add to an already impressive second unit. The Spurs can roll over opposing teams' second units with Derrick White, Patty Mills, DeMarre Carroll, and Gay. Every single one of those players has played in meaningful playoff games and most, if not all, could be starters on a different team.
Tonight Gay looked great. He connected on five of eleven field goal attempts and went shot 50 percent from deep on his way to contributing thirteen points. He also added seven boards, three assists, and played solid defense throughout.
RUDY RUDY RUDY pic.twitter.com/qdt4u626lU
— San Antonio Spurs (@spurs) October 19, 2019
Other contributions aside, if San Antonio can count on that level of scoring from Gay off the bench on a nightly basis they'll be in excellent shape. They won 64 percent of their games last year when Gay scored thirteen or more points. Take averaged across a full season that equates to fifty-two wins. That would be should be good enough for a playoff appearance.
The Spurs would be in equally good shape if they decide to start Gay alongside Aldridge. As we've seen last year, and now in the preseason, Gay has turned himself into a knockdown three-point shooter. Starting Gay with Aldridge would open up more room for the Spurs guards like DeRozan and Murray to attack the rim.
No matter if he's starting or coming off the bench, Rudy Gay will be a key part of San Antonio's success this year.
Next: Too many turnovers
Trey Lyles of the San Antonio Spurs. (Photos by Logan Riely/NBAE via Getty Images) /
Spurs need to do a better job of limiting turnovers
San Antonio had an uncharacteristically high amount of turnovers tonight. It was one of the main reasons that Memphis was able to hang around and keep the game as relatively close as it was. The Spurs turned the ball over nineteen times and allowed fifteen points to come off of those turnovers.
The Spurs aren't normally sloppy with the basketball. You need to control the rock to control the game. Popovich has a quick hook and won't hesitate to pull a player for an untimely turnover.
The emphasis they put on not turning over the basketball can be seen in the Spurs incredibly low turnover percentage. Last season they only turned the ball over on eleven percent of their possessions. That was good enough for second-lowest in the league only behind the Hornets at ten point nine percent.
Memphis is a good defensive team but all of these turnovers can't be attributed to that. Jackson Jr. and Jae Crowder both record some steals, along with a few others, but the majority of the turnovers were just due to sloppiness on the part of the Spurs.
Lyles had a pair of turnovers that came from what looked like trying to do too much. One came when Lyles tried to put the ball behind his back to get around his defender and ended traveling in the process.  Just a lot of little things like that.
The silver lining is because most of those turnovers came from little mistakes, they can be more easily corrected. Cutting back on turnovers will surely be a focus for San Antonio leading up to opening night. It's unlikely to be an issue throughout the season.
Next: A few interesting things
Derrick White of the San Antonio Spurs handles the ball. (Photos by Logan Riely/NBAE via Getty Images) /
A few interesting things
Derrick White seems to be fully entrenched as a key member of the second unit. He's going to be great in that role. Even though he didn't connect on any of his shots he was still able to have an impact almost everywhere else. He brought down six boards, dished out four assists, and collected a block and a steal.
White's had trouble scoring the ball throughout the preseason. It's something that he's aware of and is working through. He's sure to break through and get back to his old ways in that area soon enough. The Spurs have other players in the bench mob who can pick up the scoring load if called upon. The important thing is that White continues to do other things like rebounding, playmaking, and locking opponents down.
Ja Morant was the flashier of the Grizzlies rookies but Brandon Clarke was equally impressive. He was cashing in on second-chance points, screening and rolling well, and just all of the little things you love to see a rookie doing. He was a monster at Gonzaga and was an absolute steal for Memphis with the 21st pick of this year's draft. Along with Jackson Jr., he gives the Grizzlies quite the young future to build around.
We didn't get to see Lonnie Walker IV play until late in the fourth quarter. But, when we finally did, it was with Lonnie announcing his presence in the best way he knows.
? @lonniewalker_4 COMING THROUGH ?#GoSpursGo pic.twitter.com/9ShC3ba1Zb
— San Antonio Spurs (@spurs) October 19, 2019
He poured in nine points in eight minutes on four of six shooting from the floor. Walker has shown off both his offensive and defensive potential throughout the preseason. He's going force Pop to play him outside of garbage time sooner rather than later.
With just under four minutes left in the game, Pop emptied his bench and we got to see a lineup featuring Walker, Luka Samanic, Quinndary Weatherspoon, Keldon Johnson, and Chimezie Metu. It was only for some end of game minutes and only Metu and Johnson ended up scoring but it was still nice to see what the future of the Spurs might look like playing together.
The San Antonio Spurs finish the 2019-20 preseason 2-3 but are riding into the regular season on a two-game win streak. They will begin their campaign for a 23rd consecutive playoff appearance when they host the New York Knicks on Wednesday night.