San Antonio Spurs: Good, bad, interesting takeaways from loss to Pelicans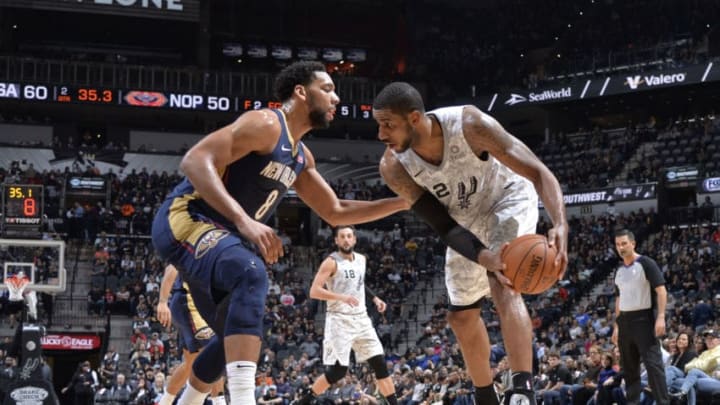 LaMarcus Aldridge of the San Antonio Spurs (Photos by Mark Sobhani/NBAE via Getty Images) /
LaMarcus Aldridge of the San Antonio Spurs (Photos by Mark Sobhani/NBAE via Getty Images) /
The San Antonio Spurs slow start to the preseason continued with a 123-114 loss to the new-look New Orleans Pelicans.
The 2019 preseason has not gone at all the way that the San Antonio Spurs would have hoped. After dropping their first two contests to the Orlando Magic and Miami Heat, San Antonio had an opportunity to get right against the New Orleans Pelicans.
While the Spurs had struggled to get going, the Pelicans have torn through the preseason. Winners of three straight, they came to San Antonio on Sunday with as much momentum as a team can leading up to a meaningless preseason game. Their revamped roster features plenty of depth and one of the most exciting prospects in NBA history.
Zion Williamson and company would end up winning a closely contested matchup 123-114. The game remained tight up until the very end. Williamson continued his terrifyingly efficient start with a 22 point performance on 11 shots. He's been every bit as good as advertised so far.
San Antonio's struggles continue. The Spurs have not looked great through three preseason games. Lineup irregularities have influenced the outcomes to a degree. Rudy Gay and LaMarcus Aldridge were both out (DNP-Rest) against the Pelicans. Their absence was quite noticeable.
Lineup changes aside this San Antonio team needs to find their groove before the season starts. There have been bright spots to be sure, but there is plenty that needs to be improved upon before the real action gets going. Here are a few good, bad, and interesting takeaways from San Antonio's third preseason game.
Next: The Good
Bryn Forbes (Photos by Joe Murphy/NBAE via Getty Images) /
Bryn keeps on balling out
A consistent bright spot for San Antonio throughout the preseason has been the performance of Bryn Forbes. The Spartan sniper continues to show that last year wasn't a fluke and that he deserves to hang on to his starting spot. At this point, it's becoming hard to argue against having him in the starting lineup.
Bryn's calling card has always been his three-point shooting ability. He was dialed in from deep in the Spurs' first two games and continued that trend on Sunday. He connected on three of his six three-point attempts, tying DeMarre Carroll in that category.
He's pretty much entrenched himself as the starter at this point. He's far too useful to be relegated to the bench. His shooting ability is complemented by the defensive-minded Dejounte Murray. And he's shown that his playmaking ability didn't leave him over the summer.
this dime from @BrynjForbes ? pic.twitter.com/DJ73LI1TT9
— San Antonio Spurs (@spurs) October 13, 2019
Expectations are high for Forbes as he enters this season. They might not be high enough. If he can continue to play at this level he will go from a valuable role player to perhaps one of the Spurs' most important pieces.
Forbes is coming into a massive season. Last year was his ascension but this year will serve as a launching point for the second act of his career. If he continues to light up opponents from deep while also playing a secondary playmaking role it will be tough to keep him around.
Forbes is a talented young player in an otherwise light 2020 free-agent group. Someone out there is going to give this young mana very sizeable contract. Let's just hope its the Spurs.
Next: The Bad
Zion Williamson (Photos by Logan Riely/NBAE via Getty Images) /
Zion Williamson is a problem
This is very bad news for the Spurs, and every other NBA team, and very good news for the Pelicans. That Zion Williamson kid? Yeah, he's a problem. Even more so for the San Antonio Spurs. Facing off against their Southwest Division rivals four times a year means that the Silver and Black will have plenty of opportunities to try out new and innovative defenses against Williamson. Which is good, because none that they tried on Sunday appeared to work.
There were a few moments when San Antonio caught a break. Zion completely missed the rim on an early jump shot and was stuffed by Dejounte later in the game. That being said, he still connected on eight of his eleven shots.
It's not a novel observation but this guy is an absolute matchup nightmare. He took Jakob Poeltl to the rack on multiple occasions. He's fast enough that, with a quick shimmy to freeze Poeltl, he can drive right around him. He displayed a few secondary post moves that created enough separation for him to elevate and get a shot off. And then he converted on a three-quarter court alley-oop from Lonzo Ball because that's just the kind of thing he's going to do on a regular basis.
Zion has already said that he wants to stay in New Orleans for his entire career. That's well and good but we're not too far removed from Kyrie Irving saying he wanted to re-sign with Boston. But if we take Zion at his word it means that the Spurs can look forward to trying to contain Williamson for years to come. Good luck.
Next: A few interesting things
San Antonio Spurs (Photo by Ronald Cortes/Getty Images) /
A few interesting things
The Spurs opening night starters are still not set in stone but we do have a better idea of who it might be. When asked if the regular starters (Murray-Forbes-DeRozan-Aldridge-Poeltl) would continue to play together, Gregg Popovich revealed that he would like to keep the group together.
There are some issues that could come up with playing Aldridge and Poeltl together but that would be a strong defensive group. It would also allow Pop to bring Rudy Gay and DeMarre Carroll off the bench together in what would be a powerful second unit pairing.
Speaking of Carroll, he had a great night for San Antonio. He played his typical strong defense and knocked down three of four three-point attempts. If the Spurs can rely on that level of scoring production (13pts), three-point accuracy, and defensive versatility on a nightly basis then that signing can be an absolute steal.
Another small surprise was the playing time that Trey Lyles received. A great buy low addition, Lyles showed a bit of everything against the Pelicans. He made his presence felt on the boards but was unable to connect on both of his three-point attempts. Lyles can be a solid end of bench guy for San Antonio. But if he can find his three-point stroke and consistently hit from deep he can have a much greater impact.
Want your voice heard? Join the Air Alamo team!
San Antonio will have two more preseason games before they kick off their regular season campaign. The next outing is against the Houston Rockets on Wednesday night.