San Antonio Spurs look to get back on track against the Miami Heat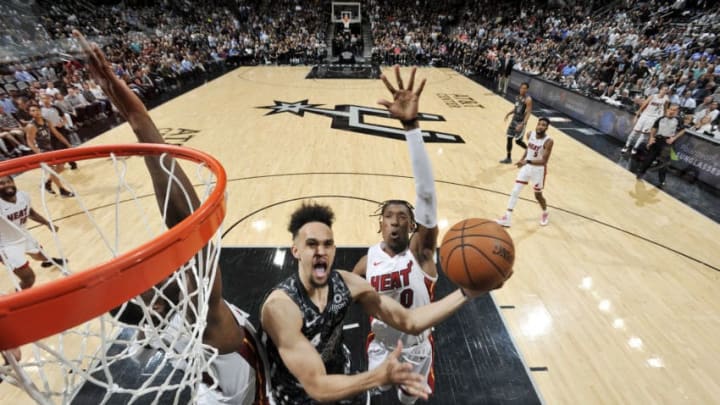 San Antonio Spurs (Photos by Mark Sobhani/NBAE via Getty Images) /
After a less than ideal start to the NBA pre-season, the San Antonio Spurs will look to get back on track against the Miami Heat. San Antonio lost their first pre-season game to the Orlando Magic, 125-89.
You wouldn't be able to tell from the scoreboard but the San Antonio Spurs first pre-season game of 2019 was a rather joyous affair. Happy to see some new faces, and returning ones, the Spurs were happy with rolling the ball out and letting the guys play for the first pre-season game.
That being said, building a winning momentum is key to starting off the season on the right foot. Expect to see San Antonio ramp up the intensity with every pre-season contest. The next opportunity comes tomorrow night against the Miami Heat.
Gregg Popovich gave many veterans and summer acquisitions the night off against Orlando but I'd expect that to change against the Heat. With Bryn Forbes as the lone exception, many of the Spurs players looked quite rusty in that first matchup. I'd expect more of the same from DeMar DeRozan and DeMarre Carroll if they get their first taste of action tomorrow.
For DeRozan, the Miami Heat would be a great opening matchup. DeRozan would likely match up with the Heat's star summer addition, Jimmy Butler. There are differing opinions on Butler, just ask a Minnesotan what they think of him, but there is no denying that he gives his all every time he takes the court. Starting off the pre-season against a player with that intensity could help shake the rust off a bit quicker than usual.
Other than the potential debuts of veteran players like DeRozan, Carroll, and Marco Belinelli, look for Bryn Forbes to continue to build off of his very strong showing. Forbes was the lone bright spot on a struggling Spurs team. Knowing he had a green light to let it fly in an otherwise meaningless game, Forbes was impressive. He knocked down 5 of 6 shots from deep and looked determined to hold on to the starting spot he had taken over last year. Continuing to play at such a high level will make it difficult for the coaching staff to bring him off the bench.
Keep an eye on Dejounte Murray and Lonnie Walker as well. Murray looks fully healthy and should only improve as he gets more and more comfortable playing in full-pace game situations. There were a few first-game jitters that he had to get out but overall he looked good. His jumper certainly looked nice. He's sure to get more and more comfortable playing at full speed with every passing game.
Walker will have to continue to work to cut out a role in a crowded backcourt. He looked like he was forcing it at times in the first pre-season game. I'd like to see him settle more into an opportunist role on offense and really devote himself to becoming one of San Antonio's premier wing defenders. The matchup against intriguing Miami Heat rookie, Tyler Herro, will give him an opportunity to do just that.
We've raved about Walker's performance at the Las Vegas Summer League but Herro showed out as well. He's a natural scorer with the ability to get buckets from nearly anywhere. Walker does have the physical edge but it will be interesting to see how these two match up against one another.
These pre-season games go quickly and there are only four more warmups until the regular season kicks off. The Spurs will need to lock in soon if they want to come out of the gates on a hot streak. Tip-off for tomorrow's game is from the American Airlines Center in Miami at 7:30 PM ET. You can watch it through Fubo.tv which has plenty of options for in-market and out of market fans.