San Antonio Spurs: Media personality ranks Manu Ginobili over Hakeem Olajuwon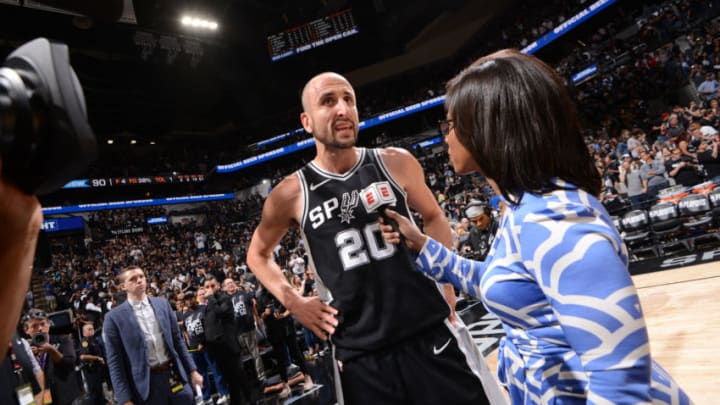 SAN ANTONIO, TX - APRIL 22: Manu Ginobili #20 of the San Antonio Spurs speaks with media after the game against the Golden State Warriors in Game Four of Round One of the 2018 NBA Playoffs on April 22, 2018 at the AT&T Center in San Antonio, Texas. NOTE TO USER: User expressly acknowledges and agrees that, by downloading and or using this photograph, user is consenting to the terms and conditions of the Getty Images License Agreement. Mandatory Copyright Notice: Copyright 2018 NBAE (Photos by Noah Graham/NBAE via Getty Images) /
A certain media personality with outspoken takes about the San Antonio Spurs said that Manu Ginobili is a greater foreign-born player than Hakeem Olajuwon.
Discussions regarding Manu Ginobili's placement among all-time rankings has been a root of contention among NBA fans since his retirement from the San Antonio Spurs this past summer. The individual impact that Ginobili has left on the game internationally is highly important to the globalization of basketball over the last two decades.
As Spurs fans, we have a certain bias toward Ginobili; placing him on a pedestal far above the ranking of the common fan. Ginobili's resume is not to be understated – he is considered the greatest sixth man in the history of the game by many.
His four NBA championships, 2004 Olympic Gold Medal, EuroLeague Championship and Finals MVP in 2001 make him one of the most uniquely decorated players ever.
Fox Sports personality Skip Bayless, whose love-hate relationship with the Spurs is duly noted by the impassioned fanbase, interrupted castmate Shannon Sharpe's praise of legendary center Hakeem Olajuwon to crown Ginobili as the greatest foreign-born player in league history.
"I must add, I think Manu Ginobili is better than Hakeem, but that's just me. I'm just going to throw it out there…
You don't get how special Manu was."
More from Air Alamo
Bayless' remarks have been subject to scrutinization by the general public because of Olajuwon's overarching legacy in the sport. It can be debated that Olajuwon is the greatest defensive center in league history. He is the NBA's all-time leader in blocked shots with 3830 and ranks ninth in steals with 2162, the most by any power forward or center.
At the same time, Bayless has a point about Manu Ginobili. It's difficult to put this into perspective, especially now that he's retired, but the game transforms with Ginobili on the floor. He was the type of player to pick up his team's slack by any means necessary. Whether it be through scoring, defense, passing or rebounding, Ginobili forced opponents to tread lightly and apply intense focus to their game.
A missed read or poor rotation against Ginobili could easily result in an embarrassing play, so opponents needed to bring their A-game to compete against the legendary shooting guard.
Ginobili will become eligible for the Naismith Memorial Basketball Hall of Fame in 2021, this heated debate will likely resurface around that time.