San Antonio Spurs vs. Los Angeles Clippers: One of those games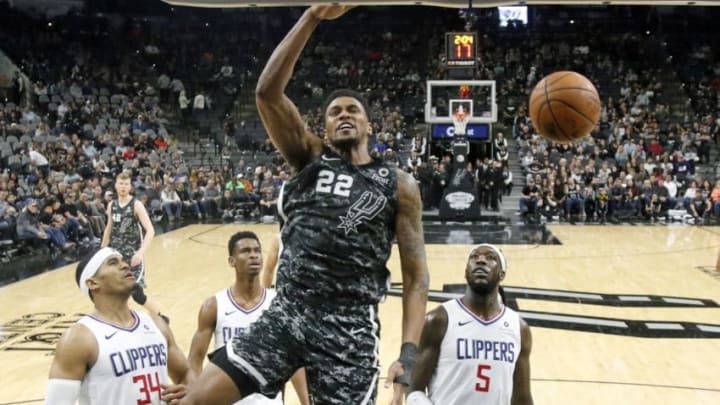 SAN ANTONIO, TX - JANUARY 20: Montrezl Harrell #5 of the Los Angeles Clippers watches Rudy Gay #22 of the San Antonio Spurs dunk at AT&T Center on January 20, 2019 in San Antonio, Texas. NOTE TO USER: User expressly acknowledges and agrees that , by downloading and or using this photograph, User is consenting to the terms and conditions of the Getty Images License Agreement. (Photo by Ronald Cortes/Getty Images) /
The San Antonio Spurs lost to the Los Angeles Clippers at home 103-95 in what became a half-hearted effort by the Silver and Black.
It was one of those games that a professional sports team demonstrates throughout the course of a lengthy regular season. As most of the country zeroed-in on the NFL Playoffs, we celebrated Dr. Martin Luther King Jr.'s birthday early, and the attention seemed to be on everything except basketball – including the players wearing Silver and Black in the Alamo City.
This is not to make an excuse for them, but it's unrealistic to ask the team to bring their "A" game every single game. However, a couple of Spurs players brought it offensively, and displayed their intensity on the boards.
LaMarcus Aldridge and Rudy Gay didn't suffer from what the rest of the team had been going through on this day. Aldridge finished with 30 points on 12-of-21 shooting, 14 rebounds, and blocked a couple of shots. Rudy Gay scored 19 points on 9-of-12 shooting, and collected 8 rebounds.
"We are honored and proud to celebrate the legacy of the Reverend Dr. Martin Luther King Jr."@Patty_Mills addressed our Spurs family pregame about honoring the life of MLK. pic.twitter.com/59ljIN56ye
— San Antonio Spurs (@spurs) January 21, 2019
DeMar DeRozan struggled badly, and has been in a slump as of late. DeRozan had 8 points on 4-of-16 shooting and couldn't seem to buy a basket. Marco Belinelli started the game the same way he had played the last few – hitting his shots, but struggled to connect from deep as the game went on finishing with 2-of-7 from deep.
The Spurs were simply not in the game. They're the best team in the league at taking care of the basketball, averaging 12.6 turnovers a game. San Antonio had 18 turnovers against the Clippers, which is as many as the last place in that category (Atlanta Hawks) average per game.
Quick @TheAthleticNBA Popovich reaction… 30 seconds… short and simple.. #Spurs we're sloppy and out executed in loss to #Clippers pic.twitter.com/ntU939vdkv
— Jabari Young (@JabariJYoung) January 21, 2019
More from Air Alamo
Adding to the off-night was the fact that the Los Angeles Clippers were without two of their prime scores in Danilo Gallinari and Lou Williams, and still managed to drop 103 points on the Spurs in their arena.
The Clippers were led by Tobias Harris, who's having himself an All-Star caliber season as he nearly secured himself a triple double ending with 27 points, 9 rebounds, and 9 assists. Patrick Beverly and Montrezl Harrell added 18 points, providing much needed scoring for their team.
These type of games are going to happen, and we should expect them around this time of the year. The Spurs are certainly clicking and trending in the right direction. This game shouldn't be any cause for alarm. The 18 turnovers are uncharacteristic for this team, and DeMar will not have many 4-of-16 shooting nights, but it happens. They'll right the ship and continue winning games, especially the ones they should be winning – as should have been the case on this night.
The Spurs travel to Philadelphia to take on the 76ers on Wednesday night.