San Antonio Spurs vs. Dallas Mavericks: Game Preview and TV Info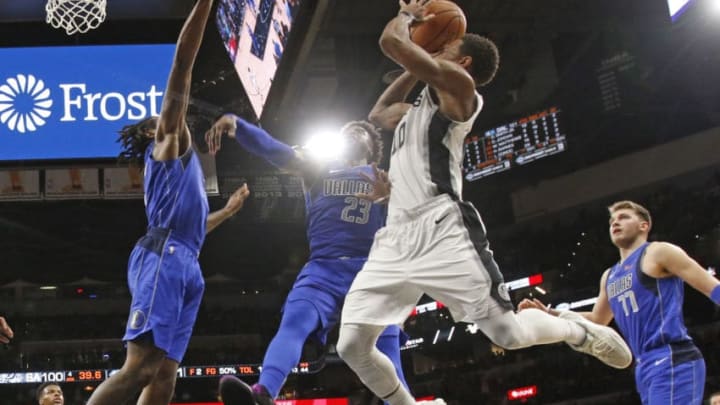 SAN ANTONIO,TX - OCTOBER 29: DeMar DeRozan #10 of the San Antonio Spurs scores past Dallas Mavericks at AT&T Center on October 29 , 2018 in San Antonio, Texas. NOTE TO USER: User expressly acknowledges and agrees that , by downloading and or using this photograph, User is consenting to the terms and conditions of the Getty Images License Agreement. (Photo by Ronald Cortes/Getty Images) /
The San Antonio Spurs are back on the road to take on the Dallas Mavericks in a divisional showdown Wednesday night at the American Airlines Center.
The Mavs are an excellent home team and the San Antonio Spurs have hopelessly searched to find consistency outside of San Antonio. Although Dallas has been hit or miss since their solid start, they're not an opponent to take lightly.
Thanks in large part to superstar rookie Luka Doncic, the Mavs are more than capable of giving any team a run for their money on any given night. Dallas isn't in the playoff picture, but with a transcendent talent like Luka and a roster full of able-bodied players, it's hard to rule them out of the postseason this soon
While Luka has been impressive in his first go-round in the NBA, LaMarcus Aldridge has proved he's still a force to be reckoned with in year 13. LA fought to find himself early on, but he's come on strong as we pass the halfway point of the season.
His shot selection has improved, tough looks are falling, and his shooting percentages have skyrocketed across the board. Need proof? Take a look at the numbers below.
LaMarcus Aldridge's play from the start of the season to now is night and day. Just one look at his numbers and you can see the drastic improvements.
First 22:17.8 PPG10.6 RPG2.4 APG.432 FG%.817 FT%
Last 23: 23.6 PPG6.7 RPG2.5 APG.592 FG%.872 FT%#GoSpursGo pic.twitter.com/M1qQg9moWe
— Noah Magaro-George (@N_Magaro) January 16, 2019
Though Aldridge has soared in recent games, DeMar DeRozan has lost his touch since the Toronto Raptors came to town. The highflying shooting guard will continue to be a huge part of San Antonio's gameplan, but both All-Stars need to show up in order to snag a victory away from an incredibly gifted Mavs team.
Luckily for San Antonio, a new star has emerged amid DeRozan's struggles. If you don't already know who I'm talking about, let me introduce you to Derrick White.
Few could have imagined the impact he'd have for San Antonio, but after Dejounte Murray went down with a season-ending injury, minutes opened up and someone had to play. Despite a sluggish return from his own preseason injury, White has exploded onto the scene to provide the Spurs with a huge spark on both ends of the floor.
Derrick's scoring has helped fuel a high-powered San Antonio offense, but it's his playmaking that's made the greatest difference. His penchant for passing the ball has allowed the Spurs to move away from the Bryn Forbes point guard experiment, and the ball movement has thrived.
The starters are fundamental to stealing an early lead, but the second unit is the key to tonight's matchup. Dallas just lost JJ Barea for the remainder of the season and the Spurs' bench should have no problem outmatching their banged-up counterpart.
Unfortunately, San Antonio is suffering from a loss of their own. Though Marco Belinelli is listed as a game-time decision, he likely won't suit up for this one.
The Italian sharpshooter was enjoying perhaps the hottest stretch of basketball in his career, but the Spurs will have to make do without him. Even down a man, something tells me the trio of Patty Mills, Davis Bertans and Jakob Poeltl should be more than enough to get the job done.
San Antonio may have lost Belinelli for a few outings, but they'll be more than happy to welcome Rudy Gay back into the mix. He's the Spurs' third-leading scorer and they've sorely missed his presence.
After posting the best record in basketball from December 7th to January 7th, San Antonio has seemingly hit a wall. The Spurs have lost three of their last four games and they sorely need a win.
The San Antonio Spurs will face a tough crowd in Dallas and the Mavericks won't just roll over and hand them what they want. A victory on the road is never easy, but the Spurs must prove they can win away from home if they want to compete come playoff time.
Want your voice heard? Join the Air Alamo team!
Viewing details for the game are below:
Date: Wednesday, January. 16Time: 7:30 p.m. CSTLocation: Dallas, TXVenue: American Airlines CenterTV Info: FSSW-SA, FSSW-DALLive Stream: FuboTV