San Antonio Spurs vs. Denver Nuggets: Knocking off another top squad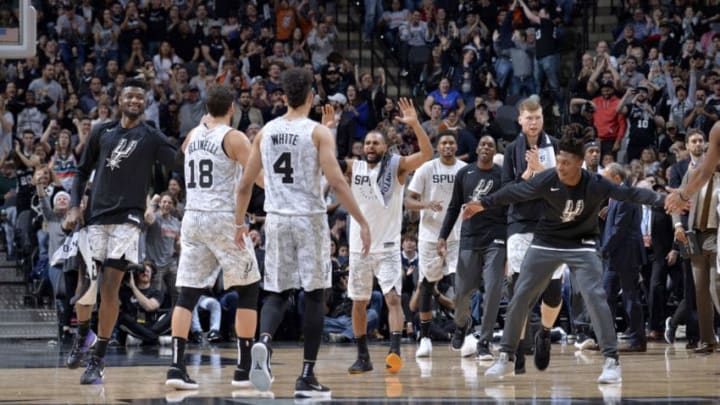 SAN ANTONIO, TX - DECEMBER 26: The San Antonio Spurs celebrate during the game against the Denver Nuggets on December 26, 2018 at the AT&T Center in San Antonio, Texas. NOTE TO USER: User expressly acknowledges and agrees that, by downloading and/or using this photograph, user is consenting to the terms and conditions of the Getty Images License Agreement. Mandatory Copyright Notice: Copyright 2018 NBAE (Photo by Mark Sobhani/NBAE via Getty Images) /
Led by DeMar DeRozan and LaMarcus Aldridge, the San Antonio Spurs knocked off one of the top teams in the Western Conference on Wednesday night.
The San Antonio Spurs look like they have turned the corner and are finally playing like the team that they can be. Tonight's 111-103 statement win over the Denver Nuggets reinforced that point. San Antonio's two best players, DeMar DeRozan and LaMarcus Aldridge led the way. The two combined for 57 points and helped the Spurs take down one of the best teams in the conference.
Long known as an offensive-minded team, this year's Denver Nuggets team is actually one of the stingiest in the NBA. They're currently 3rd in the NBA in opponents points per game.
Denver holds their opponents to a measly 104 points per game. Seeing the Spurs blow past that number was particularly encouraging and should have Spurs fans excited for what's to come.
That's tough, DeMar #GoSpursGo pic.twitter.com/2NQ8IcZcyv
— San Antonio Spurs (@spurs) December 27, 2018
Obviously the Spurs' success begins and ends with their star players. DeRozan and Aldridge played up to their potential tonight. They came out of the gates aggressive and carried that energy to the very end, but it's the contributions of other players, and the points that were left on the table, that should really be cause for optimism.
Guard Bryn Forbes lived up to his "Walking Bucket" nickname against Denver. He was aggressive, on both offense and defense and continues to impress this season. Forbes also shot 2-6 from deep in the contest. Marco Belinelli contributed 12 points, more than his season average, and hit 4-9 of his three-pointers. Davis Bertans might be the player on this team most capable of an ultimate heat check game, but even he only attempted 3 three-pointers in tonight's game.
Yes, tonight's win was great, but it could have been even better. There is another level that this team can go to offensively. And we haven't even seen how Lonnie Walker Iv will be integrated into the offense yet and his time is coming soon.
Defensively, San Antonio continued their lockdown ways tonight. On the season, San Antonio is 12th in opponents points per game and 19th in defensive rating, but don't expect those rankings to stay that way for long.
Want your voice heard? Join the Air Alamo team!
More from Air Alamo
The Spurs are finally keyed in on how they want to defend and its working. This is a team that just rattled of 7 straight games of holding opponents under 100 points. They shut down an MVP candidate in Nikola Jokic tonight. Admittedly he did still impact the game with his 10 assists but he's the best passing big man in the NBA, that'll happen.
San Antonio should feel confident after this win. It was a complete offensive and defensive performance and really showed what this team can be when they're all keyed in. It also showed that there are still plenty of areas that can be improved. Locking down the perimeter on defense, limiting turnovers on offense, these are things that will need to be tightened up before the playoffs.
Add in one of the most offensively talented rookies in the 2019 draft class and continue to improve on defense and this team could be really scary. Many people counted the Spurs out after a slow start to the season. Tonight's win showed that this team is still a contender in a loaded Western Conference and has plenty more in the tank.
San Antonio will look to carry this momentum as they travel to Denver to hopefully get a sweep of this quick series on Friday night.