San Antonio Spurs vs. Dallas Mavericks: TV Info and Notes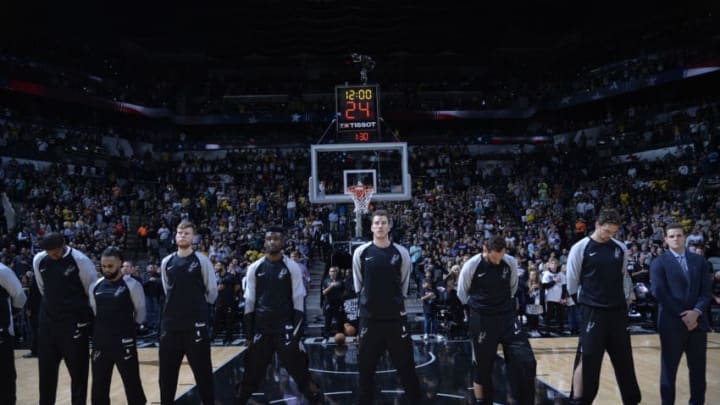 The San Antonio Spurs stand for the National Anthem (Photo by Mark Sobhani/NBAE via Getty Images) /
The San Antonio Spurs finish their three-game homestand as the team squares off against the Dallas Mavericks .
The San Antonio Spurs (3-2) look to string together consecutive wins for the first time this season as the talented Dallas Mavericks (2-4) backcourt, featuring Dennis Smith Jr. and Luka Doncic, visit the Alamo City.
Date: Monday, Oct. 29, 2018
Time: 7:30 p.m. CST
Location: San Antonio, TX
Venue: AT&T Center
TV Info: FSSW
Streaming: NBA League Pass, fuboTV
The Spurs knocked off the Los Angeles Lakers for the second time in five days as the Spurs fought back from a 14-point deficit to come away with a 110-106 victory on Saturday night. The win is even more impressive considering that the Spurs only knocked down three of their 16 three-point attempts.
San Antonio currently ranks third in the NBA in three-point shooting percentage, but it bodes well that the team demonstrated their offensive versatility and potency even when their shots aren't falling from long distance.
On the flip side, San Antonio's defense has left a lot to be desired, currently ranking 30th in the NBA in defensive rating. Obviously, not having an All-NBA Defensive player in Dejounte Murray hurts but hopefully as the team continues to play together the chemistry will develop and the defense will come to form.
More from Air Alamo
Head coach Gregg Popovich is still tinkering with the rotation and experimenting with several different lineups to start the season, including starting Davis Bertans and Dante Cunningham in Saturday night's contest. Expect for this trend to continue for the next couple of weeks until Pop finds a lineup he's comfortable trotting out on the court on a consistent basis.
DeMar DeRozan continues to shine in the Silver and Black. DeRozan nearly tripled-doubled Saturday night, posting an impressive 30 point, 12 rebound and eight assist stat-line in the win. DD has showcased great vision all season, averaging a career-high 7.8 assists per game, which ranks fourth in the NBA just behind the likes of Kyle Lowry, James Harden and LeBron James.
Dallas is coming off of a 113-104 loss against the Utah Jazz last night. Sophomore point guard Dennis Smith Jr. scored 27 points and center DeAndre Jordan finished with a near triple-double of 12 points, 19 rebounds and nine assists.
Neither Dallas nor San Antonio have been particularly stout on defense to start the season so expect this matchup to be a high-scoring affair.