San Antonio Spurs: Three players with something to prove in the Preseason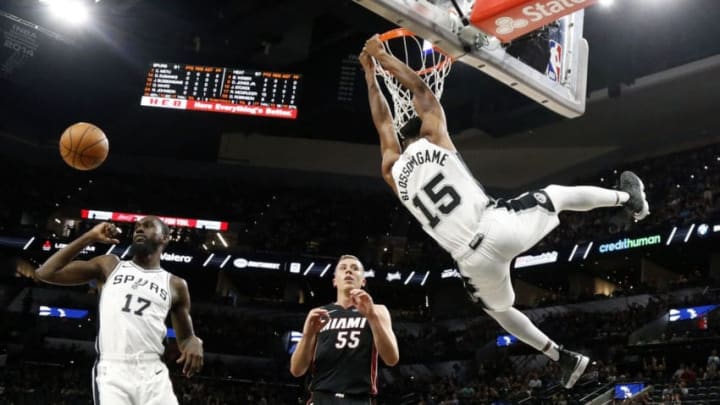 SAN ANTONIO,TX - SEPTEMBER 30 : Jaron Blossomgame #15 of the San Antonio Spurs dunks in front of Duncan Robinson #55 of the Miami Heat in a Preseason game at AT&T Center on September 30 , 2018 in San Antonio, Texas. NOTE TO USER: User expressly acknowledges and agrees that , by downloading and or using this photograph, User is consenting to the terms and conditions of the Getty Images License Agreement. (Photo by Ronald Cortes/Getty Images) /
SAN ANTONIO, TX – SEPTEMBER 30: Dejounte Murray #5 of the San Antonio Spurs gets introduced before the game against the Miami Heat on September 30, 2018 at the AT&T Center in San Antonio, Texas. NOTE TO USER: User expressly acknowledges and agrees that, by downloading and/or using this Photograph, user is consenting to the terms and conditions of the Getty Images License Agreement. Mandatory Copyright Notice: Copyright 2018 NBAE (Photo by Bill Baptist/NBAE via Getty Images) /
As a team, the San Antonio Spurs have a lot to prove this season, but which players in particular have to step up in the preseason?
The NBA preseason will provide the youth of the San Antonio Spurs with a chance to prove themselves worthy of an NBA roster spot. While the preseason isn't the perfect gauge for a player's individual production through the year, it does give insight into how they mesh with the team and how they can perform under head coach Gregg Popovich's system.
Started off the preseason with a W! #GoSpursGo pic.twitter.com/rCPhRaHWrj
— San Antonio Spurs (@spurs) September 30, 2018
With 20 players on the training camp roster and only 17 contracts available, (15 roster spots and 2 two-way players) someone will end up missing out on the final roster. Between newcomers and returners, there's a lot of talent in the locker room. Many young Spurs will need to prove their ability to perform under pressure and execute game plans in an NBA setting.
Summer League and the G League are great for learning what a player is capable of, but their performance against NBA competition is on another level.
With that in mind, here are the three players with the most to prove in the 2018 NBA Preseason.
Next: Derrick White
SALT LAKE CITY, UT – JULY 3: Derrick White #4 of the San Antonio Spurs handles the ball against the Atlanta Hawks during the 2018 Utah Summer League on July 3, 2018 at Vivint Smart Home Arena in Salt Lake City, Utah. NOTE TO USER: User expressly acknowledges and agrees that, by downloading and or using this Photograph, User is consenting to the terms and conditions of the Getty Images License Agreement. Mandatory Copyright Notice: Copyright 2018 NBAE (Photo by Joe Murphy/NBAE via Getty Images) /
3. Derrick White
It's been a phenomenal year for sophomore combo guard Derrick White. During his extended stint with the Austin Spurs, White worked on his craft and led the eventual G League Champions on their incredible run.
White came out guns blazing to start the Summer League, lighting up the Utah circuit with at least 20 points in each of his games. From the jump, it was evident that White was a more refined version of himself with a silky jump shot and fantastic instincts as a ball handler and playmaker.
Told Popovich gave him props after the game, Derrick White said "I have to go out there and prove him right." #Spurs @TheAthleticNBA ? pic.twitter.com/m4kKr1hFGA
— Jabari Young (@JabariJYoung) October 1, 2018
Now's his chance to make the jump from G League standout to bonafide NBA role player in the Preseason. Playing time is sparse and each of the team's many newcomers will fight for their chance to solidify their spots in the rotation. In his Preseason debut, White scored 12 points, hitting five of his nine shots from the field to go with four rebounds and 2 assists.
It was evident that White had some nerves to start off the season. He's shown the ability to change the pace of a game and take over, but he seemed a bit hesitant. White passed up opportunities when he could've shot the ball himself and handled the ball less fluidley than he has over the past six months, but he's clearly got the talent to make an impact on an NBA roster.
The second season is always a good time to get a player integrated into the main roster and this is the chance for White to prove to Popovich that he earns a significant role off the bench.
Next: Bryn Forbes
SAN ANTONIO, TX – APRIL 19: Bryn Forbes #11 of the San Antonio Spurs warms up before Game Three of the Western Conference Quarterfinals against the Golden State Warriors on April 19, 2018 at the AT&T Center in San Antonio, Texas. NOTE TO USER: User expressly acknowledges and agrees that, by downloading and/or using this photograph, user is consenting to the terms and conditions of the Getty Images License Agreement. Mandatory Copyright Notice: Copyright 2018 NBAE (Photos by Mark Sobhani/NBAE via Getty Images) /
2. Bryn Forbes
This is a make-or-break year for guard Bryn Forbes out of Michigan State. The third-year Spur made improvements in his second season, increasing his three-point effectiveness and shot creating ability as he became comfortable with the team's style.
More from Air Alamo
Forbes is a great example of how San Antonio incorporates the strengths of their players into the game plan rather than forcing players into specific roles. It'd have been easy to force Forbes into the corner to catch and shoot jump shots, but that'd be a waste of his real talents.
Similarly to All Star DeMar DeRozan, Forbes thrives off of his mid range jumper from the high post. He'll often threaten a defender with pump fakes and hesitation moves before stepping in for a fading jumper. As textbook as the move may be, he does a great job of catching defenders off balance to create space.
It's likely that Forbes will battle with the aforementioned Derrick White for playing time this season and so far, White is markedly outperforming Forbes. In San Antonio's preseason opener against the Miami Heat, Forbes scored five points on 2-of-9 from the floor through 18 minutes. With the same playing time and number of shots, White was far and away the more impressive of the two.
Still, San Antonio has committed to Forbes for the next two years, as of this summer. It'd have been very easy to let Forbes walk and move on to a new project, but it's evident that Pop and general manager R.C. Buford believe that there's more to Forbes than he may show at times.
Streakiness has been a problem over the past year for Forbes, but preseason provides a nice stage for him to show that he can lead the second unit, initiate offense and score in creative ways.
This could have massive influence on playing time as the season begins, so Forbes will need to step up to the challenge if he'd like to keep his role.
Next: Jaron Blossomgame
SAN ANTONIO, TX – SEPTEMBER 30: Jaron Blossomgame #15 of the San Antonio Spurs shoots the ball against the Miami Heat during a pre-season game on September 30, 2018 at the AT&T Center in San Antonio, Texas. NOTE TO USER: User expressly acknowledges and agrees that, by downloading and/or using this Photograph, user is consenting to the terms and conditions of the Getty Images License Agreement. Mandatory Copyright Notice: Copyright 2018 NBAE (Photo by Bill Baptist/NBAE via Getty Images) /
1. Jaron Blossomgame
Grit and determination are the two most important traits that come to mind when describing forward Jaron Blossomgame. The undersized big man from Clemson was drafted by the Spurs last year and has spent the last season in Austin to develop his game and earn a roster spot in San Antonio. He, like White, was a crucial member of the Austin Spurs G League Championship core and led the team in multiple statistical categories including scoring and rebounding.
As short as it may feel, this is it for Blossomgame's time in San Antonio. After preseason, Blossomgame will no longer be eligible to join the Spurs, whether it be on the active roster or in the G League, should he miss out on the final 15-man roster or the remaining two-way contract.
Needless to say, Blossomgame needs to use this opportunity in the preseason to prove that he's worth that roster spot. During Sunday's preseason opener at the AT&T Center, Blossomgame connected on both of his shots (including a monstrous dunk) and one of his two free throw attempts for five points and a rebound in seven minutes of play.
That was a nice pass from Metu plus nice finish from Blossomgame.
— Jeff McDonald (@JMcDonald_SAEN) September 30, 2018
No, these stats don't jump off the page, but it's pretty solid for a guy playing in his first minutes of NBA action. Blossomgame didn't get the chance to truly show what he's got, but the 6-foot-7 rim-rattler has got the city of San Antonio backing him.
There's something about an underdog that entices Spurs fans. During his short time in the San Antonio system, Blossomgame has built himself a cult following of fans who've recognized the potential he brings to the table as a dynamic modern big. With center Pau Gasol down low and newcomer Jakob Poeltl backing him up, the Spurs front court could use a boost of dynamism.
It's clear that he can be something special on the next level, as his 16.5 points and 8.1 rebounds per game led Austin to a championship. Even if it's the G League, that's got to count for something. If he can stay focused and determined, Popovich and Buford will have no choice but to sign him to a deal to stay in San Antonio long term. If not, he'll have to pack his bags and continue his journey elsewhere.
Of course it'd be nice to see him stay, but he's got to show the world that he's worth the investment by performing against the preseason's finest.