San Antonio Spurs: Manu Ginobili hosts final media session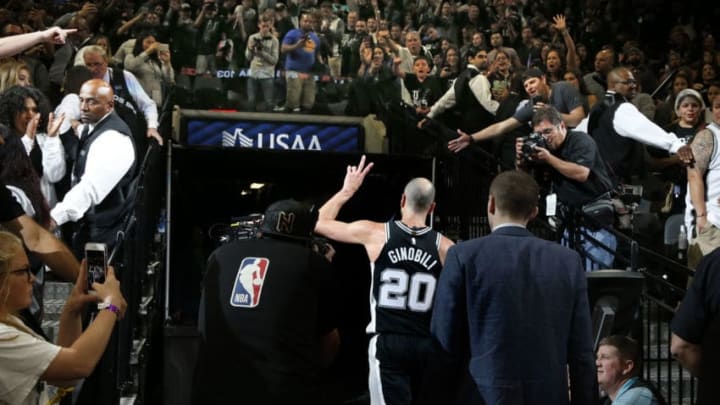 SAN ANTONIO,TX - APRIL 22 : Manu Ginobili #20 of the San Antonio Spurs leaves the court after a win against the Golden State Warriors in Game Four of Round One of the 2018 NBA Playoffs at AT&T Center on April 22 , 2018 in San Antonio, Texas. NOTE TO USER: User expressly acknowledges and agrees that , by downloading and or using this photograph, User is consenting to the terms and conditions of the Getty Images License Agreement. (Photo by Ronald Cortes/Getty Images) /
After 16 seasons, legendary shooting guard Manu Ginobili hosted his final media session as a member of the San Antonio Spurs.
"I came here very excited, fulfilling a dream and knowing that I had a lot of things to improve on."
Shooting guard Manu Ginobili arrived in San Antonio in 2002, three years after he was selected with the 57th pick in the 1999 NBA Draft, and built one of the most successful international careers in the history of the game.
After announcing his retirement on August 27, Manu Ginobili held his final press conference Saturday morning at the Spurs practice facility. For the four-time champion, the idea of working through another season bared too much of a physical burden on the 41-year-old.
"I couldn't see my body going through that kind of grind again. I felt that I had a good season, that I left everything that I had in that previous season, both physically and mentally. When I came back here and came to workout a little bit to lift or bike or whatever, I saw Bryn, I saw Dejounte and some of the guys working out and preparing for the season and I was so far from that."
With Ginobili's running mate, point guard Tony Parker heading to Charlotte, head coach Gregg Popovich will lead a team without the Duncan-Parker-Ginobili trio for the first time in two decades. After spending years at each other's side, Ginobili believes that Popovich is up for the challenge posed by the 2018-19 season.
"I think it's going to be maybe awkward for him sometimes," Ginobili said. "At the same time, it's going to be a challenge to learn more about the new guys and see what buttons to push. With us, it was already too easy. He knew us so well and I think it's going to be a great challenge for him, having a different kind of team with maybe less corporate knowledge that we always talk about. Still, young with energy and wanting to prove a lot of things, it's going to be a fun challenge. I think he's going to do good."
Ginobili seemed genuinely pleased with his decision, keeping a lighthearted and joyful disposition throughout the media session. After spending the offseason vacationing with his wife, Marianela and their children, Dante, Luca and Nico, Ginobili decided that it was time to end his run and focus on what matters the most.
"Even though I was, I am very sure about the decision, it's still awkward," Ginobili said. "You are convinced, you talk to your wife, you know what you've got to do. But my finger shakes a lot before hitting that enter (to announce his retirement). It wasn't an easy decision."
Times have changed in San Antonio. The Big Three era has finally come to a close as the trio of LaMarcus Aldridge, DeMar DeRozan and Popovich will set their sights on returning the Spurs to championship caliber.