Spurs Rumor Retrospective: When Jason Kidd almost signed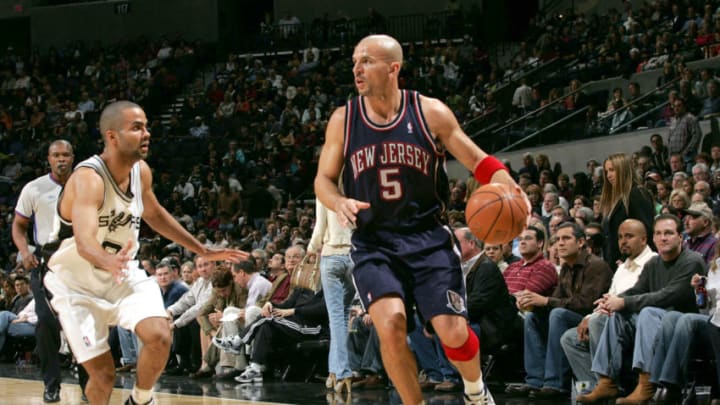 SAN ANTONIO - JANUARY 10: Jason Kidd #5 of the New Jersey Nets looks to drive against Tony Parker #9 of the San Antonio Spurs on January 10, 2006 at the SBC Center in San Antonio, Texas. NOTE TO USER: User expressly acknowledges and agrees that, by downloading and or using this photograph, User is consenting to the terms and conditions of the Getty Images License Agreement. Mandatory Copyright Notice: Copyright 2006 NBAE (Photo by Chris Birck/NBAE via Getty Images) /
15 years ago, Jason Kidd almost signed with the San Antonio Spurs. Let's look back at the comments he made on it in 2016.
The San Antonio Spurs featured franchise icons, Tim Duncan, Manu Ginobili and Tony Parker throughout the 2000's. This trio won four championships together (2003, 2005, 2007, 2014), including one title over the New Jersey Nets, who made back-to-back NBA Finals from 2002-03.
Jason Kidd once headlined those early 2000's Nets teams, with Richard Jefferson, Kenyon Martin and Kerry Kittles at his side. They never won anything, until Kidd captured a championship with the 2010-11 Dallas Mavericks and reaffirmed his future in the Pro Basketball Hall of Fame.
However, Kidd's trajectory was nearly different, as he explained in a 2016 piece with ESPN.com. He played for the Mavs (twice), Nets, New York Knicks and Phoenix Suns, but this list almost included the Spurs, who made a run at him in 2003.
Kidd signed a six-year, $103 million deal to stay in New Jersey, but he called it "the biggest disappointment."
More from Spurs Rumors
"I thought I was going to be a Spur," Kidd, now the Milwaukee Bucks coach, said while watching his team during the Las Vegas Summer League on Monday. "I committed when I was down there on my visit [to San Antonio].
That's how close Kidd was to the Silver and Black. "Cold feet," however, did him in and led to the multi-year return in the place he'd known since 2001.
Kidd explained how the comfort level of New Jersey made him stay, as he found success as the team's star player and catalyst towards NBA Finals appearances. Though, next to Duncan and a rising Ginobili, who knows how things would have gone.
This was long before Parker became the player Spurs fans grew to love, though, for those who wonder, "What about him?" The Frenchman had just averaged 15.5 points and 5.3 assists per game on 46.4 percent shooting as a 20 year old, but the chance at an already-established star would be difficult to pass up.
If the Spurs signed Kidd, would Parker's tenure in San Antonio have ended after two years? What could the return package have been from another team? If not, how about an undersized backcourt of Parker and Kidd, long before the NBA trended towards small-ball lineups?
The prospect of Kidd in San Antonio is interesting, but Parker's development into a 17-year star should cancel any "what if" on this scenario. Everything worked out for all parties involved, with titles and other accolades along the way.