San Antonio Spurs 2017-18 season review: Dejounte Murray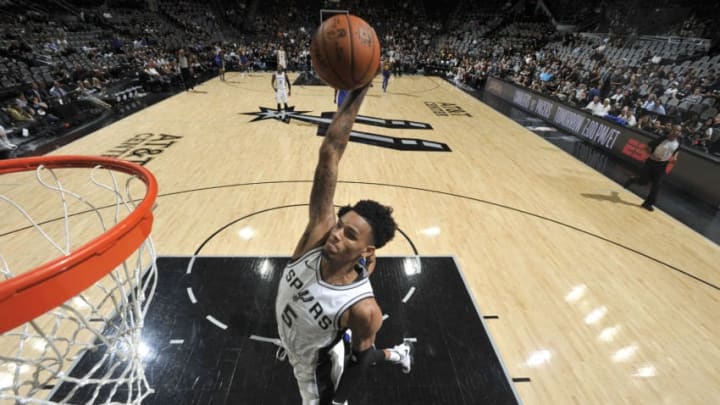 SAN ANTONIO, TX - APRIL 19: Dejounte Murray #5 of the San Antonio Spurs dunks the ball against the Golden State Warriors during Game Three of the Western Conference Quarterfinals in the 2018 NBA Playoffs on April 19, 2018 at the AT&T Center in San Antonio, Texas. NOTE TO USER: User expressly acknowledges and agrees that, by downloading and/or using this photograph, user is consenting to the terms and conditions of the Getty Images License Agreement. Mandatory Copyright Notice: Copyright 2018 NBAE (Photos by Mark Sobhani/NBAE via Getty Images) /
Over the course of his sophomore season, point guard Dejounte Murray showed major flashes of potential as he assumed the starting role for the San Antonio Spurs.
In the midst of one of the San Antonio Spurs' most dysfunctional seasons yet, Dejounte Murray remained focused on his development. The 21-year-old out of Washington found himself in an increased role with Tony Parker sidelined to begin the season, which opened up the door for a permanent rotation change. Not only has Murray excelled under Gregg Popovich, but he's provided athleticism, intensity and hustle that were oftentimes absent with Parker on the floor.
As a starter, Murray averaged 10.1 points per game on 45.2 percent shooting while dishing out 3.5 assists per night. Although his offense left some to be desired, Murray set himself apart by attacking the boards and locking up defensively, which are two aspects of his game that took a leap in his second year. Murray jumped to a whopping seven rebounds per game as a starter while defending at an elite level. His long wingspan combined with his quick lateral motion and high defensive IQ made him a difficult matchup for any guard who faced him.
Murray notched seven double-doubles this season, all coming with points and rebounds. In the third game of the season, he notched a career-high in rebounding with 14 against Toronto and later matched it with 14 against Phoenix in December.
Under the lights and pressure of the Staples Center, Murray scored a season-high 23 points in an April loss to the Los Angeles Lakers. He finished with a full stat line of 12 rebounds, six assists and two steals in 37 minutes. With his team fighting to secure a playoff spot, Murray gave San Antonio everything he could while setting himself apart to Spurs fans throughout the world. His drive and ambition are what truly earned him the starting position.
In what maybe his most impressive statline yet, Murray went head-to-head with his mentor, LeBron James, and torched the Cavaliers for 19 points, 10 rebounds, seven steals and three assists on January 21. His all-around output were crucial in San Antonio's series-sweep of Cleveland in the regular season.
Throughout all of his success, Murray still has some quirks to work out. There've been many times when he's shown questionable decision making as a playmaker which lead to erratic shots, wasted possessions and turnovers. Furthermore, his ability to connect on jump shots outside of 15 feet is shaky at best and his three-point shot is nearly nonexistent.
My 2nd Year I Got Better And Learned A lot, But I'm Ready To Get To Work And Take Another Step For Year3!! #DontCheatTheGrind ? #GSG ⚫️⚪️ pic.twitter.com/ZVuHALHJ2E
— Dejounte Murray (@DejounteMurray) April 26, 2018
He's certainly not perfect, but no one is. As the youngest player on a team full of veterans, Murray has still got a lot of time to work and improve himself. The uncertainty of the 2017-18 season allowed Murray to be himself, on and off the court, which showed tremendous character and an underlying sense of leadership within the young stud.
Overall Grade: B+
Next: 2017-18 season review: Manu Ginobili
Of course there's room for improvement, but Dejounte Murray's sophomore year was a success by all accounts. The sky's the limit for Murray as long as he commits himself to a refined jumpshot and smarter offensive decision making.