Spurs vs. Cavaliers recap, reactions: Dejounte Murray looks like a star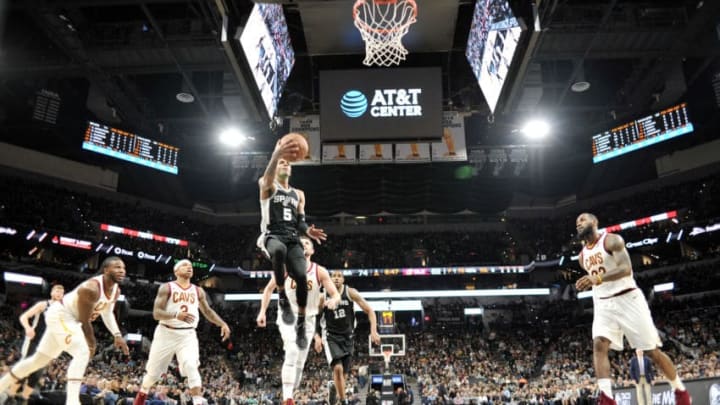 SAN ANTONIO, TX - JANUARY 23: Dejounte Murray /
Against one of the Eastern Conference's top teams, the San Antonio Spurs stepped up and took down the Cleveland Cavaliers.
The San Antonio Spurs came out of their offensive slump and took down the Cleveland Cavaliers 114-102 on Tuesday night in San Antonio. With tonight's loss, Cleveland has now lost ten of their last thirteen games. San Antonio's win moves them up to 31-18 on the season and ties them with the Minnesota Timberwolves for 3rd place in the West.
Related Story: LaMarcus Aldridge makes the 2018 All-Star Game
The Cavs looked out of synch all night, a stark contrast to the Spurs who were firing on all cylinders. LaMarcus Aldridge celebrated being named to his 6th NBA All-Star team by scoring 30 points, his 8th 30+ point game of the season. Aldridge certainly deserves being named to the All-Star team and he proved that once again. The Cavaliers have struggled to defend the paint all season and tonight was no different. Aldridge started out the game by effectively running the pick and roll with Tony Parker and gradually moved further inside as the game went on. Without any proven rim protectors, the Cavs simply couldn't contain the All-Star forward.
https://twitter.com/spurs/status/955988191734988801
More from Air Alamo
Aldridge wasn't the only Spur who impressed tonight. Newly anointed starting point guard Dejounte Murray looked like a star. Murray handily won the battle of the former Washington Huskies against Isaiah Thomas. Murray matched his career high in points with 17 and set a new career high in steals with 7. He also had 10 rebounds. Gregg Popovich has said that he could see Murray averaging a double-double in points and rebounds and so far that looks spot on. With his natural scoring and rebounding ability, a 7'0″ wingspan that's ideal for picking off passes, and court vision that's sure to improve with time, I wouldn't be surprised to see Murray as one of the rare players who manage to record a quadruple-double. There were some turnovers and rushed shots that weren't ideal but that's expected from a young guard. When the game finally slows down for him, look out. Personally, my favorite thing about Murray's game is his nose for offensive rebounds. He's constantly looking for opportunities to crash the boards and get easy putback buckets. That's not something that Spurs fans have frequently seen from their guards over the past decade. Oh, and his athleticism.
Dejounte JAM! pic.twitter.com/9OvB0UdfpF
— San Antonio Spurs (@spurs) January 24, 2018
Go DJ, that's our DJ. pic.twitter.com/YV1s6rJWqU
— San Antonio Spurs (@spurs) January 24, 2018
Yeah, we never saw too much of that from Tony Parker.
With five Spurs players scoring in double digits and Kyle Anderson playing solid defense against LeBron James, this game was a much-needed win for the Silver and Black. They took the lead in the 2nd quarter after outscoring the Cavaliers 38-26 in the period and never looked back. After a couple tough losses and underwhelming offensive performances, tonight's game was a welcome return to form for San Antonio. Hopefully, they can carry this momentum forward.
We aren't the first to congratulate King James on recording his 30,000th point but we certainly won't be the last. It's an incredibly impressive milestone from one of the all-time greats. The AT&T Center showered James with applause after he crossed the 30,000 point mark as Spurs fans recognized greatness.
Related Story: San Antonio Spurs: Kawhi Leonard's camp refutes ESPN's report
Cleveland will try to snap their losing streak when they face newly announced 1st-time All-Star Victor Oladipo and the Indiana Pacers on Friday night. San Antonio plays again tomorrow night against the Memphis Grizzlies.