Spurs take down Knicks, 100-91: Recap, highlights, and more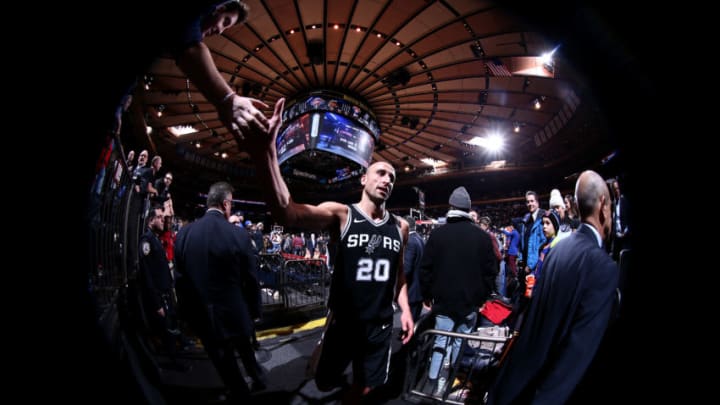 NEW YORK, NY - JANUARY 2: Manu Ginobili #20 of the San Antonio Spurs high fives as a fan as he exits the arena after the game against the New York Knicks on January 2, 2018 at Madison Square Garden in New York, New York. NOTE TO USER: User expressly acknowledges and agrees that, by downloading and or using this Photograph, user is consenting to the terms and conditions of the Getty Images License Agreement. Mandatory Copyright Notice: Copyright 2018 NBAE (Photo by Nathaniel S. Butler/NBAE via Getty Images) /
The San Antonio Spurs took down the New York Knicks, 100-91.
The Spurs took down the New York Knicks Monday night 100-91. The win pushes San Antonio to 26-12 on the season and gives them the series sweep over the Knicks. LaMarcus Aldridge and Kawhi Leonard led the Spurs with 29 and 25 points. The win also moved Gregg Popovich into the Top 5 Most Wins In History. New York falls to 18-19 with the loss tonight.
Both teams started off hot. San Antonio had assists on five of their first six shots. Their efficiency moving the ball was countered by New York's early presence on the glass. Enes Kanter was a force early on, dominating the offensive boards and cleaning up after his teammates.
The Spurs would pull away in the 2nd quarter with an 11-0 run that would secure them the lead that they would carry until the end. This run included this slick fake out by Kawhi on Kyle O'Quinn.
Ooooohhhhh!
Kawhi Leonard #NBAVOTE pic.twitter.com/7VPKG3vy1t
— San Antonio Spurs (@spurs) January 3, 2018
The Spurs found their touch from 3-point range during this run as well.
Manu Ginobili #NBAVOTE pic.twitter.com/IxRMQvsXGh
— San Antonio Spurs (@spurs) January 3, 2018
San Antonio put the clamps on New York in the 2nd half. Their tight defense would be key in securing the win tonight. The Spurs eleven steals was just two off of their season high of thirteen. They would hold the Knicks to just eighteen points in the 3rd quarter while building their lead.
https://twitter.com/MichaelRehome/status/948379287240966145
Kawhi Leonard ended the game with season highs in minutes played and points scored. He put up 25 points over 31 minutes of play. While he did put up season highs, Leonard struggled to find his stroke tonight. He shot 8 for 20 tonight but did knock down 6 of his 7 free-throws. His efficient night from the charity stripe contributed to the 28 made free-throws that helped San Antonio maintain their lead despite a poor shooting performance. These easy buckets were essential in a win where San Antonio would only connect on 38% of their shots.
The Knicks struggled to connect throughout the game thanks to the Spurs defense.  Michael Beasley would end up leading them with 18 points off the bench.
Related Story: San Antonio Spurs: New Year's resolutions for 2018
Both teams play tomorrow night as well, with the Silver and Black taking on Philadelphia and the Knicks facing the Wizards.