Ball movement key for San Antonio Spurs last two home wins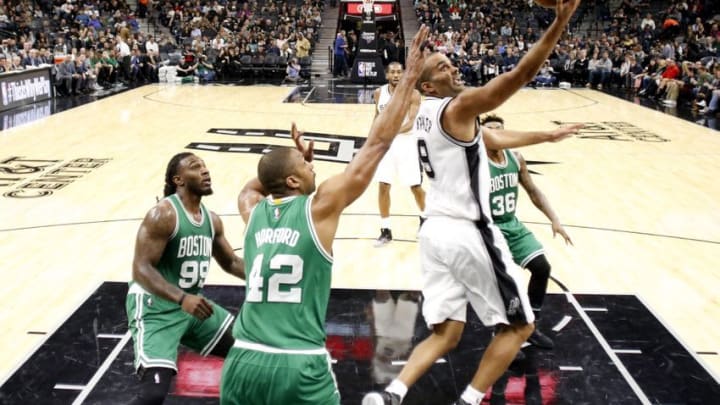 Dec 14, 2016; San Antonio, TX, USA; San Antonio Spurs point guard Tony Parker (9) shoots the ball past Boston Celtics center Al Horford (42) during the second half at AT&T Center. The Spurs won 108-101. Mandatory Credit: Soobum Im-USA TODAY Sports /
The San Antonio Spurs just won their second straight game at home. They look to be turning a corner, but there is still room to get better.
For the San Antonio Spurs, they were coming off of a 130-101 thrashing to the Brooklyn Nets where they set a season-high with 38 assists. Ball movement was key Saturday's win and was the same Wednesday in a 108-101 win over the Boston Celtics.
Head Coach Gregg Popovich whom has been criticizing his team in losses felt that the team was more aggressive moving the ball.
"I thought the ball movement was a little more aggressive tonight," Popovich said. "We communicated pretty well defensively. The ball moved. The ball moved better than it has at home all year."
Over their last two games at home, San Antonio looked to be turning the corner in an arena in which they were near perfect a season ago with a 40-1 mark. This season they are 7-4.
What has been apparent in their last two wins as Popovich put it is communication. San Antonio in their teams losses are stagnant on offense, they look to do more one-on-one.
When the Spurs go for more of a one pass shoot offense, this team is not utilizing all their weapons.
It would be the Spurs veteran point guard Tony Parker that would jump start the Spurs offense in both wins. Against the Nets, Parker had seven assists to go along with his 12 points, and on Wednesday night versus Boston, he did it all.
Parker finished with seven assists and 16 points in 25 minutes. He catapulted the Spurs to a win as he literally put the team on his back in the fourth quarter.
Making sure the offense was continuing to move at a solid pace, Parker stepped aside and showed that he could still score down the stretch for the team. His 10 points in the final quarter would prove to be enough against a young fiery Celtics team.
Avery Bradley who did all he could to keep Boston in the game finishing with 25 points, 10 rebounds and six assists, knew Parker was eager to finish the game.
"Tony made it a point that he wanted to finish the game out," Boston guard Avery Bradley said. "You could tell. You could see it in his eyes, you could see it in his play. Every time he got the ball he was aggressive. He was either making a play for himself or making a play for his teammates."
Parker entering this season was looking to be more of a facilitator, but it was the final period in which he felt the situation was on his side.
"It was just one of those situations," Parker said. "It was kind of like they were coming back, and (Spurs coach Gregg Popovich) is the boss, I just try to do whatever he wants. Just put me in that situation. I'm just happy they went in."
In their last two wins, San Antonio has scorched the Nets, due to the ball-movement. They shot 53 percent on Saturday and followed it up with 55 percent Wednesday.
It may look as if the Spurs are finally finding their rhythm at home over their last two games, but Manu Ginobili kept their last two wins in perspective.
Manu Ginobili keeping the Spurs' last two wins in perspective: "It is too early to say we've turned a corner but it is a good sign."
— Paul Garcia (@PaulGarciaNBA) December 15, 2016
Must Read: Searching for the Spurs perfect lineup
A good sign indeed. There is no time to reflect back on the win as the Spurs are back on the road tonight as they travel to Phoenix to take on the Suns (8-17).
We will see if the ball movement that was imminent in their last two games carries over on the road. San Antonio has won 15 of their last 17 games.