What is the Biggest Priority For the NBA?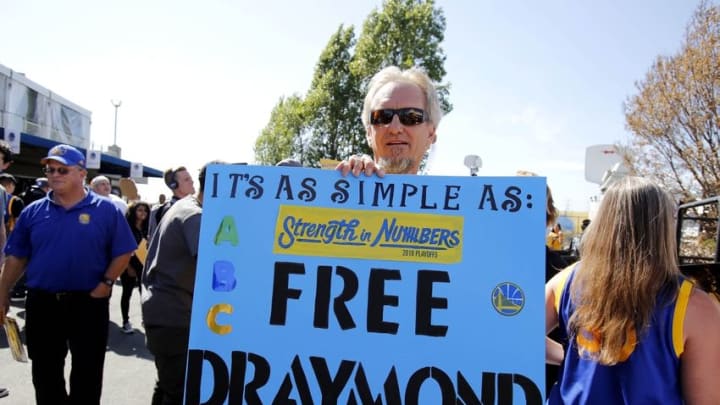 Jun 13, 2016; Oakland, CA, USA; Golden State Warriors fan Doug Anderson holds up a sign in support of Golden State Warriors suspended forward Draymond Green (not pictured) before game five of the NBA Finals against the Cleveland Cavaliers at Oracle Arena. Mandatory Credit: Kelley L Cox-USA TODAY Sports /
Well the NBA officially got what they wanted. To ABC's benefit, the NBA Finals has been prolonged to include a game 6. The Cleveland Cavaliers should deservedly be favored in that game, making the likelihood of a game 7 very probable.
This orchestration goes beyond a case of "referee/league official ineptitude." The San Antonio Spurs faced a great deal of that these playoffs, but human error is excusable. We all make mistakes; nobody's perfect.
What's truly depressing is when acts initiated by the league appear to have ulterior motives, and fans are essentially held captive, not wanting to turn away from a sport they enjoy.
I don't walk around my house with a tinfoil hat. I wrote recently that skeptics who believe that the NBA Draft is rigged are off base, and proceeded to go through the facts that make any claim of fixed lottery drawing not plausible.
The Draymond Green suspension for game 5 really doesn't pass the smell test, though. If the league operates within logical precedence in terms of rulings like this, then their retroactive awarding of a flagrant foul to Green doesn't make much sense.
I realize that the individual flagrant foul wasn't the act that got Green suspended, but rather an accumulation of numerous flagrant fouls this postseason.
I also realize that it's at least partially a moot issue if the Warriors had won game 5 despite Green's absence, but it misses the larger point of the league making logically questionable decisions that alter the competitive balance of a series.
More from Spurs News
What's suspicious is the circumstances surrounding the league's demerit to Green in hindsight. They were well aware of his situation regarding flagrant fouls, so in essence, awarding a flagrant foul in this scenario is equal to suspending him outright, because that would be the end result.
There was no foul called on the original play. It differs from Green's kick to Steven Adams back in the Western Conference Finals, because that was ruled a flagrant foul during the gameplay, as it should have been.
This was the league asserting its will to hand a top 10 player a flagrant foul when there wasn't enough contact for the referees to feel as though blowing the whistle was even warranted at the actual time of the occurrence.
The verbal altercation between Green and LeBron James is what escalated the intensity on the court after the play was over. James was mad about something Green had said to him, not about the contact that Green ended up eventually being suspended for.
The story being circulated is that ESPN reporter Brian Windhorst was the guy who first showed James the footage of Green standing up as James was stepping over him. Green makes contact with James. James didn't know about this "contact" until Windhorst showed him the footage. He was originally just angry about whatever Draymond Green said to him.
Windhorst is a great reporter, and I'm not disparaging him in any way. But to not see the blatant conflict of interest involving the variables within this episode is turning a blind eye to a disturbing reality of corporate controlled sports leagues.
Let's put aside Windhorst's probable biases from a personal standpoint. He's a long-time friend of James, and has undoubtedly used his connection to James to elevate his status within the sports journalism field. More power to him; it's who you know that counts.
That's not to say that Windhorst isn't talented, but there's a lot of talented journalists out there. What could possibly have been the special trait that Windhorst brought to the table above other equally qualified journalists? Hmmm…
Windhorst is employed by ESPN, which is owned by Disney. The network airing (and hence profiting off of) the series is ABC, also owned by Disney. ABC has a vested interest in the series going as long as possible, in order to make the most money for themselves.
This is reporter who works for a company that is owned by a company that also owns the network airing the Finals. Windhorst spurs the process of eventual suspension. This absolutely reeks of conflict of interest. I'm not even saying that it's necessarily intentional.
Bob Iger didn't personally call Windhorst into his office and tell him to manipulate a story to prolong the Finals in any way possible, but it looks really bad that a story that eventually lead to a great player being suspended was catalyzed by a reporter who works for a company that benefits from the TV network airing the Finals making more money.
The series was 3-1 Warriors going back to Oakland. The Cavaliers most likely don't win game 5 with a fully-equipped Warriors squad.
This may be a sad reality of corporate athletics, but that doesn't make it any less troubling. The easy response from a contrarian would be to say that one should simply not watch the NBA if this stuff is too bothersome. I just can't do that, though.
I'm in love with basketball, and no other basketball league features the degree of skill prevalent in the NBA. These are the best players in the world, and as a fan, I don't feel like I should have to settle for anything less just because I'm disheartened with the blatant economic tampering the league does in order to optimize their profits and the profits of their partners.
The irony of it is that I'm apart of the machine. I'm employed to write about basketball matters involving the league and particularly the San Antonio Spurs. I benefit from controversy like this, because it gives me a topic to discuss.
The duty of any vigilant onlooker is to expose hypocrisy and misdeeds when observed, though. Within the context of the decision the league made to suspend Green for game 5, it's hard not to be skeptical when realizing the relationship that the different actors involved have to each other.
I'm writing about this topic not to attack anybody, but to simply initiate a conversation about the business side of basketball operations, and when corporate interest overrules the priority of fair competition.
Should Green have been suspended? I don't believe so, but you're free to disagree with me. It distracts from the real focal point of the story, though: the relationship of the reporter who broke the story to the TV network profiting off a prolonged series. Not to mention James as a global icon and the most powerful figure in the league being at the epicenter of the situation. What he says goes. This is James' league, and we're all just watching it.
Again, this is not attacking those involved, but shining a light on the conflict of interest that may be inevitable in corporate athletics at this level. I'm a basketball fan first and foremost, and I find it increasingly dismaying to have to turn the other way whenever the league makes decisions that hurt the competitive balance of games being played if it means making more money.
Next: San Antonio Spurs Draft Prospect: Ante Zizic
It's an internal conflict that every fan has to battle in their own personal way. It's just unfortunate that it's hard to have it both ways. Corporate success allows the league to be accessible in ways never thought possible, but it can come at a steep price.