Referees Admit Missing Late Call In Spurs-Thunder Finish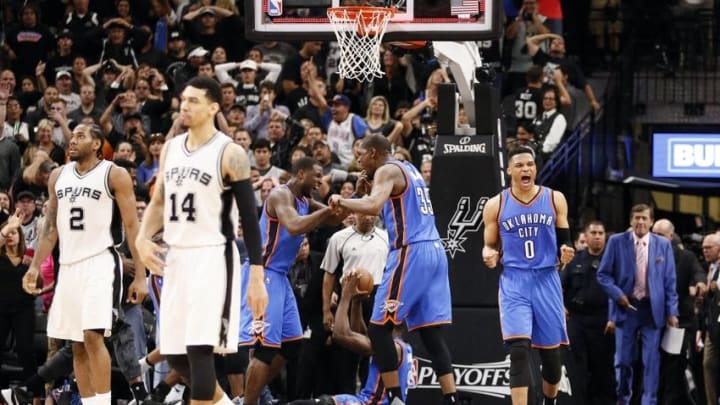 May 2, 2016; San Antonio, TX, USA; Oklahoma City Thunder point guard Russell Westbrook (0), and small forward Kevin Durant (35), and teammates celebrate a victory over the San Antonio Spurs in game two of the second round of the NBA Playoffs at AT&T Center. Mandatory Credit: Soobum Im-USA TODAY Sports /
It didn't take the NBA one day to pore over video and determine that the call was missed in the final seconds of game two between the Spurs and Thunder.
More from Spurs News
You just hate to sit back and think that a game that showed two teams giving it their all for 48-minutes would be highlighted by a missed call. Not to take anything away from the Thunder; they came out and did what they needed to do, which was steal one in San Antonio. After their game one performance, the Thunder came out with a different mindset and game plan that made the Spurs 'think' a little more on both ends of the floor.
The play at the forefront–Dion Waiters pushed off on Manu Ginobili while throwing an inbounds pass with 13.5 seconds left in Monday night's game. NBA crew chief Ken Mauer fessed up in a written Q&A with pool reporter Mike Monroe.
"On the floor, we did not see a foul on the play," Mauer said. "However, upon review we realize and we agree that we should have had an offensive foul on the play. It's a play that we have never seen before, ever, but we feel we should have had an offensive foul on Waiters."
By rule, if the offensive foul had been called, the Spurs would have been given possession of the ball and had a chance to call timeout to set up a final play.
Pool Reporter Transcript from tonight's OKC/San Antonio game pic.twitter.com/uMXiRPdrqT
— NBA Official (@NBAOfficial) May 3, 2016
What happened, happened. But you have to realize that San Antonio had plenty of chances in this game to win. Trailing by one point, the Spurs got the ball when Danny Green desperately leaped up to take the ball away from OKC's Kevin Durant. Green tossed it ahead to teammate Patty Mills, who might have cruised in for the go-ahead layup if 7-footer Steven Adams hadn't been lurking. Always looking for the better shot, Mills swung the ball to Ginobili, who appeared to have an open shot on the right baseline. He passed it up and kicked it back to Mills, now in the right corner–Mills not getting his feet under him rushed the shot and air-balled his attempted 3-point shot.
LaMarcus Aldridge, who continued his strong play as he finished with a game high 41 points, was there to corral the rebound but could not put up a shot–for those that watched the game, maybe you saw Ibaka with a handful of jersey holding Aldridge down.
The Spurs got everything they needed to win the game. But they didn't, because they didn't make the right plays at the right time. Or most of the time, for that matter.
Again, you have to tip your hat to the Thunder and the way they came out after their 32-point loss in game one on Saturday. From the tip, their gameplan was apparent: attack. Spurs let the Thunder control the pace and the tenor and the score most of the night.
Long before the 'no-call' on Waiters, the Spurs, outside of Aldridge, seemed to have left their offense back in game one. Their offense was disorganized. They missed a handful of layups. They were dominated on the backboards and in the paint.
Spurs need to get back to the drawing board and look at their performance based on what they could have done differently rather than watching the missed call and asking themselves, "what could have been?" We wouldn't be discussing this if their offense was more crisp thann they showed for most of game 2.
Game three of the series heads to Oklahoma City Friday.