Nick Collison's Longevity With His Franchise is Very Unusual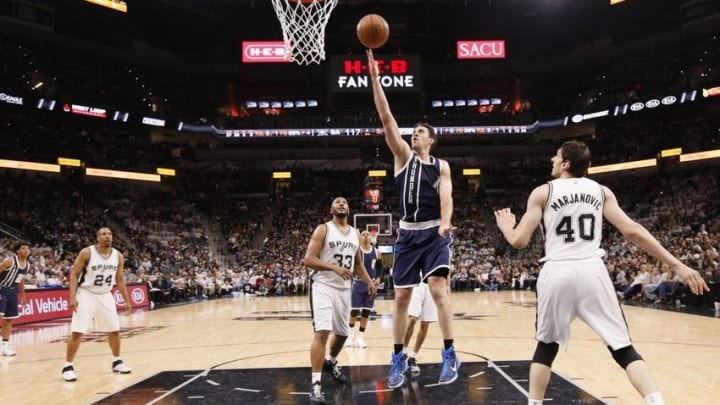 Apr 30, 2016; San Antonio, TX, USA; Oklahoma City Thunder power forward Nick Collison (4) shoots the ball against the San Antonio Spurs in game one of the second round of the NBA Playoffs at AT&T Center. Mandatory Credit: Soobum Im-USA TODAY Sports /
Although he's not instantly recognized as being synonymous with the franchise, Nick Collison has become an integral part of the history of the Oklahoma City Thunder and former Seattle SuperSonics.
Only two players have played in more NBA games for this franchise than Collison. Considering the 2 individuals who top him are Gary Payton and Downtown Freddie Brown, Collison's place within the chronicles of Sonics and Thunder lore is both noteworthy and simultaneously surprising.
More from Spurs News
Payton and Brown are undeniably two of the most important players in the franchise's history. While it'd be stretching the definition of influential to say that Collison belongs in the same category as those two, the time he's devoted to helping his team win basketball games over the years should be acknowledged and celebrated in its own unique way.
In an era defined by player movement and the rarity of establishing long ties with one team, Collison has spent all 12 of his NBA seasons with this same franchise. The only players in the NBA currently who're still on their original team and have spent a longer time frame on that team are Udonis Haslem, Dwyane Wade, Manu Ginobili, Tony Parker, Dirk Nowitzki, and Tim Duncan.
What makes Collison's longevity even more unusual is that he was never considered a core member of the team. While he was always highly regarded as a complementary player, he was never one of the building blocks of the franchise. Collison and Haslem weren't star players like the other guys mentioned above, and in a league where role players are constantly being shuffled around and often seen as expendable, the fact that they've both been apart of one team for so long is a testament to the specific skill set they provide to help their team win.
While Haslem has been a starter on championship teams for the Miami Heat, Collison hasn't started more than half the games he has played in during a season since 2008-2009. That was the first year that the Sonics moved to Oklahoma City and became the Thunder, so Collison's days as a starter are more closely tied to Seattle than Oklahoma City. Besides 2008-2009, the only year when he started more than half the games he played in was 2006-2007.
Collison's career narrative is fascinating, as he's become the most recent of a rare archetype known for prolonged contribution without ever being a main outlet for production. In fact, Collison has never averaged 30 minutes per game for a season. The closest example to his prolonged impact on one team is probably Michael Cooper, who spent over a decade as the Los Angeles Lakers' backup shooting guard during their "Showtime" years. However, even Cooper averaged over 30 minutes per game in a season, and his name is associated with greatness because he was a complementary cog in an NBA dynasty.
Collison hasn't been able to boost is name recognition from exposure in championship montages, which is a crucial component of any role player's journey towards quasi-immortality.
Further hurting Collison's track record, he's never played more than 22 minutes per game for a team that made the playoffs.
The Thunder have appeared to view him as superfluous without actually going so far as to dispose of him. His minutes per game have decreased for 6 straight seasons, and his role as a rebounder and interior defender off the bench has been phased out to make room for increased minutes from the more offensively skilled Serge Ibaka and the addition of Enes Kanter.
Next: Oklahoma City Thunder Lack Defensive Intensity in Game 1
Collison has had a unique career, and proves that players can stick around with one team if they work hard and are willing to do the little things to help their team win.