San Antonio Spurs Can't Take The Memphis Grizzlies Lightly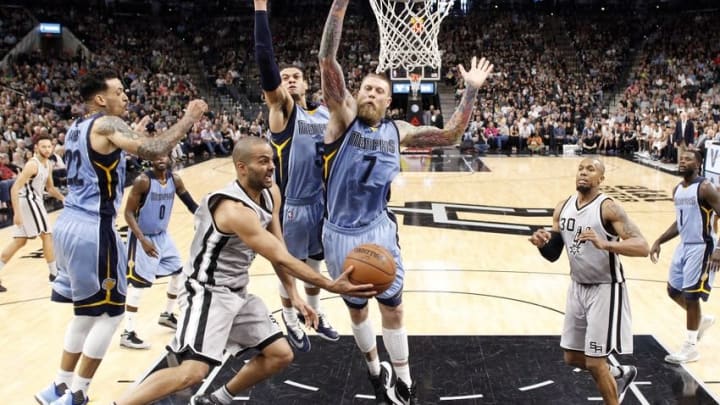 Mar 25, 2016; San Antonio, TX, USA; San Antonio Spurs point guard Tony Parker (9, left) passes under pressure from Memphis Grizzlies power forward Chris Andersen (7) to David West (30) during the second half at AT&T Center. The Spurs won 110-104. Mandatory Credit: Soobum Im-USA TODAY Sports /
The San Antonio Spurs are facing a Memphis Grizzlies team in round one riddled with injuries. The Spurs though cannot take them lightly.
San Antonio during their regular season matchup with Memphis did not have a tough time. They ended up sweeping the season series, 4-0. During their matchup with the Grizzlies, the Spurs averaged 101.5 points per game while their defense held strong holding them to 89 per game. 
More from Spurs News
The Spurs will be meeting a Grizzlies team that have been hampered with injuries. The Grizzlies will be without two of their teams leading scorers,
and
. Conley is expected to miss the entire playoffs with tendinitis in his achilles. Gasol underwent surgery to repair a non-displaced Type II in his right foot. On paper, this definitely looks to be a easy series for San Antonio. Many feel they will sweep the series. The Spurs on the other-hand know that the playoffs always bring out surprised and any team can fall.
After their season finale against the Dallas Mavericks, Spurs forward Boris Diaw stated though they are riddled with injuries, the Grizzlies still have a lot of great players.
"It's always tough. I remember, for example, the year that we won (in 2014). It wasn't that easy. We had some tough times. It's always going to be tough. Any team can beat anybody. … Anytime two NBA teams get up on a court, it's going to be tough. They're going to battle and they have good players. They are going to be dangerous."
San Antonio will be starting the series at home where they went 40-1 this season, tying them second all-time in league history. Starting the playoffs at home gives teams that jolt of energy they need. Memphis will come in and play hard and give it all they have against a Spurs team that looks to have their best chance of winning another title.
Zach Randolph will be the one to carry the scoring load for the Grizzlies and LaMarcus Aldridge will have have the task of slowing him down. Memphis has a lot of veterans that have playoff experience on their roster. Knowing they are short-handed this Grizzlies team will not come into their playoff series with the Spurs crawling on their hands and knees.
These two teams always lay it out on the line when they meet each other. There will be a lot of banging and aggressive play. The Grizzlies will try to get the Spurs out of their game-plan and try to shake things up. For San Antonio, they will have to be patient and do what they have all season to get them 67 wins.
Bottom line, they need to play Spurs basketball. Move the ball, take care of the ball, find the open shooters and be confident with your shots and each other. This team is destined to go as deep as they want. The time is now.
Next: Great Draw For San Antonio Spurs In First Round Series